Ranveer Singh features on the cover of the 11th-anniversary edition of Vogue India magazine. The feature will talk about "the age of blurred lines". We are guessing gender-neutral colours and clothing? Well, Ranveer is looking insanely hot on the cover wearing a tunic and a lehenga by Sabyasachi. Interestingly, he also featured on the magazine's 8th anniversary issue.
The difference being, on the 8th-anniversary issue, in October 2015, Ranveer featured alongside his bae Deepika Padukone, flaunting his Bajirao Mastani moustache. On the other hand, the latest mag cover features him posing with the international supermodel, Sara Sampaio. We are having a terribly tough time in picking which magazine cover is better? The October 2015 issue? Or the October 2018 issue? Ranveer Singh to Star in a Superhero Project Set in Space – Watch Teaser Video.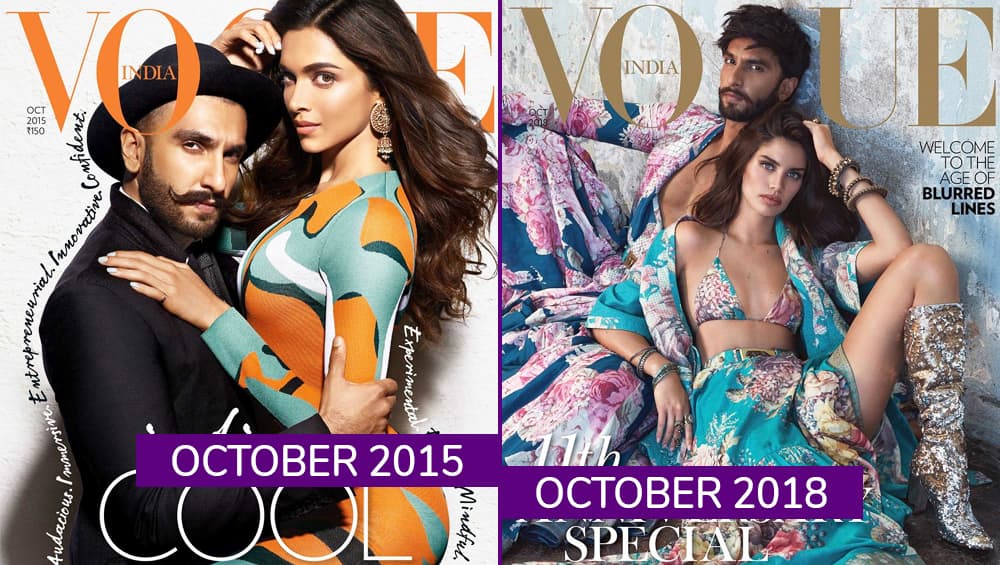 So, we are turning to you for help. Vote for the cover you think looks better, and we will share the results with you.
Which Vogue India Cover Is Better?
In the recent issue of the magazine, Ranveer explains his inclination towards his flamboyant sartorial choices. He says that he started expressing himself through fashion after the freak accident - which almost cost him his life - on the sets of Lootera. "So I started expressing myself, over a period of time, without filter, without the fear of being judged… There are two sides to me, my sensibilities have a dichotomy. I'm as much a minimalist as a maximalist. My moods are mercurial, ever changing. One day I feel like wearing a white T-shirt and blue jeans, on another day I feel like multicoloured florals head to toe," Ranveer said.