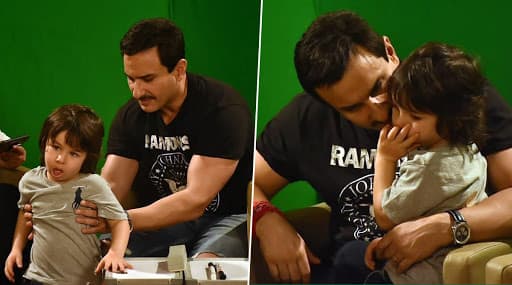 Saif Ali Khan is in the news for a lot of bad reasons lately. In an interview, he admitted that he should have taken a stand during Tanhaji but he didn't. Then he went on to comment on the concept of India which earned backlash from Kangana Ranaut. In the midst of all this, he is relentlessly promoting his next film Jawaani Jaaneman. But he isn't alone while doing so. Apart from his co-stars, he also has Taimur for company. Saif was seen chatting with journalists while Taimur was next to him. Saif Ali Khan Reveals Taimur Ali Khan Calls Him 'Sardarji' After Seeing His Tanhaji Look (Watch Video)
There are a few clicks of this father-son duo which look incredibly cute. It seems Taimur got bored with everything around him and wanted his dad's attention. This definitely was cute.
Saif Ali Khan's character in Jawaani Jaaneman seems similar to a host of roles that he played in his career - a commitment-phobic player. So recently when he was asked if he would be interested to go to a pub with Taimur and Ibrahim, he had said, "Taimur and I often go to the same club and we often like the same girl but then I pick him up and send him home. Ibrahim is a bit taller than me so I don't know if I can do that. I'll leave girls and pubs to Ibrahim and will probably stay at home & read to Taimur, I am an old man now just pretending to be cool."