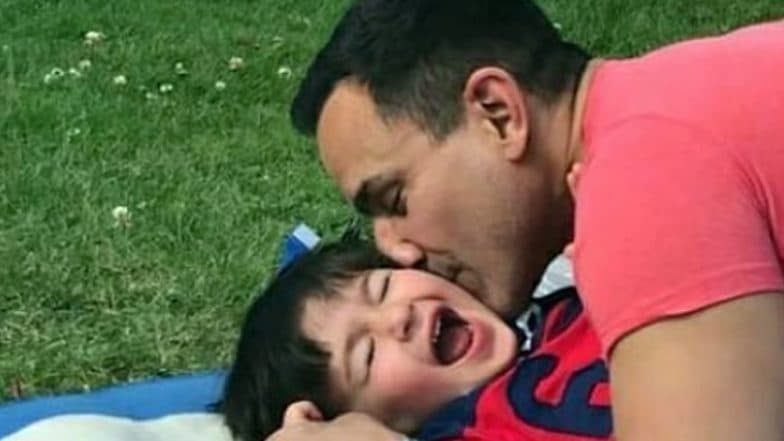 Saif Ali Khan and Taimur Ali Khan have always been very welcoming towards the paparazzi clicking pics of their son Taimur. Their idea was that if they try and stop it, the frenzy would only increase. But the paparazzi frenzy reached an unbearable point, any which way. Saif had to issue a diktat to the paparazzi asking them not to click pics of their son when he is not accompanied by the parents. Today, the diktat was re-issued, when the paparazzi crossed the line. Taimur was spotted playing near his house, sans Kareena or Saif. Taimur Ali Khan and Inaaya Naumi Kemmu's London Diaries: See the Two Munchkins Water Plants in Adorable Colour Coordinated Outfits in these Latest Pictures.
The photographers clicked his pics, which were circulated all over the media. But turns out, Saif turned up at the scene and reprimanded the shutterbugs. "No, no not outside the house please, like we promised. No, enough, you are not supposed to do that," Saif said angrily in a video, which went viral on Instagram. Saif Ali Khan-Kareena Kapoor Khan with Taimur Spotted at Mumbai Airport! Pataudi Fam Is Back to Bay from London (View Pics).
Earlier, Kareena had talked about the paparazzi attention that Taimur gets. " "It's a very confusing thing. I don't want him to get used to the fact that he is getting clicked but now he understands. He hears us say, 'the media is there,' so he is picking up words. They have been very kind, they remain at a distance but it's a constant movement," she had said.
Well, if the paparazzi culture continues to function without any respect, the day is not far when we won't get any Taimur Ali Khan pics. We hope we all can learn to draw a line.