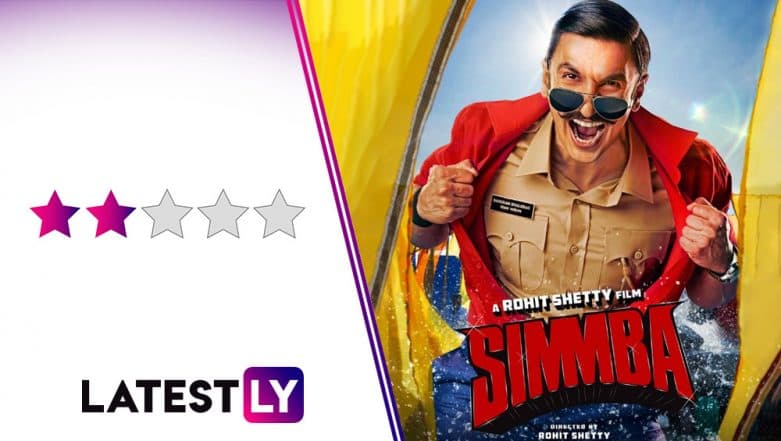 As a director, Rohit Shetty knows how to package the film in the most entertaining manner. With Simmba, he has the challenge to make Ranveer Singh, the darling of the classes, into a mass hero. He also has to establish Sara Ali Khan as the next IT girl in the industry, while showing the world that he can make a blockbuster without the Khans and Devgns. So does Simmba lives up to that task? Somewhat, yes. Is it as entertaining as the movie it tries to replicate, Singham? Not exactly! Ranveer Singh Speaking About Deepika Padukone Watching Simmba is The Cheesiest Thing Ever! (Watch Video)
Sangram Bhalerao aka Simmba (Ranveer Singh) has grown up in the same town as Bajirao Singham (Ajay Devgn), which is Shivgad. While he shares the same professional aspirations of being a cop as Singham, the orphaned Simmba looks at it as the means to earn power and money. When he is transferred as the inspector to Miramar police station in Goa, he thinks of the opportunity to make more money, by being in the employ of the local don, Dhuruva Ranade (Sonu Sood). There, he also falls for a pretty Shagun (Sara Ali Khan), a girl who runs tiffin service next to the police station.
Simmba's malpractices don't go down well with his honest subordinate (Ashutosh Rana), but for Simmba, the only crime that he can't stand is those against the women. And when Ranade's brothers cross that line, the Singham in Simmba wakes up.
How do you review a movie that plays exactly as you imagine it to be? Simmba is a film that stays within your expectations and challenges you to write what you want about it. For, unlike that last week's so-called dud, this one doesn't care for reviews; it cares for the number of cheers and whistles that the front-benchers contribute to its mass moments.
At the beginning of a song sequence, Karan Johar pops up out of nowhere and sighs about getting another remix. And immediately, the "Aankh Marey" song begins and we feel like the makers are poking fun at the audience being fed the same stuff again and again. Simmba is exactly that!
Apart from a big star cameo in the end (not the one, you think), Simmba goes through exactly the same motions as shown in the trailer. Everything is predictable, be it the placement of the songs or the fight scenes or character transformations. Where Simmba falters big time is that it struggles to step out of Singham's shadow. What's interesting is that Simmba borrows all the flaws from the first Singham, but very few of the redeeming factors.
Like that other film, the first half of Simmba is filled with unwanted comic sequences, that barely register a chuckle, and a romantic track so needless that it is contained within the first act itself. The female lead, more or less, serves only to fulfil the hero's romantic aspirations, while offering one or two motivational lines.
What makes Simmba distinct is that the hero is shown as a morally ambiguous cop, though Salman Khan has done something similar with better conviction in the Dabbang series. But at least, it made Ranveer's character different from that of Devgn's. There is even an observation that Simmba is like that because he had no parents to guide him (unlike Singham who belonged to a privileged family). For a movie that lacks nuances, this was a nice touch.
Things turn for the worse, post-interval when the conflict of the film is brought in after a character is raped and killed. The incident pricks the conscience of our protagonist enough to rebel against his unlawful master, never mind that a couple of sequences back, he allowed the same goon to kidnap a school girl to blackmail her grandfather. And once the transformation of Simmba as the upright cop is complete, then there is no shunning away from being a Singham replica.
I appreciate Shetty wanting to pay tribute to his own movie, just like Nana Patekar worshipping himself in Bluffmaster. We all live in a self-centred world, so why not celebrate some narcissism? Even Rajkumar Hirani does the same with Sanju. But what about some uniqueness?
Towards the end, even Simmba drops the pretence of being a wannabe. Ranveer Singh wages a losing battle to make the proceedings lively, so Shetty brings in the man himself to save the film. Ajay Devgn as Singham makes a seetimaar entry (a scene that was spoilt by the trailer), even if everything about that sequence feels random. After the dust settles down, and Simmba thanks Singham for handling everything properly, I was curious to know if this was Shetty's way of hinting that Simmba was the Singham sequel he couldn't make. BTW, there is one more star cameo towards the end of Simmba that is a tease of a film that Shetty is making next year. Also, not to mention the hint of Golmaal 5! Simmba: Whoa! Not Just Ajay Devgn, Even Akshay Kumar Has a Cameo in Ranveer Singh-Sara Ali Khan's Film.
Not to mention, there is the whole sexual assault aspect and how the movie simply trivialises this crime to glorify the hero. It's incredulous that Rohit Shetty and team use the horrifying Nirbhaya incident just to add drama to the proceedings, with even a needless placard protest also brought in. It would have been forgivable if Simmba does justice to the issue and works towards a solution. But this is a mainstream movie that wants to appease to the generalist sentiments. Therefore, we have ludicrous court proceedings and red-tapism that inspire the protagonist, a cop himself, (and the movie) to determine that it is better to take the law in your own hands. And to think, we had a PINK coming out a couple of years back that handled this dilemma so brilliantly.
Moreover, in a movie about empowering women to be safe in our country, there isn't one strong female character, while the ones we have, look upto Simmba to be their protector.
So where exactly did Rohit Shetty make Simmba work? The director still has the knack of creating powerful sequences and interesting supporting characters. The scene where Simmba dons the police uniform for the first time will make you clap, despite yourself (though the movie takes away Simmba's individuality by putting in the Singham theme).
Some of the scenes between Ranveer Singh and Ashutosh Rana are good, especially their camaraderie. I really wish there was more to do with Rana's character. He was the most upright cop in the whole film, and yet his honesty is looked down by his own family and is often made jokes of. And after Simmba's transformation, he has barely anything to do in the rest of the movie, save for being a catalyst in a crucial scene. The dialogues sometimes sparkle, sometimes doesn't. The overuse of Marathi dialogues may find it hard to appeal to the audiences outside Maharashtra.
The songs are pretty okay, though the picturisation is eye-pleasing. The background score is annoyingly blaring.
The Performances
If you have some liking towards Simmba, it is all because of Ranveer Singh's very trying performance. Though his Marathi accent is all over the place, Ranveer Singh infuses life in what is one of his weakest roles. You can't help but admire that enthusiastic energy in that man, when he suddenly sings 'Sandese aate hai' to mock his subordinate or screams his lungs out to make a point (the veins in his throat have got a lot of workout in the movie). Ranveer Singh has in him to be a massy hero, though I am not sure if Shetty and Johar trusted him enough to carry this film on his own.
Thank God for Kedarnath, for Sara Ali Khan is completely wasted in a role that doesn't require her to do much except look pretty. Sonu Sood is his usual self as the villain of the piece, flexing biceps to show his meanness. Ashutosh Rana is too good, while Siddharth Jadhav delivers in an emotional sequence.
Yay!
- Ranveer Singh
- The Cameos
- Some massy moments
Nay!
- Very predictable drama
- Trivialises justice for rape victims
- Can't get out of Singham shadow
Final Thoughts
Watch Simmba for Ranveer Singh, if you are in love with his enthusiastic charm and unbridled energy. Apart from that, this clone of Singham offers very little to offer, other than being a nearly three-hour-long tease for three upcoming movies! I admire Rohit Shetty and Karan Johar (co-producer)for thinking out of the box and creating Singham-verse. Having said that, they would have done much favour to Ranveer if they didn't make Simmba, the Iron Man 2 of this universe!