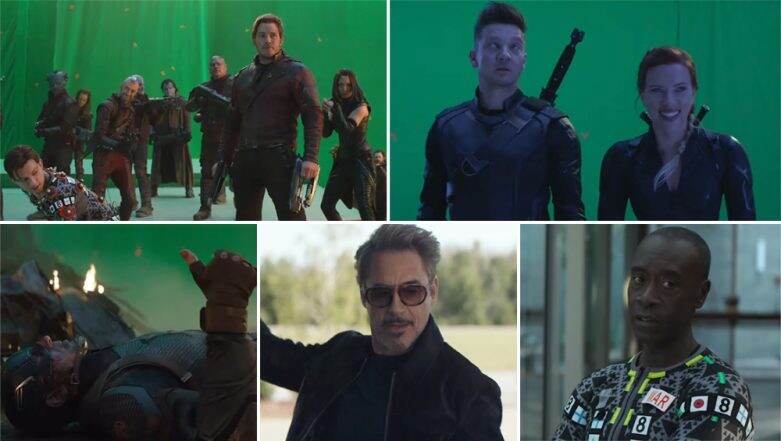 Avengers: Endgame may have been an emotional experience for fans as well as the actors but that didn't stop them from having some fun on the sets of the film. While we are thrilled that Endgame is now available on Digital, there's also the added happiness of getting the extra bits such as the new blooper reel that has been released with it. It isn't easy being a superhero but we sure have to say that these actors make it look all fun and games, especially in this blooper video. Avengers Endgame: Here's Your Chance to See All the Deleted Scenes from Marvel's Biggest Superhero Outing.
We love how towards the end of the video, Scarlett Johansson asks, "See what I have to deal with here?". The funniest bits in the video include Elisabeth Olsen's Scarlet Witch who falls on her face while shooting a bit. There's also the scene between Robert Downey Jr and Chris Evans where RDJ is badly trying to keep the trunk of his car up during the filming of the scene. In one of the clips, Brie Larson is seen hanging on a zip wire saying, "It doesn't feel cool, But if it looks cool, that's what matters."
Check out the funny video here:
Also watching Paul Rudd (Ant-Man) mess up his lines in one of the funny clips in this video is every bit of funny. Avengers: Endgame recently became the highest-grossing film of all time, after beating James Cameron's Avatar. While fans have been sad about the end of Avengers franchise, there's much more to look forward to.  Avengers: Endgame, Infinity War, Jurassic World: These Are the Top 5 Highest-Grossing Hollywood Movies in India.
Marvel recently announced their upcoming films and series in Phase 4 and we bet you are excited about Black Widow, Thor: Love and Thunder as well as Doctor Strange films coming to theatres soon. The announcements were made at the San Diego Comic-Con 2019, where Marvel Studios had a panel and ever since fans have been finding it hard to keep calm.