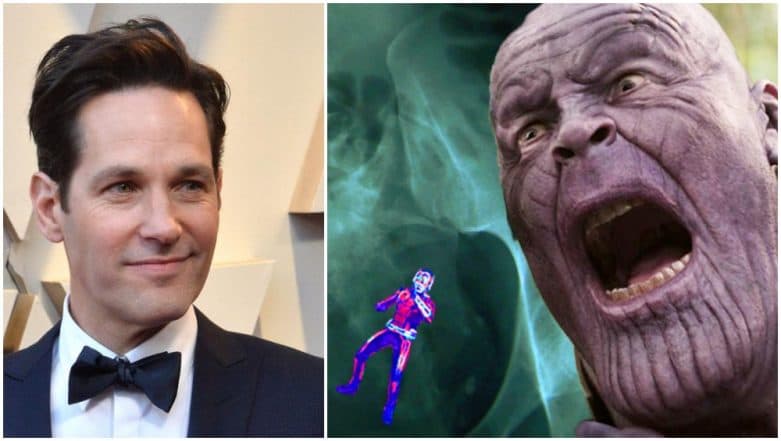 For the past couple of weeks, a theory about Avengers: EndGame has been going the rounds about Ant-Man and Thanos and it has even reached the stars of the film. You might have heard about this one - the theory says how Ant-Man can easily kill Thanos, the antagonist of the Infinity War saga, by shrinking and getting into his but, and then expand himself by becoming Giant-Man. Which should effectively kill the Mad Titan, the theory says. Many memes and jokes are made on this, and the stars themselves are asked about this during the press conferences. Avengers: Endgame - Memes on Ant-Man Entering Thanos' Butt to Kill Him Take Over the Internet.
Recently, Paul Rudd, who plays Ant-Man in Marvel Cinematic Universe, came on Jimmy Kimmel Live! along with Robert Downey Jr (Iron Man), Scarlett Johannson (Black Widow) and Chris Hemsworth (Thor). During the show, host Jimmy Kimmel asked him about the theory with his own spin. So Kimmel told how he had a dream once about Ant-Man shrinking himself and getting into Thanos' vein before expanding and killing him. The next day, he learnt that the butt theory is going viral.
When Paul was asked about this, he replied, "Look, these lips are sealed," as he mimed the action of locking his lips. But he added, "Similar to your dream... One slight difference...". We wonder what now which part of Thanos could Ant-Man be getting in, though we can rule out anus and veins. Avengers EndGame New Footage Has Captain Marvel Stir Up Captain America, Thor and Others to Take the Fight to Thanos – Watch Video.
Watch the video where Paul Rudd talks about the theory:
During another media interaction, the directors, Anthony and Joe Russo were asked about this theory. They pointed out a glaring flaw in the idea, as they said, "Listen, here's the thing. Thanos is incredibly strong. His skin is almost impervious. The question would be what would happen to Ant-Man if he did that. Would it work? Would it not work? If it didn't work, it would be really bad." So let's just stop all these butt discussions and come up with more ideas on how Avengers would beat Thanos. Or just wait till April 26, when Avengers: EndGame releases in theatres, and enjoy what Russo Brothers have in store for us!