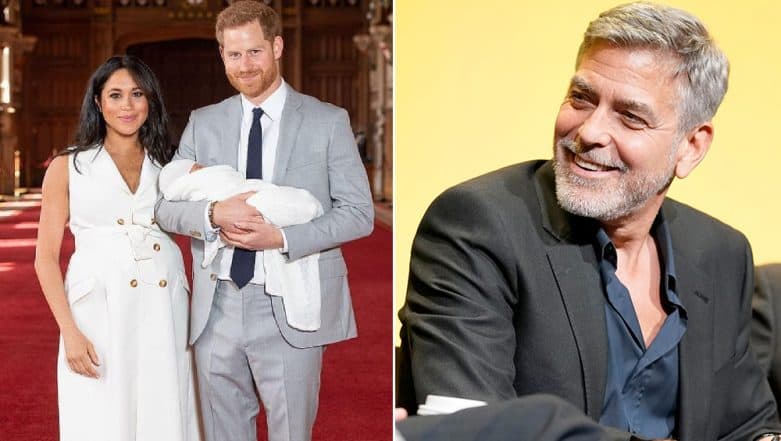 On May 6 it was a celebration across the globe when it was announced that the Duke and Duchess of Sussex, Prince Harry and Meghan Markle, have been blessed with a baby boy. It was two days later, when the Royal Couple stepped out with their bundle of joy and posed for the paparazzi. Hours after it, the royal baby's name was also announced - Archie Harrison Mountbatten-Windsor. And it did not take much time for fans to ask the next big question – who will be the royal baby's godparents? Since quite a long time George Clooney and his wife Amal Clooney's name were doing rounds. But in an interview, the 58-year-old actor has confirmed whether he and his wife are the godparents or not of the Duke and Duchess of Sussex's son. Archie Harrison Mountbatten-Windsor, Know the Meaning and Origin of Prince Harry and Meghan Markle's Royal Baby Boy's Name.
George Clooney and Amal Clooney were also seen in attendance at Meghan Markle and Prince Harry's royal wedding. In fact the actor was also a part of the Meghan's baby shower ceremony and pictures of the same took the internet by storm. There were various names of the Duchess of Sussex's friends been taken and George was one of them. In an interview with Extra TV the actor revealed, "You don't want me to be a godparent of anybody. I'm barely a parent at this point. It's frightening." Royal Baby's Name Archie Harrison Opens Floodgates of Tweets; Netflix and Archie Comics Have the Best Reactions.
For those who don't know, George Clooney now shares his birthday with Archie Harrison Mountbatten-Windsor. About it the actor was further quoted saying, "It's kind of irritating, if you think about it. 'Cause I've already had to split it with Orson Welles, Sigmund Freud, and now this comes in. I'm moving down the line very quickly." Now who will be the Royal Baby's godparents is something we'll have to wait and watch. Will it be someone from the Royal Family or any close pals of the Duke and Duchess of Sussex? Stay tuned for further updates.