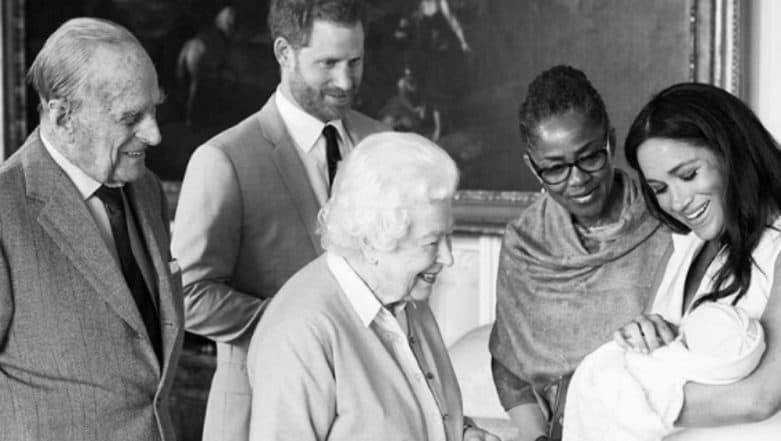 The beloved royal couple, Duke and Duchess of Sussex, Harry and Meghan welcome their baby boy on May 6. Two days later, on 8th May, the royal baby was introduced to the world through lovely photographs captured at Windsor Castle with his parents. Needless to say, people all across the world are captivated with the arrival of this little member in the British royal family. Prince Harry and Meghan Markle, announced his full name, Archie Harrison Mountbatten-Windsor, with a beautiful black and white photograph of Archie meeting his great-grandmother and father, the Queen and the Duke of Edinburgh, Prince Philip. The decision to call baby Sussex, Archie Harrison Mountbatten-Windsor, came as a surprise to many, with people wondering what could be its meaning and origin, as the forenames are far from traditional for the royal family. Royal Baby's Name Archie Harrison Opens Floodgates of Tweets; Netflix and Archie Comics Have the Best Reactions. 
As BBC noted, Archie does not have any British royal connotations and Harrison is also a totally new name for the Royal family. Archie is an increasingly popular name for a baby boy, in the United Kingdom. According to the Office for National Statistics, (ONS), it was ranked the 18th most popular choice for baby boys in 2017, with 2,803 baby boys called Archie that year and has been in the top 50 consistently since 2003. Prince Harry And Meghan Markle's Royal Baby Name Odds: Alexander And Arthur Among Favourites in Betting Ring. 
Hello, Baby Archie
Archie Harrison Mountbatten-Windsor: Meaning and Origin
Archie means, "genuine", "bold" or "brave" and is increasingly popular in Britain and America. It was originally a shortened form of Archibald, but now often used as a name on its own. Again, Harrison is slightly more popular than Archie in the United States, however, it is still more common in the United Kingdom, where it was ranked the 34th most-popular boy's name in 2017. Harrison literally means son of Harry, so its choice is self-explanatory. The surname, Mountbatten-Windsor, is a combination of Prince Philip's name, Mountbatten and the Queen's dynasty name, Windsor.
It is not for the first time, that a British royal baby has been given a name which is not traditionally royal. Meghan and Harry revealed the pregnancy to the royal family at Windsor Castle in October during the wedding of Princess Eugenie and Jack Brooksbank. It has been reported that unlike his cousins, Prince George, Princess Charlotte and Prince Louis, the kids of the Duke and Duchess of Cambridge, Archie will not be a prince, and will likely be referred as Master Archie as he grows up.