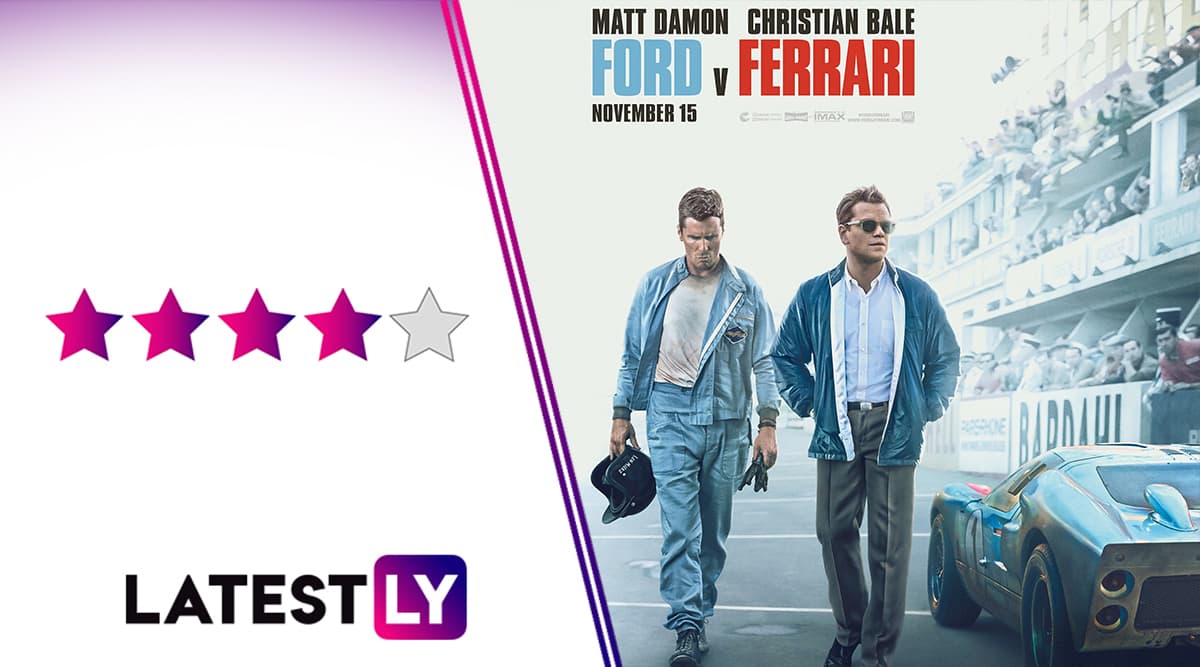 Ford V Ferrari Movie Review: James Mangold (The Wolverine, Logan) directs Ford V Ferrari, a sports drama that revolves around the circumstances of Ford using their American-made car to best Ferrari's nearly undefeatable racing team for the very first time at 1966 24 Hours of Le Mans racing competition. The feat was achieved by the ingenious minds and skills of two men - former racer turned automotive engineer Carroll Shelby (Matt Damon) and driver Ken Miles (Christian Bale). Ford v Ferrari New Trailer: Christian Bale and Matt Damon are Determined to Win this War Against the Italian Luxury Sports Car Mogul (Watch Video).
Before that, Ferrari was the undisputed racing champions of the strip. Henry Ford II's (Tracy Letts) company, meanwhile, was cutting losses, when its VP Lee Iacocca (Jon Bernthal) suggests getting into the major racing business. He wants the kids that buy the Ford vehicles because it would give them the feel of a champion. At first, they try buying out the bankrupt Ferrari, and when its founder Enzo Ferrari insults Ford, they decide to make a car that could beat a Ferrari.
In comes Shelby, and along with him, the bull-headed Miles. Both try to make the car worthy of taking down Ferrari, but their bigger challenge is tackling the internal interference, courtesy a sycophantic executive Leo Beebe (Josh Lucas).
A film on racing should provide many thrilling moments on the race track, and Ford V Ferrari has plenty of that. While the movie falls a little short of the brilliance of Ron Howard's exhilarating Rush (highly recommended!), the technical finesse involved in shooting the racing portions deserves plaudits. There are a little too many closeup shots inside the cockpit that takes some of the sheen away from the adrenaline thrill of the cars zooming by. Yet, there are enough electrifying moments that are bound to make you bite those nails of yours. The final race at the Le Mans is a rousing piece of cinema, where all the rough and smooth pieces somehow manage to fit in almost perfectly like a well-oiled machinery to produce some fine results. The camerawork (Phedon Papamichael), the editing (Michael McCusker, Andrew Buckland), and the pulsating background score (Marco Beltrami) come together to elevate the climax, leaving you exhilarated. That is, before the events take a turnabout, making you want to rewind things up and figure out why they turned out the way they did. This aspect has nothing to do with the film, but those who have read how the race really ended in real life, know what I am referring to.
A film with a name like Ford V Ferrari sounds like a perfect stage to endorse the brands named and I was afraid the movie would be a cash-grab effort. There is also this plot theme of an underdog American car taking on the Goliath Italian racers, that could have been mined for some pseudo-nationalism. If Bollywood had made Ford V Ferrari, I could have seen at least 10 shots of the National Flag in the climax.
Here's The Trailer of Ford V Ferrari:
James Mangold, however, had other ideas as he allows his film to be a subtle take on consumerism and how it is important for the brands to make sure they look good, rather than earn that win. Is it me, or perhaps the film is also a prickling commentary on executives meddling with production, through Josh Lucas' character? After all, The Wolverine also had suffered from meddling, didn't it?
That said, the narrative uses some very familiar tropes with regards to how Ford views the unconventional Miles. Don't really know how much of that happened IRL, but the cliched take on things holds Ford V Ferrari back from being a standout in the genre. Ford v Ferrari First Reactions: Christian Bale and Matt Damon's Racing Movie is Brilliant and Engrossing (Check out Tweets).
Like, for example, the epilogue of the film. Ford V Ferarri gets its perfect closure in the bitter-sweet way in which the race ends. But Mangold allows the film to trudge much ahead to extract more sentiments from the viewers. Some of the beats are touching here, and the stretch isn't bad per se, but you do feel that the race went way past beyond its mark for it to leave a better impact.
Miles' scenes with his wife Mollie (Caitriona Balfe) and son Peter (Noah Jupe) are genial, but they often turn to be cloying, and in need of tighter writing. Like, that scene where Mollie, while driving, takes offense to Miles hiding his new assignment, and turns nearly psychotic. I really couldn't figure out what exactly she wants, considering she was convincing him to go back to racing a few minutes back.
And in those weak moments, the performances of Christian Bale and Matt Damon often lift the film up. Bale's heavy-handed Britishness may be distracting at times, especially when he keeps saying 'wanker' and 'bollocks'. But Bale makes every tic of his transforms into a gamut of emotions. He turns in a very likeable act, infused with an emotional arc that is easily relatable. I just can't get over that expression on his face when the results of the final race are out, and his countenance slowly begins to comprehend what happened.
As Shelby, Damon is extremely charming and puts in a commendable performance, with some very clap-worthy moments.  His character isn't very developed, though, which is why I feel there was something lacking in the bonding scenes between Shelby and Miles. But they make it up though, when they engage in their common passion - racing against all odds. Or in their case, a Ferrari!
Among the supporting cast, Caitriona Balfe is effective in an under-written character. Josh Lucas is suitably unlikeable as the conceited executive. Tracy Letts is quite commanding in the handful of scenes he appears as the Ford pioneer, often stealing the show in the process. Jon Bernthal, while doing good in the initial portions of the film, is shunted to the sidelines later on.
Yay!
- Bale and Damon
- Mangold's Direction
- A Likeable Premise With Good Moments
- The Racing Portions
Yay!
- A Formulaic Approach
- Stretched At Times
- Some Characters Are Not Very Developed
Final Thoughts
With Ford V Ferrari, James Mangold delivers a highly engaging, occasionally exhilarating ride that does it best to overcome its formulaic approach. Not to mention, Christian Bale and Matt Damon make the protagonists likeable enough to make us connect with their small victories from the start to the end.