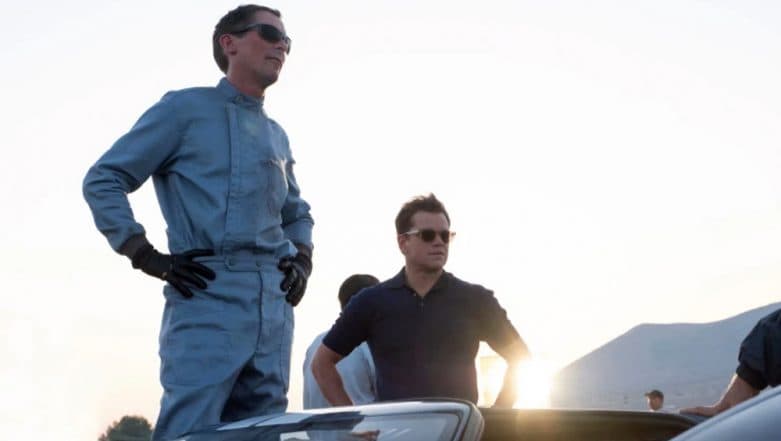 Who else is eagerly waiting for Ford v Ferrari to hit the screens? Raise your hands and give us a virtual high-five for we belong to the same category. The trailer of Matt Damon and Christian Bale's racing movie looked promising. The movie is a classic tale of friendship, unlike the title that suggests rivalry. It revolves around Carroll Shelby and Ken Miles' characters played by Damon and Bale respectively who convince their bosses at Ford that they can win Le Mans against the Italian giant - Ferrari.
The premiere of Ford v Ferrari was held at the Telluride Film Festival 2019 and its first reactions from the same are out already. The ones who were fortunate enough to catch its big premiere night have all the possible good, no, in fact, great thing to say about this racing drama. It's a crowd-pleaser and an entertainer in all parts. For some detailed reactions and different views, check out the tweets that we have handpicked for y'all. Tracy Letts to Star in 'Ford Vs Ferrari' as Henry Ford 2.
  Christian Bale's show
#FordvFerrari just kicked off #Telluride and is an expertly made crowd pleaser. Christian Bale is as excellent as always and it's also a strong contender for sound and especially editing. pic.twitter.com/gH2PUpP97e

— Dave Karger (@davekarger) August 30, 2019
An Oscar nomination already
#FordvFerrari will win both sound Oscars and has an easy editing nomination

— The Oscar Expert (@expert_oscar) August 31, 2019
Powerhouse of talent
Ford V Ferrari is an exciting & entertaining film fueled by passion & friendship. A great ensemble cast lead by two powerhouse performances from Matt Damon & Christian Bale. James Mangold has made another winner. My only complaint is that it's a bit slow at first. #FordVFerrari pic.twitter.com/PXdRPav1BM

— Scott Menzel @ Telluride Film Festival (@TheOtherScottM) August 30, 2019
It's long but entertaining
FORD v FERRARI is a solid, roaring, muscle fueled film from James Mangold about setting aside ego & pushing each other beyond our limits. Long but entertaining. Bale has the flashier role than Damon but both turn in strong work. #TellurideFilmFestival #TellurideNBP #FilmTwitter

— Matt Neglia @Telluride (@NextBestPicture) August 30, 2019
It's sheer perfect
So glad WAVES premiered at Telluride tonight so I can SCREAM FROM THE FUCKING ROOFTOPS how perfect in every regard this film is!!!! One of the best artistic offerings we've seen from this decade

— MIKEY HAS FALLEN (@newmikeyb) August 31, 2019
Wondrously ... a new word for our dictionary
#FordvFerrari is big, wondrously loud (it's car racing after all) and has a lovely friendship at its heart. So my reservations are vexing me. More soon. But, ah that #ChristianBale. Always engrossing, seldom if ever the same. #TellurideFilmFestival

— Lisa Kennedy (@bylisakennedy) August 31, 2019
Christian Bale... you beauty!
FORD v FERRARI is every bit as thrilling and suspenseful as you'd expect. Great performances all around too but Christian Bale wins this race. #fordvferrari #TellurideFilmFestival

— Erik Anderson @ Telluride Film Festival (@awards_watch) August 30, 2019
Now we are curious to know details about its sound
#FordvFerrari revs on all cylinders, with Christian Bale's piston-pumping performance leading the film across the finish line. Editing, cinematography, and score are all top-notch achievements, but the sound work dominates the film. Could be a big contender below the line. #Tff46

— Mark Johnson 🎬 (@MarkLikesMovies) August 30, 2019
Ford v Ferrari is not a fictional story and is based a true events. The film is slated to release on November 15, 2019, in India