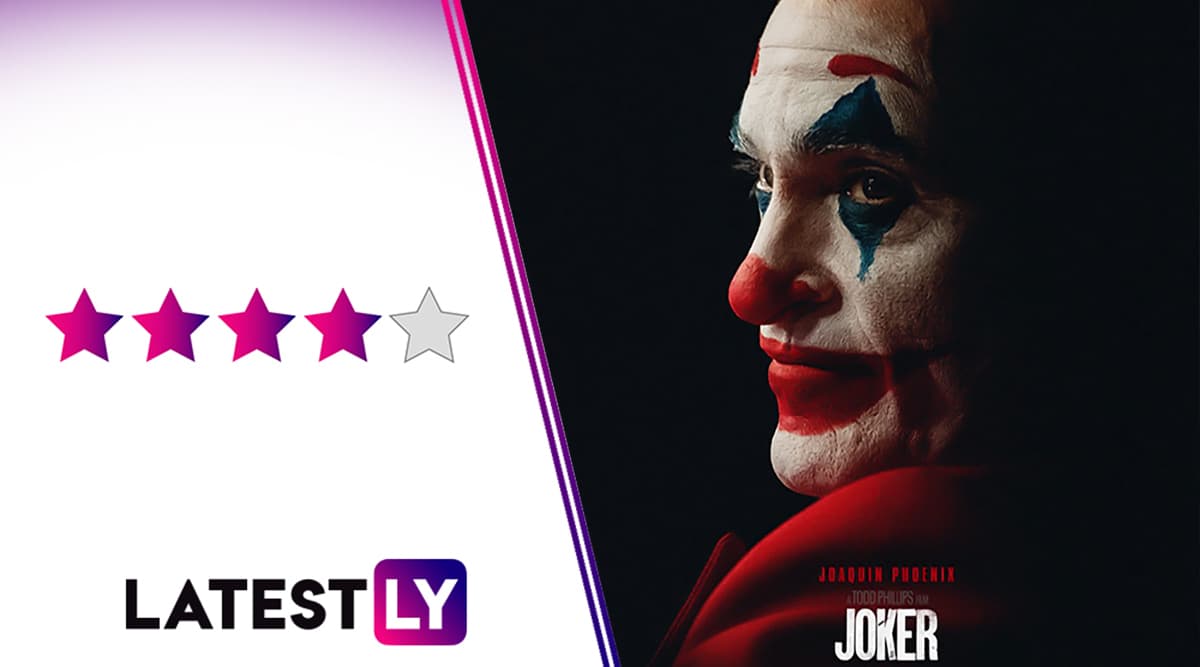 There's seldom a movie where you see a villain being celebrated like a superhero. Joaquin Phoenix's Joker is hence special on so many levels. Well, at least for someone who loves this character and would easily trade anything in this world to have a standalone movie revolving around him. You don't necessarily have to be comic book nerd to be interested in the tale of Joker, you can trust him to intrigue you regardless. This chapter from the lanes of Gotham and books of DC deserved its due and we are glad to be able to read it finally and differently. The movie is impactful, yes, but more than that, it's disturbing and in a bittersweet way.
Joker revolves around Arthur Fleck (Joaquin Phoenix)and his miseries that eventually give birth to Joker. He works as a clown but wishes to be a stand-up comedian someday. As a common man who belongs to the Gotham City of the 1980s, he's struggling to live a decent life. In a city that's otherwise filled with trash and menace, Arthur Fleck, though a psychopath, is living a normal life that's not appreciated or encouraged by its residents. He believes the society doesn't give a damn for people like him and the same belief keeps piling in his mind. So what happens when he decides to react and not proceed as per the dictated norms of his society? Well, that's what you need to find out. Joaquin Phoenix Walks Off from an Interview When Asked Will 'Joker' Encourage People to Become Violent.
Joker as a movie is disturbing in parts, so much so, that there are certain scenes you wish you hadn't seen. It gets difficult to meet his eyes and he does a fine job in making you feel restless and uncomfortable. Gotham City in the late 1980s doesn't fit in the picturesque category. For those who have seen Gotham series on Netflix would be able to resonate with our views when we say it lacked any of the good elements. It's filthy and so dark, something that DC is now synonymous with.
Watch the Trailer of the Film Here: 
It's commendable on Todd Philips' part to present a version that was unseen so far. Having referred to Joker as Batman's archnemesis, we always pictured him as the big, bad, notorious villain of all time. But what led him on this path? And why the rich people of his society should be equally blamed for giving birth to this monster, is something we all should make a note of. He's brutal and doesn't mind killing people in cold blood. He even enjoys it to be honest but that's just one part of the story. The other version was probably read but never displayed until today.
Having said that, is it safe to tag him as the anti-hero? No. There's no way we are going to celebrate his action or the character. Though he unintentionally becomes the face of the oppressed in the city, it would be wrong to justify his actions and there's no better way to put it than calling him a psychopath. Though the story elaborates on the reason for his mental disorder, yet I couldn't picture myself rooting hard for him. It was a wise decision to cast someone as brilliant as Phoenix in the lead role here. He performs really well but doesn't let you fall in love with him.
The movie is probably one of those few ones who were able to ignite a debate even before its release. While some feel, it should be celebrated for being a masterpiece that it is. others think it could trigger a series of violent behaviour among the audiences. Do I agree with any of these opinions? Yes. Why think about the negative aspect when you can happily deal with its positive one?
Direction by Philips is amazing and it comes as a surprise especially since his previous attempts have all been a comedy. This is a dark chapter that needed him to unleash a horrific side on-screen and he managed the same with equal ease. Cinematography is another crucial element of Joker and hats off to the makers for portraying it so brilliantly. The movie does take you back in time when everything in Batman's city was so nightmarish and grisly. It further explains why they ultimately needed a cape crusader to end everyone's plight.
The climax deserves a special mention for being impactful and disturbing that it is. There are so many different words to describe it and yet I am falling short of them. I won't think twice before naming it as one of the most brilliant climax scenes of the recent times - something that stroke me hard, really hard.
Speaking about the film's negative points, Joker simply has a one-way approach. It establishes why Arther Fleck was a victim of atrocities done on him but fails to reveal the other side. Every story like a coin has two sides and it's essentially to narrate them both before we are asked to draw any conclusions. Too much of the storyline was wasted in establishing a premise and then hammering the thoughts about rich being selfish, mean and bad people of the society. There was nothing besides this or maybe I failed to notice.
Performances
It's no brainer that Joaquin Phoenix is the heart and soul of this movie. He easily sinks into the character to deliver a performance of a lifetime. This was clearly one of the most difficult roles to come his way and he was smart enough to pick it up. But that's about it. The story invests everything it has on Phoenix that other characters seem worthless in the end. In fact, my appreciation for him is directly proportional to his class act. The more he delved deeper into his character, the more invested I was in him.
Speaking about others, I had expected so much better from Robert De  Niro but sadly, he's underused and so is Zazie Beetz who plays Arthur Fleck's neighbour in the movie. When the camera is focussed on Phoenix throughout the time, you crave for something else, someone else. But sadly, your cravings go unnoticed and unheard.
Yay!
Joaquin Phoenix
Direction
Cinematograpy
Climax
Nay!
Supporting star cast
Storyline
Final Thoughts
Joaquin Phoenix deserves all the possible nominations and awards for his stupendous act. The movie was clearly the best of 2019 so far for me so that should say it all. It is worth all your time and highly recommended. Go in with high expectations and it would still surprise you in a good way.