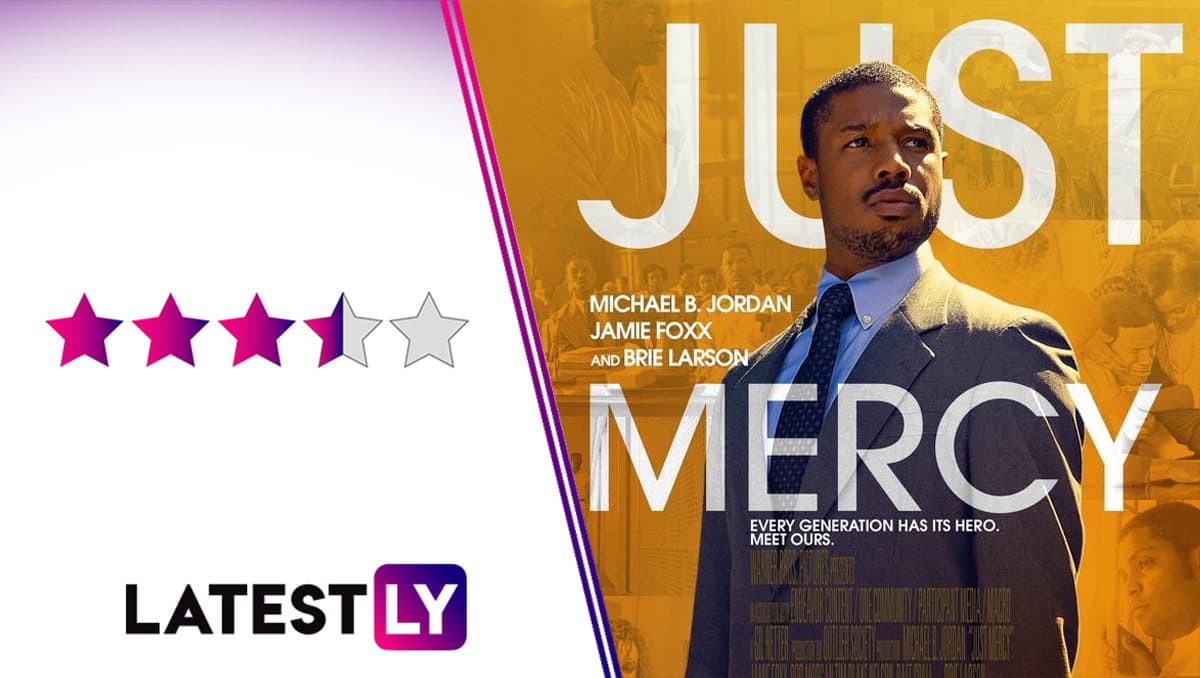 Just Mercy Movie Review: Just Mercy, directed by Destin Daniel Cretton, is based on the true-life memoir of attorney Bryan Stevenson, whose defence of alleged convict Walter "Johnny D" Mcmillian forms the premise of the film. Black Panther star Michael B Jordan plays Stevenson in the film, who in the beginning, is shown as this fresh-faced law graduate from Harvard. His upright nature wants him to do right for those for whom justice feels like an unattainable privilege. Bryan sets up practice in Alabama with the help of activist Eva Ansley (Brie Larson) and sets up an office to help death row convicts who didn't get proper opportunities to have a chance to escape the electric chair. Jamie Foxx to Receive the Spotlight Award at the 2020 Palm Springs Film Festival for His Role in Just Mercy.
One such client is Johnny D McMillian (Jamie Foxx), a lumberman accused of killing an 18-year-old white girl in 1986. Stevenson realises that McMillian has been falsely framed, and he sets out to prove his client to be innocent. In the process, he gets a taste of the racial discrimination that the black community in the state faces, where justice lies more in appeasing the harmed rather than finding and punishing the right culprit.
Interestingly, Harper Lee's 1960 novel, To Kill A Mockingbird, and its wonderful movie adaptation, starring the great Gregory Peck, is also set in Alabama. A fact that Just Mercy reminds you a couple of times referring to the novel and its hero, Atticus Finch. In many ways, Just Mercy feels like a spiritual sequel to the movie, only that the characters are real, and Bryan Stevenson doesn't have the 'white privilege' that Finch automatically possessed. While Atticus Finch may not be able to save his client but proved humanity exists, Just Mercy does leave you with the hope that Justice may come down knocking on your door, even if it is late.
It may not be imperative to look at the film as a legal drama as such, as Just Mercy is more of a commentary on how legalities work different for privileged and those who aren't. Despite being set in the '80s, it is a grim reminder of the current times we live in, where we find it easy to fit a person accused of a crime, before he or she gets a chance to prove himself. All, because the person fits our narrow perception of who can be guilty and how we want it to be get done away with. Whenever Stevenson tries to find witnesses to make his case stronger, he is often reminded of the pain of the victim's family. Doesn't it remind you of how our politicians try to gain our sympathy by distracting us from their failures in preventing something?
Just Mercy, for more than often, is a riveting drama that builds around its two central characters, Stevenson and McMillian, as they deal with their injustices in their own ways. There are occasions where the film leaves you anguished, there are times it leaves you numb with helplessness. Like that heartbreaking sequence involving the execution of a fellow death row inmate of McMillian. It was very emotional and overpowering.
The runtime at about 136 minutes feels a bit stretched and the slow pace fits the dramatic proceedings but can make you feel the lag at times. Also, those expecting powerful courtroom sequences like the kind you see in A Few Good Men may find similar scenes here to be underwhelming. Just Mercy doesn't aim to start a debate here, perhaps. It just wants to remind that an innocent man gets to lose a few years of his life because someone thought he fits the profile of a criminal, and that happens more frequently than you think. That said, Bryan Stevenson's final statement in the climax and the aftermath could get to you.
Watch The Trailer of Just Mercy:
Just Mercy also benefits from some very fantastic performances. Michael B Jordan gives a superlative act as the righteous Stevenson, doing complete justice to a true hero in real life.
Add Jamie Foxx among 92nd Academy Awards' biggest snubs and make the #OscarsSoWhite a bigger trend. For this is a really moving performance that demands more accolades, attention and nominations. What could have been a very melodramatic act otherwise, Foxx keeps its restrained, letting us feel the emotions simmering below his skin. Even in the two moments where McMillian gives in to his emotions, Foxx puts in a controlled but marvellous performance there.
In a more supporting capacity, Brie Larson keeps her Captain Marvel starriness aside and gives a solid act as Stevenson's wall of support. Tim Blake Nelson, who plays the prime witness in McMillian's conviction, is fantastic, proving once again why he is such a brilliantly underrated actor. Rob Morgan troubles your heart with a moving performance. Rafe Spall and O'Shea Jackson Jr do good in their brief roles.
Yay!
- A Moving Narrative
- Relevant in Present Times
- The Performances
Nay!
- Slow Pace
- Courtroom Sequences Can Be Underwhelming for Some
Final Thoughts
Just Mercy is a solid, and often moving, reminder in these times that justice, and above all mercies, are the need of the hour. With sublimer performances from the cast, especially Foxx, Jordan and Nelson, this is a must-watch if you love human dramas based on true-life heroes.