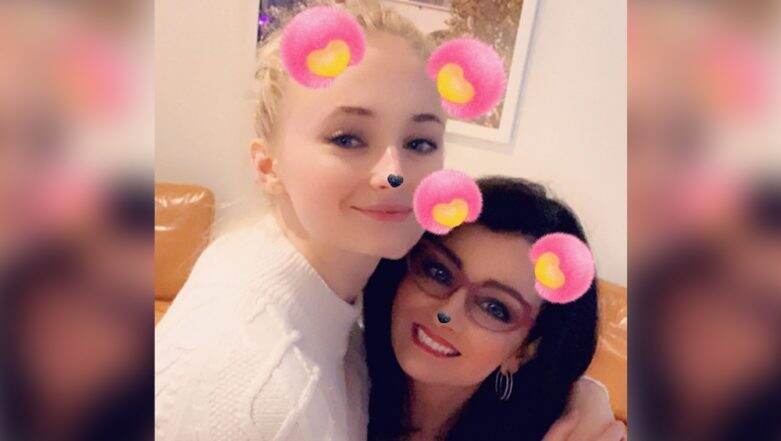 Sophie Turner and Joe Jonas recently tied the knot in a secret ceremony in Las Vegas. Though it was a huge surprise for all fans of the couple, they were still happy to know that the duo is married. Since then all are waiting to see pictures of Sophie Turner with her in-laws. Yesterday (May 12) it was Mother's Day and Joe Jonas shared a photo of his ladylove and mom Denise Jonas on Instagram. It is a cute picture and we are pretty sure, it will make you smile. Priyanka Chopra Reveals Inside Details of Sophie Turner-Joe Jonas' Wedding and It was INDEED Impromptu!
The Jonas' have been sharing some amazing pictures from the Mother's Day celebrations and all those pictures are adorable. This is one of the pictures that Sophie Turner's hubby Joe Jonas shared and captioned it, "My Love & The best Mom ever Happy Mother's Day!!" In fact , even Priyanka Chopra Jonas shared a video and pictures featuring mom-in-law Denise and fans couldn't contain their excitement on seeing it. Family First for Priyanka Chopra Jonas! Actress Celebrates Mother's Day With the Jonas' (See Pic).
Sophie Turner with her mom-in-law
View this post on Instagram
Priyanka Chopra Jonas shares pic of Mother's Day celebrations
View this post on Instagram
The Jonas' are known for their fam-jam and the pictures that they keep posting are enough to prove it all. It was just recently when Priyanka Chopra Jonas- Nick Jonas, Sophie Turner-Joe Jonas and Danielle Jonas-Kevin Jonas were seen attending the Met Gala 2019. The JSisters stole the show as the Jonas Brothers performed to some of their hit tracks at the event. Stay tuned for more updates from the world of showbiz.