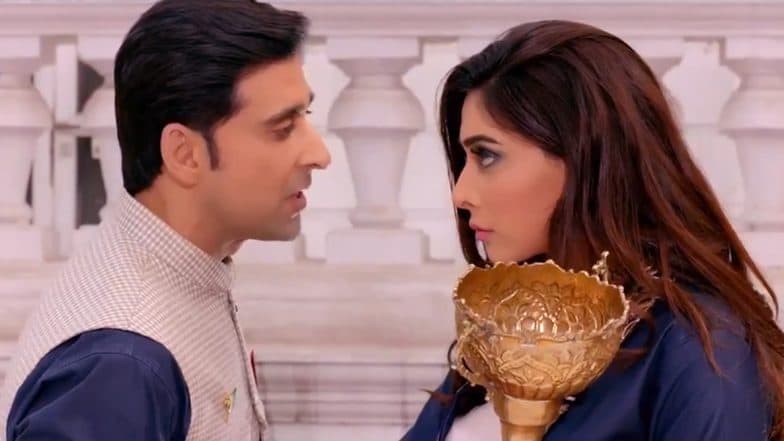 Internet just discovered the trailer of Pakistani movie Kaaf Kangana and it cannot have enough of it. The makers claim it to be a romantic film which stars Sami Khan, Eshal Fayyaz, Ayesha Omer in the lead roles. Produced, written and directed by Khalil-ur-Rehman Qamar, the film's trailer has left Twitterati fall short of memes! The netizens are confused as to whether this movie is a spoof or actually a movie! Pakistan Stoops to New Low! Distasteful Viral Video Against India Featuring Children Slammed By Netizens.
The trailer video has the love story of a Pakistani boy who falls in love with an Indian girl. There is also a glimpse of Indian Prime Minister Narendra Modi's speech. As if all this 'Indian' reference was less, they also have the 'Kashmir' issue highlighted over here. However, nothing could beat the OTT scenes and dialogue delivery by the actors. The social media users are busy trolling this trailer with the choicest of memes and tweets! Here check it out.
Watch Trailer Here:
Watch upcoming Pakistani movie #KaafKangana trailer - Releasing on Friday 25th October 2019 at Nueplex Cinemas pic.twitter.com/CCY3CQezPx

— Nueplex Cinemas (@NueplexCinemas) October 11, 2019
And The Memes Here!
Ha.Ha.
— JayaJhurani (@JAYAJHURANI_) October 12, 2019
'Joke'r
— Mohit Gupta (@IndelibleMohit) October 12, 2019
Phoebe Did It Better
— Nairobi (@Kinnzayyy) October 12, 2019
Akki Memes Are a Must
— Hetal Oza (@hetal007_oza) October 12, 2019
Meme Legend!
— लंकेश्वर रावण (@LankaeshRavan) October 12, 2019
Tripathi Ji Asks a Question
— #JusticeForBandhuPrakashAndHisFamily (@RajuYadav17996) October 12, 2019
Umm, What?
No idea bro, absolutely no idea 😂 pic.twitter.com/qu62GJzf02

— Shahzeb Khan (@shahzebk10) October 11, 2019
'Hungama' Ho Gaya!
— ꧁✶∞ ₮ⱧɆ ₩₳ⱠⱠ ∞✶꧂ (@mitesh329) October 12, 2019
Jethalisa is Petrified
Im frozen after a seeing this masterpiece! pic.twitter.com/pHSgGKKJRO

— Mukul Sharma (@mukuljrsharma) October 12, 2019
Never Gets Old
— karanbir singh (@karanbirtinna) October 13, 2019
The flick is slated to release on 25 October 2019. Well, the fans were surely not ready to watch this video but it has made the day for many of them. We wonder whether the makers of the film have slightest of a clue as to how the trailer is being received by the 'fans.' Stay tuned with us for more updates from TV and Bollywood industry.