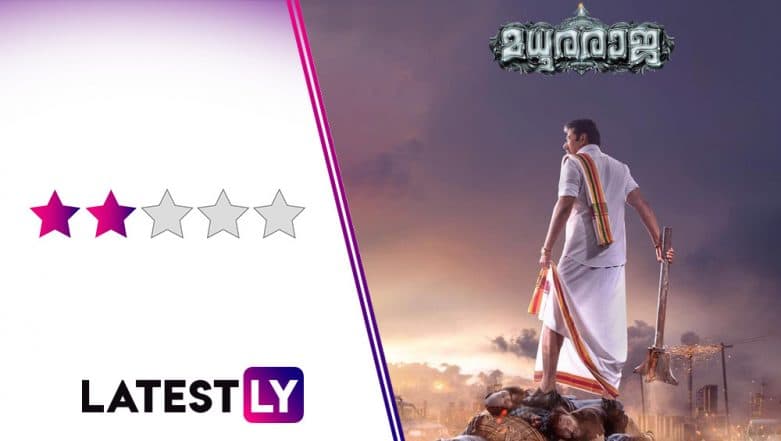 There is one thing that I always wonder about heroes in mass movies - why they need to bring on barrel-loads of cronies to walk behind them, when the hero only has to do everything. In this Vishu entertainer, Madhura Raja, the eponymous Raja (Mammootty) arrives in a hamlet called Pambinthuruthu with nearly fifty men, riding on more than two dozen speedboats. An impressive entry indeed, but these men don't really do anything in the film apart from filling up the screen. All we get to see them is stand in the sidelines and watch Raja kick innumerable goons with the ease of placing that mundu on his shoulder and cheer him when needed. Madhura Raja Trailer: Mammooty's Mass Role and Sunny Leone's Glam Appearance Are the Highlights – Watch Video.
But this testosterone-filled cheer brigade is hardly the major problem in Madhura Raja, the sequel to the 2014 blockbuster Pokkiri Raja. Director Vyshakh and lead star Mammooty return to capitalise off the goodwill of the first film, whose reruns still get good TRPs on television.
This time Raja faces a new nemesis in Nadesan (Jajapathi Babu), a shady rich businessman in the water-locked Pambinthuruthu, whose charity activities are a facade for illegal liquor manufacturing and organ trade. Some of the characters from the previous film like the novelist Manoharan (Salimkumar), Raja's father (Nedumudi Venu), uncle (Vijayaraghavan) and Commissioner (Siddique) also return.
Among the new entrants are Vasanthi (Anusree), a resort owner and her younger sister Meenakshi (Mahima Nambiar), whose father was killed by Nadesan years ago. To fill the space left by a non-returning Prithviraj Sukumaran (with a meta-joke made to explain his absence), we have Chinnan (Jai), the son of Raja's mentor Manniyannan (Charan Raj), who falls for the pretty Meenakshi.
The rest everything else is as usual. From the moment, you see the antagonist's villainy in the opening scenes, you know how Madhura Raja will end. Expecting anything else surprising from Vysakh, a director known for delivering blockbusters with tepid scripts, and scriptwriter Udayakrishna is like searching for fool's gold. The narrative is tailormade to cater to Mammootty's mass appeal, though I am not sure why the BG score keeps calling him Thalaiva - which is, as you know, Rajinikanth's nickname. Every element that can be used to make the hero look good is crammed into this bloated screenplay, including innumerable slow motion shots. And still, it takes almost half an hour for Mammootty to make an entry in the film. The makers acknowledge this delayed entry with a joke, but it is only when Mammootty arrives that Madhura Raja feels somewhat alive.
I agree that Pokkiri Raja also had the same issue. But at least it had Prithviraj Sukumaran in fine form, dominating the proceedings in the first half. Here, an otherwise wonderful Ja feels quite out of place trying to get into Prithvi's shoes, like a fish made to jump out of the water. And once Mammootty comes in, the Tamil star is relegated to the background so often that I wonder why he even bothered to be a part of this. Was it the opportunity to shake a leg with Sunny Leone, in a needless item song? Who knows! Though one thing is clear. From Dhanush in Kammath & Kammath to now Jai, Malayalam film-makers really can't figure how best to utilise a Tamil start in an M-vehicle! (Sarathkumar in Kerala Varma Pazhasshi Raja is a clear exception). Madhura Raja vs Athiran: Mammootty's Film to CLASH With Fahadh Faasil-Sai Pallavi Starrer on This Vishu 2019?
The strengths of Madhura Raja lie mostly in its humorous scenes, just like the first film. And it is Mammootty and his broken English that once again saves the day, even though the movie is filled with so many comic actors like Salimkumar, Aju Varghese, Noby, Ramesh Pisharody, Kalabhavan Shajohn, Bijukuttan and so on.
When the movie becomes serious, though, is when chips begin to fall off for Madhura Raja. The blame goes to the wafer-thin premise stretched too much to tax our patience. Udaykrishna has tried to update it with inferences to the current political milieu, especially when it comes to the character of Nadesan. Even the devastating Kerala Floods of 2018 find a mention, unnecessary at that, in the movie. However, they can't hide the fact that Madhura Raja is just the same horse getting flogged again and again in its attempt to make the superstar lead look good.
I also have a serious problem with how Madhura Raja looks down on the problems faced by women. It is not just that female characters are sketchily written or just props in the film. In a film that begins with a disclaimer that they don't support violence against women, there are a few tasteless jokes made on rape and belittling #MeToo movement. This is highly irresponsible, especially since Mollywood is already in the eye of a controversy thanks to the case of Dileep.
Madhura Raja ends with a promise of returning for a threequel. But seeing how the sequel basically repeats not just the formula of the original film, but also countless other masala films, I can hardly feel any excitement for that!
On a separate note, dear film-makers, stop casting Narain and Kailash in characters that have dead meat written on their forehead. Didn't I see this same trope in Odiyan too?
The Performances
Madhura Raja is undisguisedly a complete Mammootty show after the initial 30-minute mark. The superstar's larger-than-life screen presence is well-utilised here, and he is quite terrific in the lighter moments. Watch out for the scene where he goes to Vasanthi to ask for Meenakshi's hand.
Strangely, though, for the first time, I thought I saw Mammootty struggle in a highly emotional scene near the climax. Perhaps it may be the way the scene is shot, but I couldn't believe the National award winner could be so artificial.
Jai's portions are merely a filler for the film to give the hero an emotional heft. Among the ladies, the talented Anusree makes some impact, as the strong headed resort-owner, that has shades of Manju Warrier's character in Kanmadam. The rest of the cast is quite ho-hum, including Jagapathi Babu (voiced here by Manoj K Jayan, I believe) who is getting typecast in these roles.
Yay!
- Mammootty
- Some Light-hearted Scenes
- Tailored for the Masses
Nay!
- Too Long and Bloated
- Wasting Some of the Supporting Cast
- Weak Premise
- A Couple of Tasteless Jokes
Final Thoughts
I so wish that Mammootty regain his script sense on an immediate basis and give us some wonderful movies that he loved to do once. Madhura Raja may be slightly better than some of his recent films like Masterpiece (shudder) and Oru Kuttanadan Blog (double shudder). But that's like saying it is better to be clawed by a crab instead of being stung by a scorpion. Madhura Raja is purely watchable for Mammootty's screen presence, and some of the lighter scenes. The rest is forgettable.