He is an actor, a superstar at that. He is a producer. He has sung a couple of chartbuster songs. And he has now directed the highest grossing Malayalam film of all time. Meet Prithviraj Sukumaran, one of the busiest stars in Malayalam cinema, and also one of the most handsome actors in Indian cinema. Having worked in three film industries and dabbled in different facets of film-making, Prithviraj's career, while seeing some spectacular ups and downs, is fascinating to say the least. It is also wonderful to see how the actor, who was once perceived to be a very haughty star, to have turned things around and is now considered a game-changed. L2 Empuraan! The Much Awaited Sequel of Mohanlal and Prithviraj Sukumaran's Lucifer Gets a Title – Watch Video.
Prithviraj Sukumaran comes from a family of actors. His father, the late Sukumaran, was a very popular actor in the '80s and '90s, having done both positive and negative roles. His mother, Mallika Sukumaran, was also a leading lady in the same era, and is now very busy as a character artiste in movies, and serials. His elder brother, Indrajith, is considered a peer to Prithviraj, and is a man of many talents, while Indrajith's wife Poornima is also a talented actress and a former television host. The only person in his family, apart from the kids, might be his wife, Supriya Menon, a former BBC reporter. So yeah, we can say Cinema is blended in the blood of this actor, who had dropped a degree in IT from Australia to take up acting.
As Prithviraj turns 37 today, we take a look at 15 films involving the actor that defined his career in one way or the other. Also, dear Prithviraj, Many Many Happy Returns of the Day!
Nandanam
Prithviraj Sukumaran's debut as an actor should have been this Ranjith film; a delay in its release made Nakshathrakkannulla Rajakumaran
Avanundoru Rajakumari his first film. While the latter tanked, Nandanam that became his second film, was a big hit.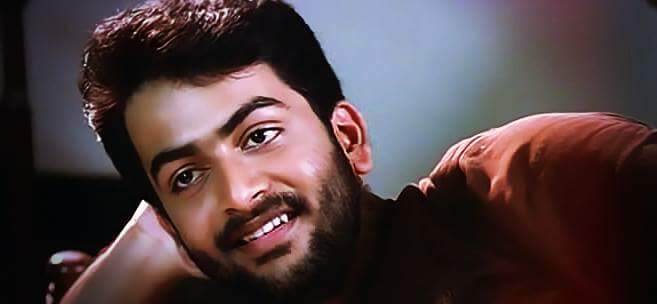 What's more, this romantic fantasy film also got Prithviraj a lot of fans for his 'boy-next-'door' act.
Kana Kandaen
In the early part of his career, Prithviraj was accepted as this actor with chocolate boy looks. But it took this Tamil film to make us notice that Prithviraj can go beyond playing the usual hero schtick and that his performances can work out more layers.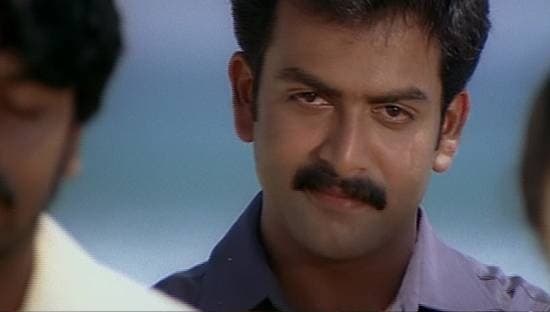 Kana Kandaen is also his first film in a negative role, that actually takes advantage of his good looks to create a villain that who hides a menacing, opportunistic demeanor behind that friendly smile.
Akale
Akale is the first time Prithviraj went offbeat with his movie choices, and showed his willingness to be a part of an narrative rather than lead it. This Shyam Prasad film is based on American classic play The Glass Menagerie by Tennessee Williams.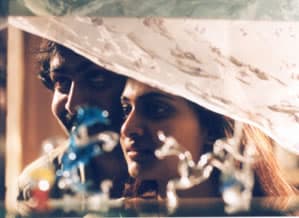 Veteran actress Sheela, who played his mother in the movie, won National Film Award for Best Supporting Actress. But Prithviraj's suitably subdued performance also won him a lot of accolades.
Ananthabhadram
This Santosh Sivan film was not only an entertaining take on folktales and black magic, but also began a very fruitful association of the director with his leading man, Prithviraj.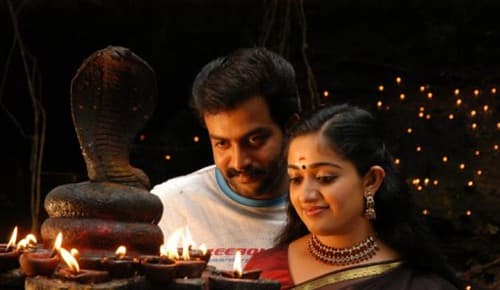 Ananthabhadram was a big hit, thanks to its ensemble cast, terrific score, visual appeal and its exciting blend of romance and supernatural fantasy. Prithviraj's performance as the US returned youngster, who got more than he bargained for his mother's village, was appreciated, and so was his chemistry with Kavya Madhavan.
Classmates
Speaking of his chemistry with Kavya Madhavan, what about Classmates, directed by Lal Jose? A cult hit, Classmates is the reason why most of the Malayalam films these days love to harp on the sense of nostalgia. The "Ente Khalbile" song is still a big hit in the campuses even after all these years.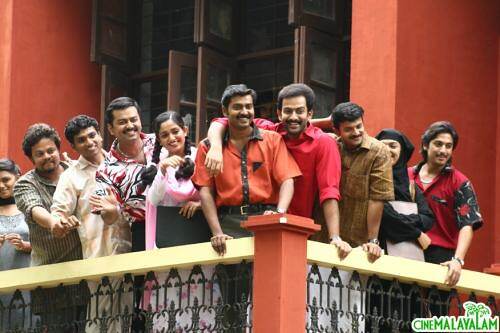 The entire cast, also featuring Indrajith Sukumaran, Narain, Jayasurya, Balachandra Menon, Jagathy Sreekumar, is enjoyable to watch here. Speaking of Prithviraj, he  is incredible as both the firebrand student leader, and later, as the life-weary man hiding a dark secret.
Puthiya Mukham
Before Puthiya Mukham, Prithviraj had done his share of action films. But I don't expect that those films would have elicited the kind of applause as much as his sudden turn that transforms him from a meek Brahmin boy to a undefeatable iron man!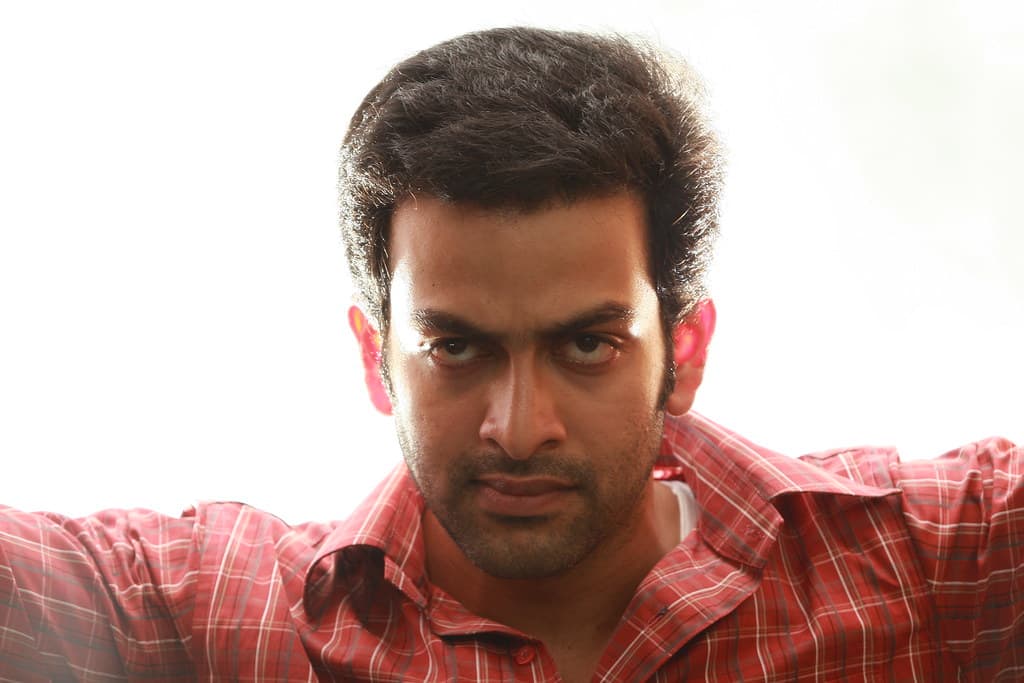 Also, let's not forget that Puthiya Mukham also marked the actor's debut as a singer, and even that track "Kaane Kaane" was a big hit.
Indian Rupee
Could the really urbane suave Prithviraj play a protagonist straight out of a Sreenivasan screenplay? You know, something like what Mohanlal did in Vellanakalude Naadu? As a matter of fact, he could, which was proven in Ranjith's social comedy, Indian Rupee.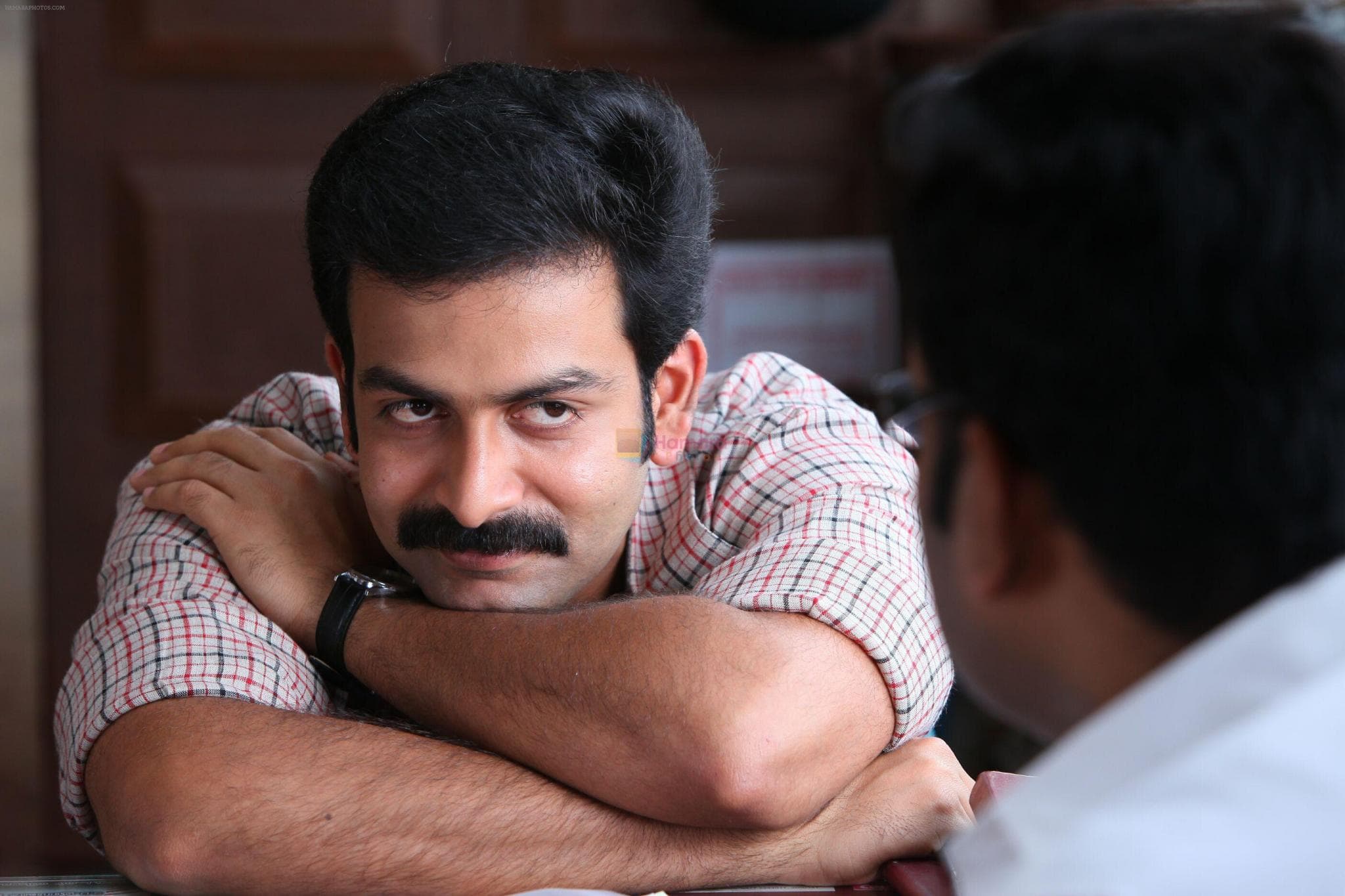 Prithviraj plays a down-on-luck land-broker who gets an opportunity of a lifetime when he meets a miserly rich man. Playing a character with grey shades, the actor is a scream with excellent support from Thilakan, Tini Tom and Rima Kallingal.
Urumi
This alternative take on an important chapter in Kerala history, Urumi marks the debut of Prithviraj Sukumaran as a producer. From this movie was born, August Cinemas that was a joint venture of Prithviraj, Santhosh Sivan, Shaji Nadesan and Tamil actor Arya (who has a cameo in the film).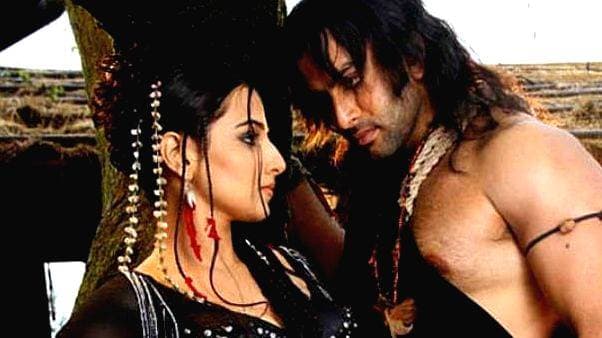 Urumi is considered as one of the most expensive films in Malayalam cinema, and is known for its visual opulence, production values, morally ambiguous characters and fighting sequences. It also marked the Malayalam debut of Bollywood actress Vidya Balan.
Celluloid
JC Daniel is considered the father of Malayalam cinema, having directed the first Malayalam film Vigathakumaran. Veteran director Kamal made a moving biopic on him and his struggles to get his film made, with Prithviraj in the lead role.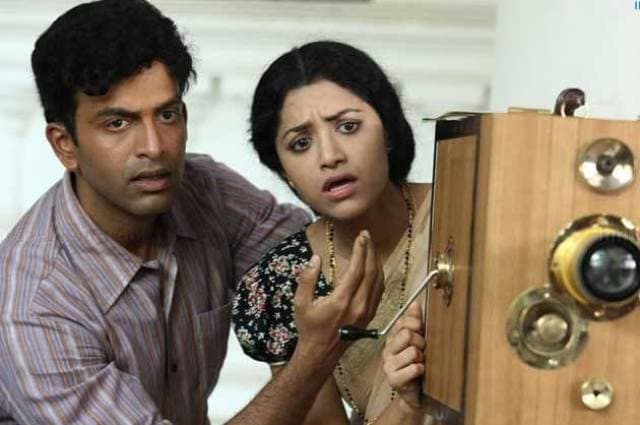 The actor was simply living the role, it seems, as he gave a scintillating performance that captures the enthusiasm and later, the helplessness and the anguish of a man, who pioneered Malayalam Cinema, only to be let down by his medium. He rightly won the Kerala State Award for the Best Actor for his performance here.
Mumbai Police
Mumbai Police is a decent suspense thriller, and it really hasn't withstood the test of time. That said, it ranks high among Prithviraj's finest performances, as the actor stupendously depicts two sides of the same coin, or in his case, the same character.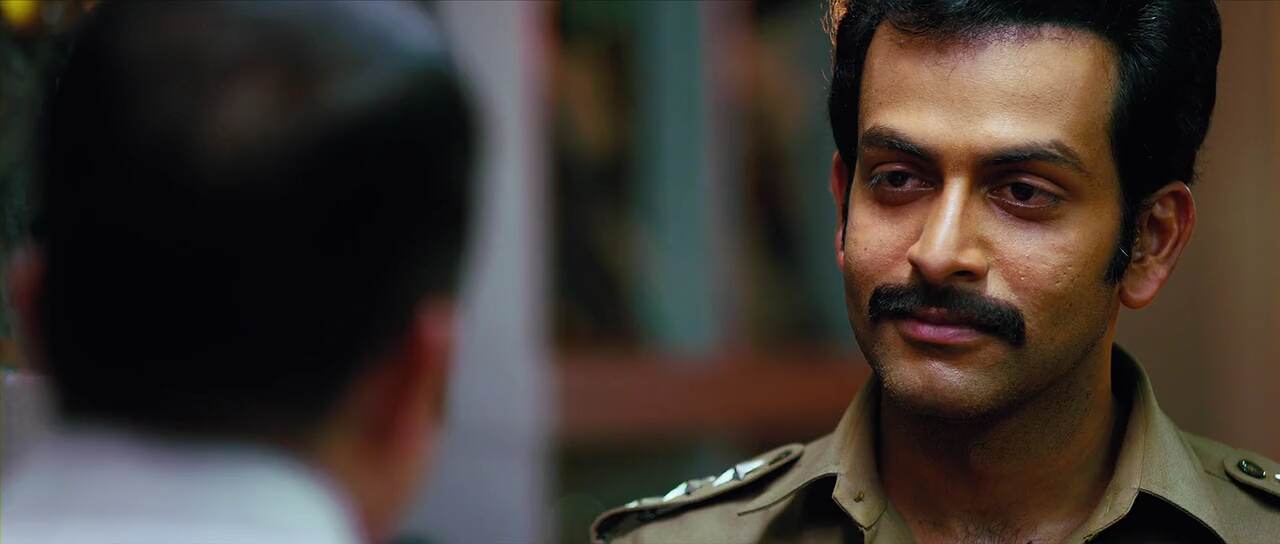 He is excellent as the amnesiac cop trying to fit the pieces of the life he has forgotten, along with the last case that he had solved before the accident happened. But Prithviraj tuly hits it out of the park as the morally grey cop who doesn't play by the rules, and has a side of his hidden from even his close friends. It is the kind of role no mainstream actor in Malayalam film would have taken the risk to play it out then.
Aiyyaa
Okay, Aiyyaa is something that no Bollywood fan would really like to remember. This absurdist romcom, starring Rani Mukerji in the lead, marks Prithviraj's debut in Bollywood cinema and was lambasted by the critics and fans for its unappealing humour.
But that's the not only reason why Aiyyaa manages to make it to this list. Aiyyaa is the first film that manages to make good use of Prithviraj's sexual appeal, as the actor built up a really awesome physique to look the part of being Rani's object of affection here.
Ennu Ninte Moideen
Ennu Ninte Moideen is based on the real-life tragic life story of Moideen and Kanchanamala, two lovers who lived in Kozhikode of the '60s but could never be together due to social circumstances.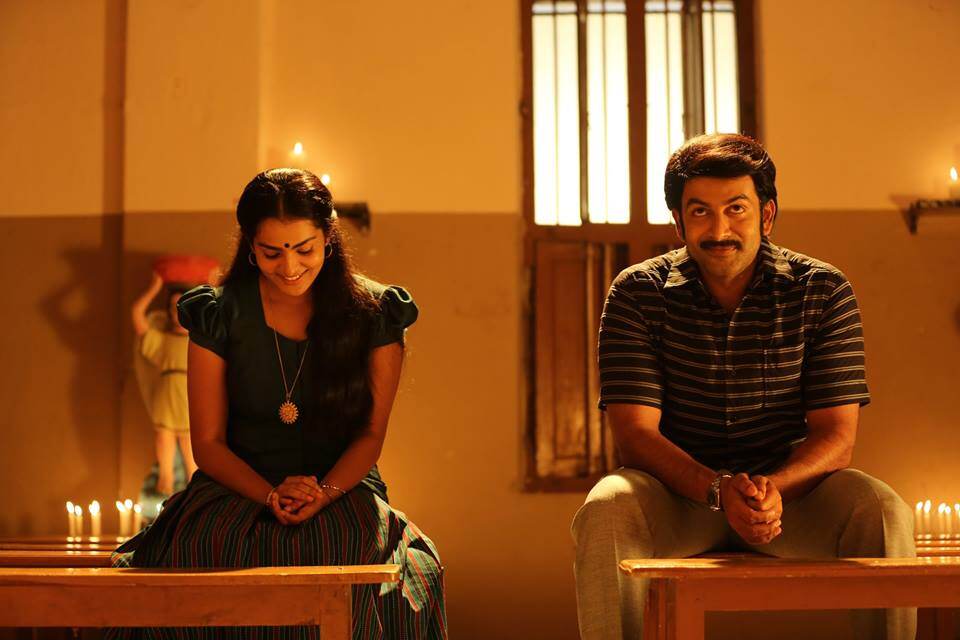 The movie imbibes the passion and the tragedy of that doomed romance to craft an appealing tale of star-crossed lovers that is relatable even to the current generation. Both Prithviraj and Parvathy Thiruvothu are in fine knick and their chemistry is what makes Ennu Ninte Moideen a movie for the ages.
Amar Akbar Anthony
Prithviraj has acted in quite a few comedy films before this Nadirshah film, but Amar Akbar Anthony gave him the most appreciation for his comedy skills. The movie may not be a classic, but is very watchable for its funny skits and the amazing camaraderie that Prithviraj shares with the other two main leads, Indrajith and Jayasurya.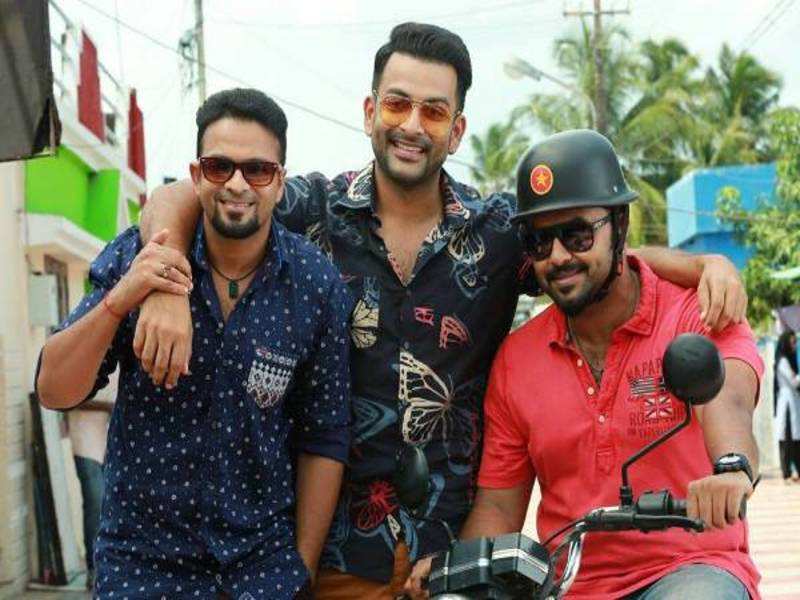 Prithviraj as the flirty Anthony was hailed not only for getting all the funny bits right, but also for nailing that Kochi accent.
Koode
Koode may not be Prithviraj's best film (I have a soft spot for Indian Rupee still) or his biggest hit. But, like Mumbai Police, this is the kind of risky role that mainstream actors would think twice before taking up.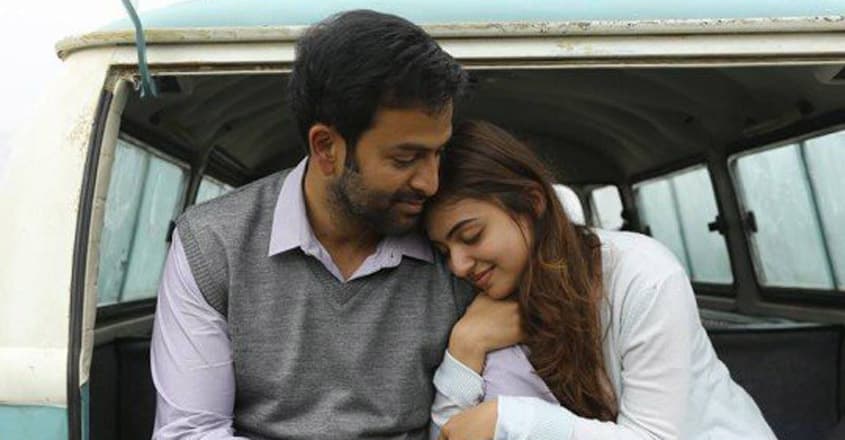 Why so? 'Cos in Koode, a touching story of a man and his bonding with his dead sister, Prithviraj plays a character who is shorn of very bit of heroism that is evident in his other leading performances. The character is a man so defeated and beaten down by what his younger self had went through, that we really wanted to go out and hug him and tell him that all is fine in the world. Thankfully, there is a chirpy Nazriya Nazim to do that task for us.
Lucifer
In a surprising move, Prithviraj turned director with this Mohanlal mass entertainer that made it one of the most anticipated films of 2019. Lucifer Movie Review: Prithviraj Sukumaran's Directorial Debut Is A Cliched But Stylishly Shot Fanboy Tribute to Mohanlal's Mass Persona.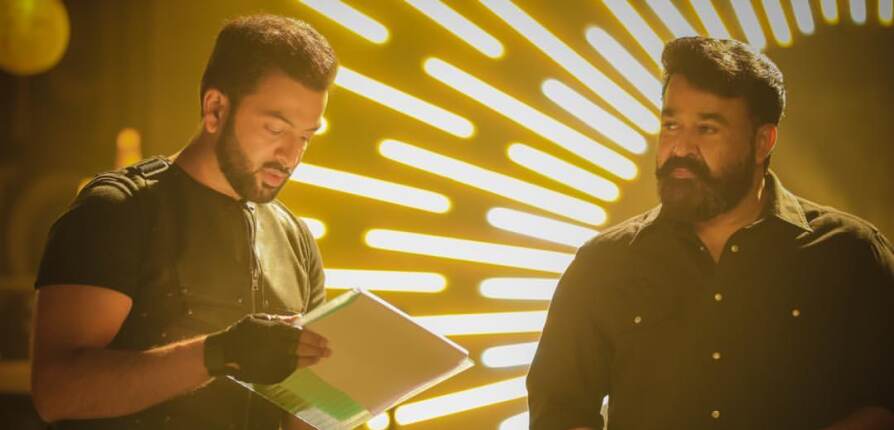 The movie may not be a game-changer, and Prithviraj's extended cameo is one of Lucifer's weakest points. But the actor has to be lauded for helming a larger-than-life film and cradling a large cast, and not make a mess out of it. Instead it turned out to be an entertaining thriller with some powerful moments. Lucifer is currently the highest grossing Malayalam film and is all set to have a sequel with both Mohanlal and Prithviraj returning.
(The above story first appeared on LatestLY on Oct 16, 2019 08:30 AM IST. For more news and updates on politics, world, sports, entertainment and lifestyle, log on to our website latestly.com).