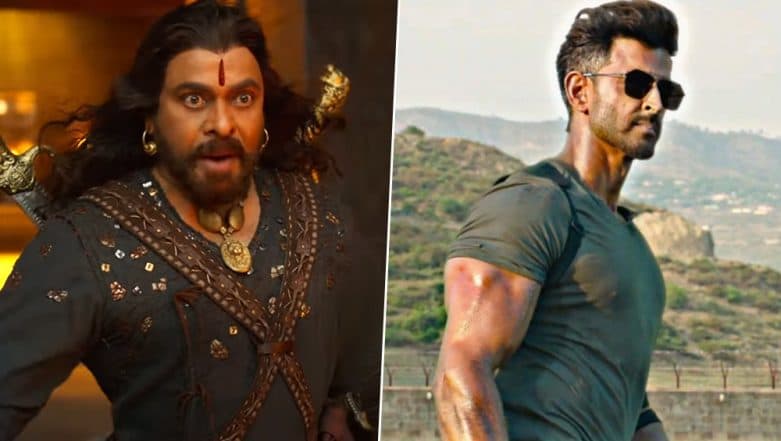 Two big films are releasing on October 2 - Sye Raa Narasimha Reddy and WAR. The film stars Chiranjeevi and Hrithik Roshan in the lead, respectively. The makers have released the teaser of both the films and they are absolutely enthralling. Although both the films have a different story-line, the larger than life sets, high-octane action sequences, the excellent usage of VFX, background score, cinematography and many other details have made these films a must watch one on October 2. But which one are you more excited to watch?
October 2 marks the birth anniversary of Mohandas Karamchand Gandhi and it is a national holiday. Being a holiday, the footfall expected at the multiplexes are sky-high. Chiranjeevi and Hrithik Roshan have huge fan base across the country, and fans would not want to miss first day first show of either of the films. But who will rule on October 2, only time will tell.
Sye Raa Narasimha Reddy Teaser
Sye Raa Narasimha Reddy is based on a true story, on the life of India's freedom fighter Uyyalawada Narasimha Reddy. The film's teaser dropped a hint about the unsung hero, who fought against the British. Directed by Surender Reddy, this film has an ensemble cast - Sudeep, Vijay Sethupathi, Jagapathi Babu, Nayanthara, Tamannaah, Anushka Shetty and Amitabh Bachchan. Besides Telugu, the film is also releasing in languages such as Hindi, Tamil and Malayalam.
WAR Teaser
Talking about WAR, it also features Tiger Shroff and Vaani Kapoor in the lead. Hrithik Roshan's action sequences with Shroff  against the backdrop of snow-clad mountains, the car and bike chasing sequences, it has left the audiences impressed. This is the first time that Hrithik and Tiger are coming together for a film, and the face-off between them has already hogged all the limelight. Produced under Yash Raj Films banner, WAR is also going to be released in regional languages.
The action sequences in Sye Raa Narasimha Reddy have been choreographed by London-based stunt choreographers Greg Powell, Lee Whittaker and Ram-Laxman. Andy R Armstrong and Mr Oh (martial arts action choreographer from South Korea) have choreographed the action sequences in WAR. The war amongst fans on which film will rule on October 2 have started, already.
Which Film Are You More Excited to Watch on October 2?
41%
Chiranjeevi's Sye Raa Narasimha
59%
Hrithik Roshan's WAR
Sye Raa Narasimha and WAR look visually spectacular. Both the films have excited have fantastic star cast and a thrilling plot. But which one will rule at the box office, we'll have to wait and watch! So don't forget to vote for the film you are excited to watch.