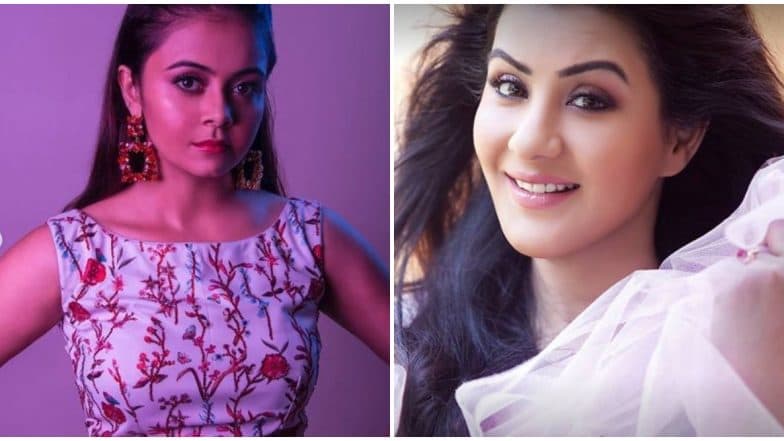 Back during her stint in Bigg Boss 11, when Shilpa Shinde was accused of only being seen in the kitchen and not doing any tasks, one of the many celebs who trolled her for only being in the kitchen and not actively taking part in house tasks, was actress Devoleena Bhattacharjee. The Saath Nibhana Saathiya actress had tweeted that - "Exactly BB hai Masterchef 11nahi.... I am even sure @BiggBoss is aware about the show content before asking the contestants for Taks...:) lets enjoy it." Yes... Devoleena was in support of Vikas Gupta and Hina Khan. Bigg Boss 13: Is It Just Us Or Siddharth Shukla And Rashami Desai Remind You Of Vikas Gupta And Shilpa Shinde?
And from the looks of it, Devoleena, who entered the house in the 13th season, seems to be caught up in a similar situation, the only difference being that Shilpa never created an entire scene out of her being burdened with kitchen duties. In an episodes a few days back, Devoleena was seen getting frustrated over everyone demanding different things from the cooking team and was seen telling everyone that she was not a 'naukrani'.
After Devoleena, Rashami Desai too faced issues in the kitchen over cooking boring food and unlike the former, she was seen breaking down when the entire house, inspite of thanking her for cooking food, turned against her. Bigg Boss 13 Day 11 Highlights: Cracks Amid Rashami Desai and Sidharth Shukla's Relationship Start To Deepen
And in a report in SpotboyE who reached out to Shilpa Shinde, who is believed to have started this 'kitchen angle' in Bigg Boss, she was quoted as saying, "I haven't seen yesterday's episode, so I don't know what to say about her but I did watch the premiere episode where I came to know that Devoleena has been assigned kitchen duties along with Sidharth Shukla. Since last night my fans are constantly messaging me all these comments as I am no more on Twitter. Frankly speaking, I was not even aware that Devoleena was anti me and had tweeted such stupid things against me, back then. Looking at her comments now, I also feel that yes it is Karma. Though it was not only her, a lot of TV actors had said that Shilpa Shinde khana banakar show jeeti hai, toh unko bol doon ki khana banana koi khaane jitna asaan kaam nahi hai. I would request all the celebrities, not only who are locked inside, that please respect the person who is cooking food for you. As it's not an easy job. And I am sure Devoleena must have also realised it by now."
Well, while I personally do not believe that staying in the kitchen all the time does not make one a winner, its the fans who are the deciding factor. Meanwhile, someone has to make food for the house and hence, will always be in the kitchen, which does not necessarily mean that he/she will be crowned the winner and is deliberately trying to gain footage.