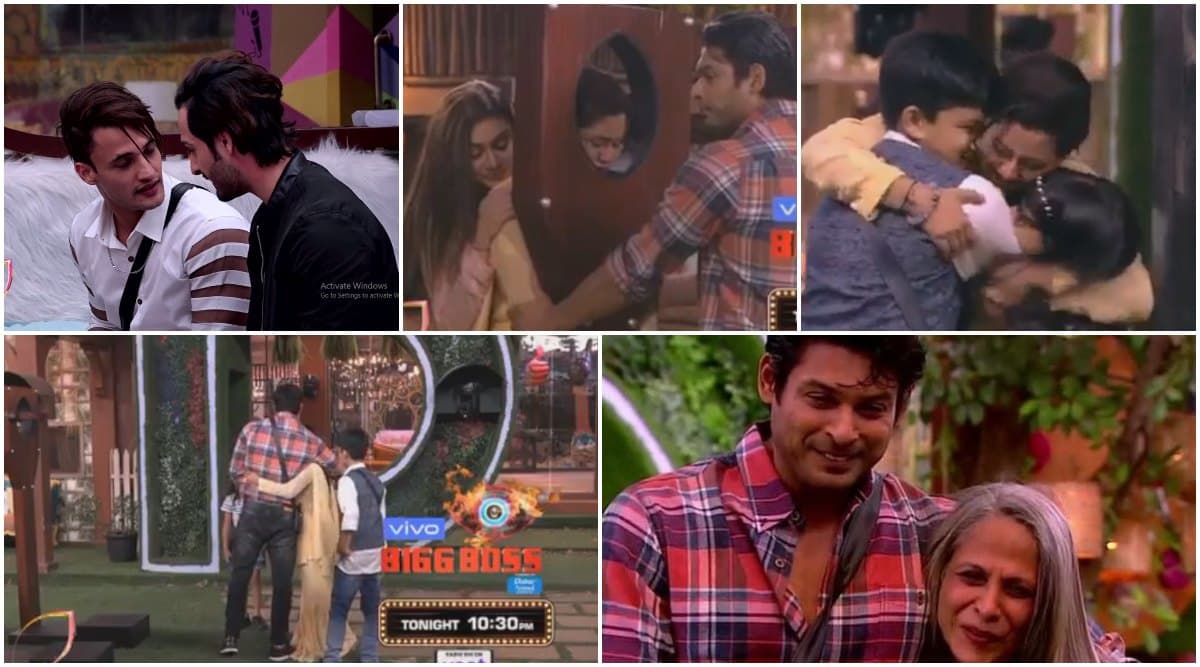 The much-loved segment on Bigg Boss - the family task is finally taking place, but with a twist - to meet their loved ones, the contestants have to give up on their chance to become the captain, and every single contestant does. The next set of temptations in the form of family members come for the remaining contestants Sidharth Shukla, Rashami Desai, Asim Riaz and Paras Chhabra. Unfortunately, as part of the punishment, Vishal Aditya Singh and Madhurima Tuli's family members are not sent into the house. Asim's brother Umar Riaz walks in and meets with everyone, tells Asim that he is the most trending contestant of Bigg Boss 13, but gives him the news that while everything that was said to him about Himanshi Khurana waiting outside for him is true, the statements that he is getting influenced by Vishal Aditya Singh and Rashami Desai is a 'lie'. Bigg Boss 13 Day 109 Highlights: Shehnaaz Gill, Mahira Sharma, Asim Riaz, Shefali Jariwala Meet Family Members, Vishal Aditya Singh - Madhurima Tuli Continue To Feud.
Watch The Video Below:
Next enters Sidharth Shukla's mother and the actor lets his emotions flow freely in the form of tears on seeing her. Her mother meets everyone and he even takes her to Rashami Desai, who tells his mother that they are both taking care of each other inside. Sid's mother asks him to enjoy his last month in the house and stay happy and also keep others happy and entertained. Bigg Boss 13 Day 109 Preview: Sidharth Shukla Overjoyed As He Meets His Mother.
Watch The Video Below:
However, looks like his mother's visit followed by the fact that nobody from her family has shown up yet, upsets Rashami to an extent where she ends up crying and consoling her are Shefali Jariwala, Shehnaaz Gill and... (surprise) Sidharth Shukla. Shukla, who has been behaving friendly with Desai for the past few episodes now, hugs her and asks her what has happened and when she replies that she is missing everyone, he consoles her and even makes her drink water. Bigg Boss 13: Devoleena Bhattacharjee Wants Rashami Desai To End Relationship With Arhaan Khan.
Watch The Video Below:
Soon enter Rashami's niece and nephew and she breaks down seeing them. After spending quality time with her family, Rashami takes them to meet the others and to everyone's surprise, the kids demand that Rashami and Sidharth hug and make up, which they do.
Watch The Video Below:
Next up is Paras Chhabra's mother, who enters the house. And soon, contrary to Paras' expectations she indirectly slams his game with Mahira Sharma. She asks him to take 'Khudka stand' and also asks him to get a hold on his game. His mother also tells him to stop kissing and hugging Mahira and says that eversince he has become Mahira's 'Godfather' in the game, his game has gone for a toss. She also cracks a savage line '36 aayengi, 36 jaayengi, teri wali ter maa hi leke aayegi'. Bigg Boss 13: Paras Chhabra Openly Talks About Wearing A Hair Patch, Reveals Why He Lost His Hair.
Watch The Video Below:
Well, the only people who lost out on this task were Vishal and KMdhurima, whose growing differences led to them being jailed by Bigg Boss. Vishal and Madhurima will now be directly facing Salman Khan and hell hath no fury like the angry Bigg Boss 13 host as we have witnessed in the past.