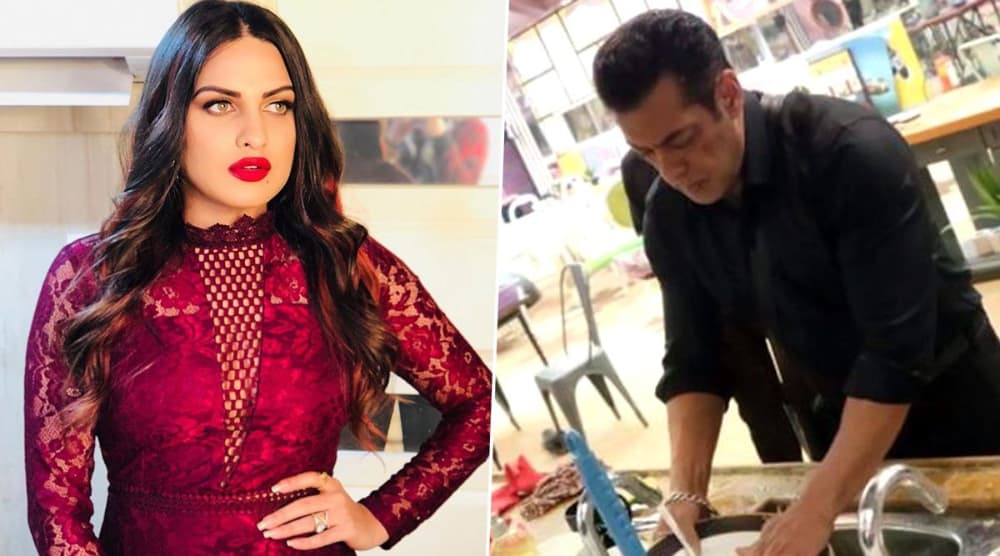 Punjabi singer and actor, Himanshi Khurana was evicted from Bigg Boss 13 a couple of weeks back. However, the lady managed to be in the limelight last week, courtesy a video in which she is seen mocking host Salman Khan. For the uninitiated, Salman stepped inside the Bigg Boss house a few weeks ago and started cleaning the unwashed dishes in the kitchen and clearing the other mess that the contestants had made, as the contestants stood in the bedroom area of the house (they were not allowed to come out) and watched him do that. That was Salman's way of teaching the lazy bunch a lesson. This particular incident had occurred on the show during Shehnaaz Gill's captaincy wherein many contestants threw tantrums and refused to do their duties. While Salman's was lauded online, Himanshi thought this was no big deal.
In a video that went viral on social media, Himanshi, who is sitting at a nail bar can be heard talking about this incident. While talking to a man who was recording the video, Himanshi said that washing dishes in the Bigg Boss house has ruined her nails. The person then replied by saying that even Salman washed dishes on the show recently. On hearing this, Himanshi voiced her opinion saying that Salman is getting paid for this. She further added that he gets Rs 600 crore to wash the dishes.
Watch the video, ICYMI:
Of course, Himanshi's comments were not appreciated by a huge set of people and hence, she was slammed on social media. Now, Himanshi has given her two cents on the viral video. In a series of tweets, she has revealed that the person who was recording the video is a senior journalist, who wanted Himanshi to call Salman a biased host. Himanshi, however, clarified that she still stands by what she said. She added that she didn't speak anything wrong about the show or Salman.
Check out her tweets:
I was in nail bar last evening,i said mere nail khraab ho gye bartan kr krke..in the video senior media reporter said Salman did dishes ......I said dhoyega hi paise liye hai ...uski job hai aise host .ye hi chapa tha na apne articles me web portal pe, sarcastic taunt to dat man

— Himanshi khurana (@realhimanshi) January 5, 2020
Bcz woh interview me puchne wala tha apki capacity me koi nahi aya ..shenaz ki me he came did everything,he asked me is Salman Khan biased? ..or jab bhi koi media article likhte hai koi bhi .. ji or sir ka use nahi krte to unke hi likhe sentence ko Maine bola..go get life haters

— Himanshi khurana (@realhimanshi) January 5, 2020
I din say anything wrong media person wanted me to say he is biased..... he is not that is his job he is host of the show he took money .... or waise bhi Jisko daant prti hai woh bahar logo acha dikh raha to acha hi hai or daante.......so haters go get life kuch or leke aoooo ☺️

— Himanshi khurana (@realhimanshi) January 5, 2020
Whether Salman is getting paid or not, what he did was something no other superstar or actor could have done. That indeed was a nice way to teach a lesson to the contestants on national television about cleanliness.