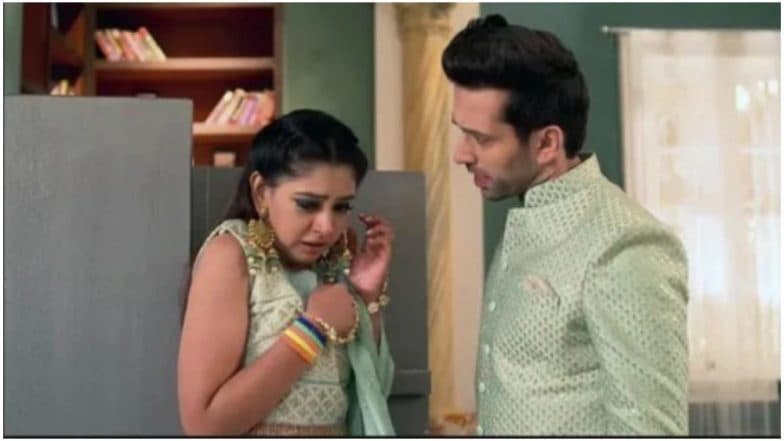 Today's episode of Ishqbaaz starts with PN asking Khanna whether this news which is coming on T.V. is true or false. SSO gets angry and tells that this all news are fake and they do this all for publicity and breaks the T.V. in anger and tell everyone that he is fine and he will make everything fine. PN cries and asks what he is hiding and that this is the reason he is not getting married to anyone, isn't it true. SSO tells Khanna that he is tired of answering to all and that why everything come and ends on marriage and gets angry and goes from there. Ishqbaaz February 7, 2019 Written Update Full Episode: Varun Forces Mannat to Marry Shivaansh, Will She Fall Prey to His Blackmailing?
SSO tells Khanna to find out how this news came out and he calls Manish and asks him how this message come in the news. Manish himself is shocked as only he, SSO and Khanna know about it. SSO thinks maybe Mannat have done this to take revenge from him. There Mannat curses SSO and tells that because of him Munni is missing and she had to steal the reports from the hospital and cries. Mannat thinks to save Munni what all she has to do now and for that, she will not forgive SSO.
PN is talking with Varun and tells that SSO is hiding something and not telling the truth and asks Varun to ask SSO about the truth. Varun gives PN tea in which he had put some medicine. Varun tells PN to go and change, as she goes she faints. Varun shouts and calls everyone. The doctor says that PN had a heart attack and at this age, it is very difficult to overcome it. Shivani asks the doctor will she be alright. The doctor says her condition is critical and that next twenty-four hours they have to have patience and wait and says not to give any tension to her.
SSO gets emotional thinking about how PN got a heart attack. Varun says maybe when she heard the news she could not resist it and got an attack. Varun tells SSO that before PN got attack she was talking with him and saying that her only regret will be if before she dies she will not be able to see SSO married. SSO tells that he can give his life for her but not marriage. Shivani and Radhika ask why he cannot get married. SSO ignores their talks and goes from there. Niti Taylor aka Mannat From Ishqbaaz Loves Red Outfits: 5 Times the Cute TV Actress Rocked the Colour of Love
Varun again asks why he is not ready for marriage and that PN's health is affected because of him. Varun says marriage is a very good feeling and that he should also do it. SSO tells that he cannot marry as he is going to die. SSO tells that he does not have time and he does not want to spoil any girls life. SSO tells that he doesn't have much time to live and goes from there. Varun claps with laughs and says if any other person would be at this stage he would have enjoyed all the bad things but SSO does not want to as he is a good guy. Varun says marriage SSO has to do but with whom he will decide it.
Mannat is trying the number from which the kidnapper had called and get tensed. Just then she sees Munni and hugs her with joy. Mannat sees there is something attached to Munnu's stomach and sees that it is a bomb. Chachi comes and shouts at her, Mannat tells not to touch it. There PN is sleeping, Varun comes and puts another medicine in her glucose bottle and PN gets another heart attack. The doctors say that PN does not have much time and that he is sorry for it and goes. SSO cries and says he needs PN and that she can't leave them and go.
Varun is hiding behind the bed and thinks how to come out from there. Varun slowly comes out and changes his attire. Varun comes and again tells that he wants to talk with SSO and takes him outside. Varun tells that he can just do fake marriage just to save PN and maybe seeing it PN will get well soon. Varun tells to marry with a contract and that he will get a girl for her. Suddenly Radhika calls SSO and tells him to check PN as she is not feeling well. Varun also comes and tells PN wants to say something and says maybe she wants to see SSO get married and tells SSO to say yes for marriage, Radhika also tells him to say yes.
SSO tells that he will do whatever she wants him to do, he will even marry is she wants. PN moves her finger and Radhika tells that she had told that listening to SSO's marriage she will respond. Varun thinks now that SSO has agreed, he has to make Mannat ready for marriage and calls her. Varun tells Mannat that she must be thinking why he had put a bomb in Munni's stomach and says he has the remote and nothing will happen until he wants and tells her if she does not do what he wants then he will press the remote. Varun tells to wait for his orders. In the precap, SSO tells Abhi to announce in the news that he is getting married.