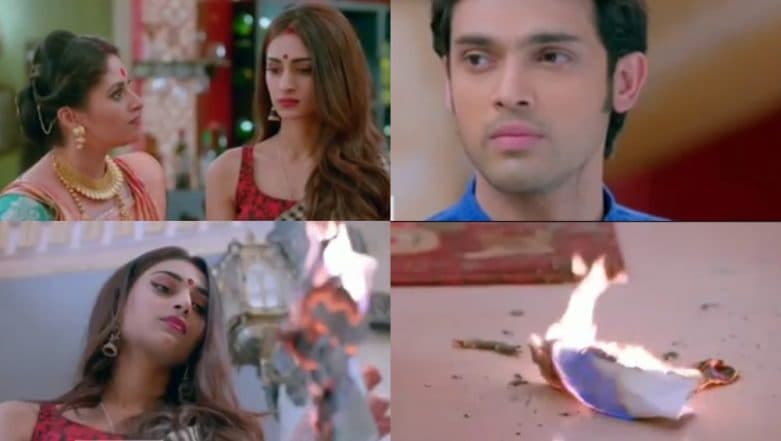 Today's episode of Kasautii Zindagii Kay 2 starts with Mishka asking Komolika (Hina Khan) if she is fine as all this happened, Komolika tells not to act and show sympathy and tells Mishka that she has taken the signature of Prerna (Erica Fernandes) and that now she is finished. Komolika says no one can take advantage of her, Mishka is tensed and thinks where is Prerna and searches for her. Mishka sees Prerna lying down in the sofa and tries to wake her up by putting some water on her, but she is not ready to get up. There Anupam tells Nivedita that he will not forget this day as she loved and hug him so lovingly. Kasautii Zindagii Kay 2 April 1, 2019 Written Update Full Episode: Prerna and Anurag Remain Unaffected by Komolika's Masterplan and Are Happy to Have Married Again  
Next morning, as Anurag (Parth Samthaan) gets up, Anupam comes in his room and says from yesterday he wanted to talk to him. Anurag asks where is Prerna and what is he doing in Prerna's room. Anupam says from tomorrow he is in her room, Anurag is shocked to hear it and asks what had happened. Anupam says he and Prerna got married yesterday and narrates what all happened.
There Veena comes home from the market and tells Shivani to clean the house nicely and tells her to make a cup of tea, suddenly seeing Prerna's photo about to fall, she holds it and says nothing bad will happen, just then Komolika comes and says that bad omen has not gone it will destroy them all. Veena tells her to get out of the house. Komolika tells that Prerna will be thrown out of the Basu house soon, Veena gets angry and shouts at her. Komolika shows them the papers in which Prerna has signed and reads out what is written in that. After Erica Fernandes, Parth Samthaan Buys a New House in Mumbai - View Pics
There Anurag is tensed as what he will do now and asks Anupam how is Komolika's mood. Komolika comes home, and seeing Prerna comes to her to show the papers. Anurag also comes there to see what Komolika is up to. Prerna tells Komolika that she took her sign when she was not in her senses, hearing this Komolika is shocked.
Check Out the Latest Promo Here:
Komolika says how she remembered only this and not what all happened between her and Anurag. Actually, Veena had called Prerna and had told her everything. Prerna asks Komolika why she mixed bhang in the thandayii as she was the one who had offered everyone to drink it. Mohini tells Prerna to behave while talking. In the precap, Mohini is telling Prerna to leave the house, but Prerna says that these papers are of no use and burns it.