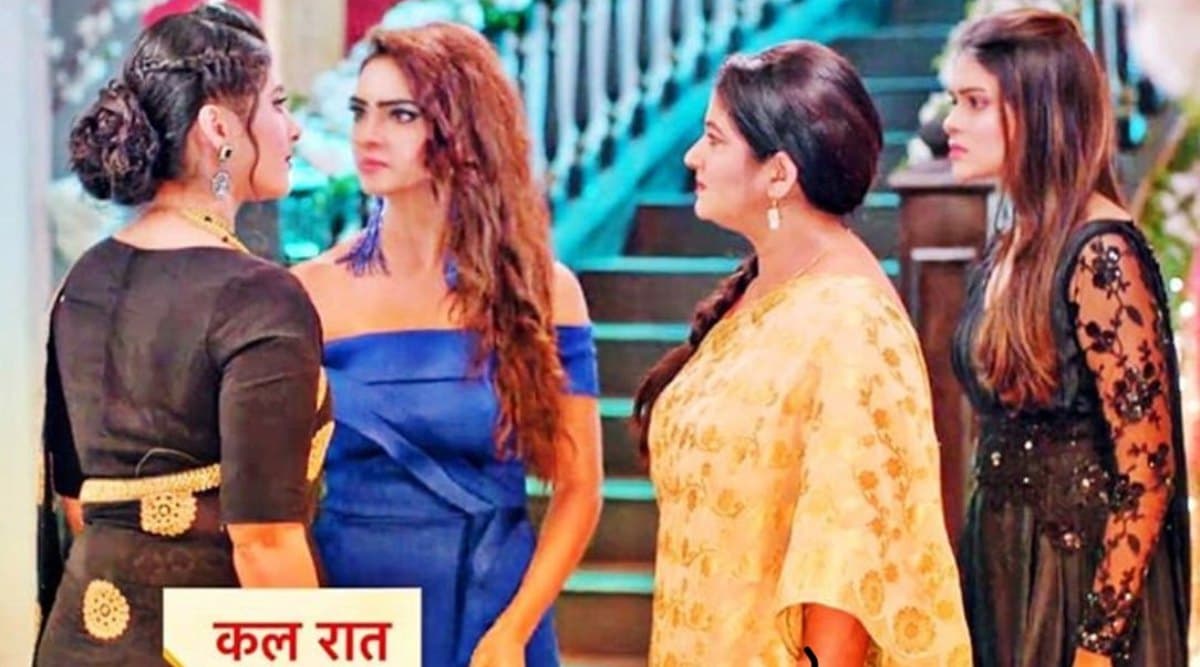 In yesterday's episode of Kasautii Zindagii Kay 2, Anurag vows to find out about Prerna's husband. Anurag tells Komolika about the special connection he feels he has with Prerna. In tonight's episode, we see Anurag (Parth Samthaan) telling Sonalika (Aamna Sharif) about the moment when he heard Prerna's (Erica Fernandes) baby's heartbeat. Anurag tells that he felt like his own which was priceless. Sonalika gets irritated by his talks and tells him to sleep. Sonalika ploys another plan by which Anurag himself will throw Prerna out of their life. Next day, Anurag goes to the Sharma house and invites them all for the party. Veena says they might not attend the party as they have some work. Anurag requests her to come to the party. Anurag tells Veena to bring Prerna's husband also for the party. Veena gets tensed. Anurag says he heard that her husband left her for another woman after she got pregnant. Veena gets furious and tells him that people are lying about her daughter and goes to her room to get the photo to show him who is Prerna's husband. Anurag is happy as he wanted this only. Kasautii Zindagii Kay 2 December 4, 2019 Written Update Full Episode: Anurag Confesses About His Connect With Prerna To Sonalika 
As Veena searches her wardrobe for Anurag's photo, Shivani comes and asks what is the matter. Veena tells how dare Anurag talks ill about Prerna's husband. Veena tells that today she will clear that he only is her husband and nobody else. Shivani tries to stop her. Suddenly, Anurag comes there and asks what are they talking about. Shivani hides all the photos. Veena and Shivani argue with each other. Shivani tries to make Veena understand that Prerna will get angry if she comes to know that she was going to show the photo of her husband to Anurag. Veena gets emotional and says everyone only cares about themselves but what about Prerna and her feelings?
In the Basu house, everyone is excited about the party. Nivedita says the media is also coming to cover the event. Seeing Prerna coming, Mohini praises Sonalika in front of her and calls her lucky charm of the family. The foreign party has given cash of three and a half crores to Anurag to start the business. Mohini tells Sonalika to keep the money in the safe who tells that she does not have the keys. Anurag says Prerna has it and tells her to accompany Sonalika. Kasautii Zindagii Kay 2 December 2, 2019 Written Update Full Episode: Prerna Narrowly Escapes A Mishap, While Sonalika's Plan Backfires Badly
Prerna opens the safe and tells Komolika to keep the money. Komolika asks if she is angry as she also got the electric current that day. Prerna says she already knew about her plan that is why she escaped from it. Komolika says even if she tells anyone about it no one will believe her. Komolika challenges Prerna that she will get Anurag back and make her bend down in front of her today at the party. While going Komolika tells Prerna to come for the party as she has planned something for her. All the guests arrive at the party. Veena and Shivani also come. Mohini takes Veena aside and asks why they came here. Veena tells her that they came as Anurag had invited them.
In the next episode, Veena tells Mohini that she should respect Prerna as she is going to have Anurag's child. Mohini says it is not Anurag's child and asks if she has got any proof of it.