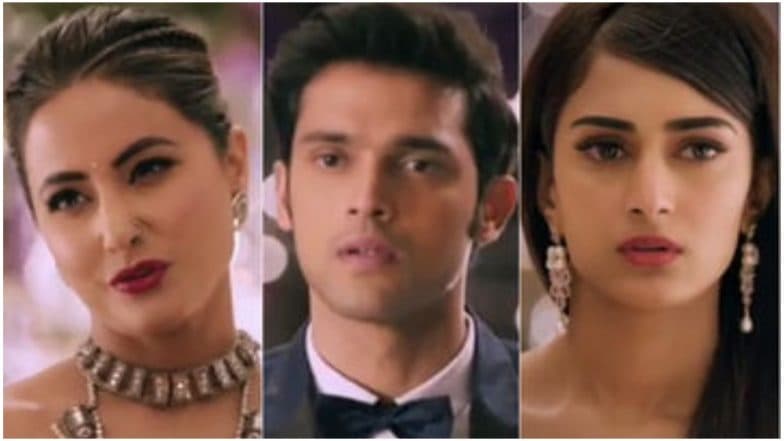 Today's episode of Kasautii Zindagii Kay 2 stars with Komolika telling Moloy and Rajesh that she did this all to get Anurag and asks what's wrong in this. Moloy and Rajesh are shocked by hearing this. Komolika continues saying that when she first saw Anurag he avoided her and ignored her and such a thing had happened for the first time in her life. Komolika says that he didn't see me and was seeing  Prerna and she was seeing Anurag. As Anurag ignored her every time she had to do this all and that she feels bad for what she has done but more than that she was jealous with Prerna, so she did this all. Moloy tells that does Komolika feels by doing all this she will get his families to love and tells that he will go and tell Mohini everything. Moloy holds Komolika's hand and tells her to come with her to tell this all in front of Mohini. Komolika gets annoyed by this and says what all he will do to get Prerna and Anurag together. Moloy tells Komolika to come with him or else he will show this video to her dad and to the media. Komolika thinks she can't give her dad tension and tells Moloy that she will come but she needs time to change and goes from there. Mishka taunts Komolika and tells she had told her that karma comes back and that she has done so much wrong in her life that she is punished by the god.  Komolika gets angry and goes from there.
Moloy is telling Rajesh that today he will go and tell Mohini what he thinks about Anurag and Prerna and tell her the truth. There Veena is dragging Prerna inside the house as she is angry with her and locks her in the room.  Prerna pleads that she wants to tell her everything but she makes a deaf hear and goes from there. Komolika is thinking about what she will do now and how she will escape from this problem.
Anurag comes inside the house and tells sorry to Veena, but she says him to go home now. Shivani opens the door and tells Prerna that Anurag has come and that Veena is telling her to go. Prerna comes down and says that Anurag has not done anything, Veena gets wild seeing Prerna and tells her to go up. Veena says that only Anurag is not to blame and that her own daughter is at blame. Prerna says that she loves Anurag, just as Veena goes to slap Prerna, Anurag comes between and Veena slaps him. Anurag also says that they love each other and that it is the truth. Veena is shocked to hear it. Anurag tries to make Veena understand that they both really love each other. Anurag holds Prena's hand and tells Veena that he wants to marry Prerna and that he will keep her happy. Veena asks what about Mishka, Anurag tells that he broke the engagement with her and told her everything. Anurag tells that once they are married no one can say anything about them and says when Mohini gets well he will talk to her and tell her all about his feelings for Prerna. After hearing all, Veena agrees for their relationship and gives them blessings.
Meanwhile, Komolika things what she will do now and calls Sanju and tells him something. Komolika thinks that for Anurag she didn't care about Mishka then why she will think about Moloy. There Veena tells Anurag and Prerna to take blessings from the God. They all have a good time with each other.
 Moloy is telling Rajesh that he is asking his daughter's hand for Anurag and asks him if he agrees, they both laugh and get emotional. Komolika watches them. Moloy and Rajesh hug each other. Komolika comes and tells that the dress what she wanted to wear, she cannot find it so she won't be able to come with them. Moloy tells Komolika that only Prerna will become his daughter-in-law and they go from there. Komolika says nobody can do anything to her. Sanju follows Moloy's car.
In the precap, Anurag tells Mohini that Moloy had met with an accident.