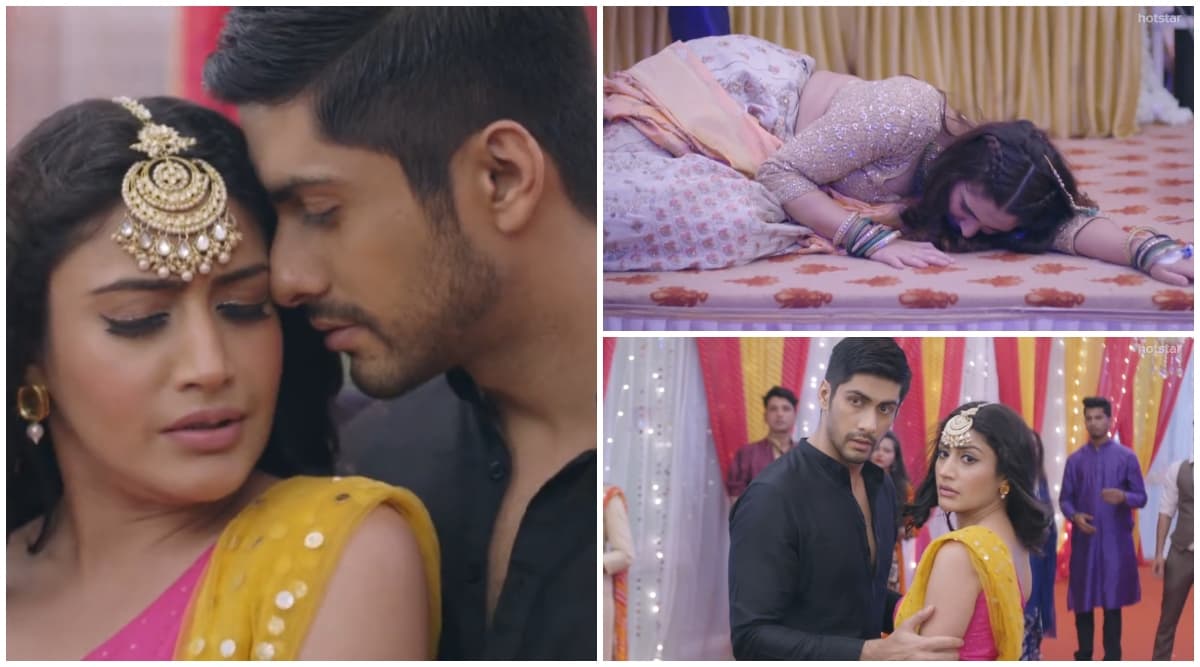 In yesterday's episode of Sanjivani 2, we saw Ishani is amazed by Sid's caring gesture. Both of them struggle to console a dejected Jessica while Shashank desires to confess a truth to Juhi. Tonight's episode starts with Shashank (Mohnish Bahl) telling Jignesh to get used to it as ladies take time to dress up. Juhi (Gurdeep Kohli) says it is not like that always and tells Shashank that he himself took so much time to confess and smiles. Vardhan (Ronit Roy) enters the wedding venue and is upset that Anjali (Sayantani Ghosh) did not wear the saree he gifted to her. Jessica comes dressed as a bride and Jignesh feels happy seeing her. Shashank blesses Jessica and hugs Filo. Juhi also praises Jessica as she is very strong. Everyone welcomes Jessica by showering flowers on her. Later, Jignesh says he is very lucky to have her in his life and tells her to get up from the wheelchair and picks her up and takes her to the mandap, making everyone happy and emotional. Sanjivani 2 October 10, 2019 Written Update Full Episode: Shashank Decides to Tell Juhi The Truth, While Ishani is Overwhelmed by Sid's Gesture
Later, when Sid (Namit Khanna) sees Ishani (Surbhi Chandna) dressed up, he is spellbound and stares at her, Ishani also sees him. They talk in sign language with each other. Ishani gets upset as Sid tells her that she is not looking beautiful. Rahil teases Sid when he sees him staring at Ishani. Meanwhile, Vardhan holds Anjali's hand and asks why did she not wear the saree which he gave, Anjali says he wants her to forgive him so soon, Vardhan tells her to take her time and says he wanted to tell her something and tells if she would have worn a bindi she would have looked more pretty, Anjali leaves from there.
Juhi talks to the guests about Sanjivani and says that it has always believed in relationships and worked on them all the time. Juhi calls Ishani and Sid to start the function. Meanwhile, Jessica tells Jignesh's parents to bless them as without it they will not enjoy the function. Jignesh gets up and tells that his parents like to chit chat a lot so they have asked God that if this marriage happens then they will stop that thing which is very difficult for them, leaving everyone laughing. Jignesh's parents bless the couple. Later, Vardhan reminds everyone that the festivities can only take place till 10'oclock. Sid and Ishani dance with everyone and enjoy the marriage function. Sanjivani 2 October 9, 2019 Written Update Full Episode: Anjali Gets Upset on Receiving a Gift From Varadhan, While Ishaani Misbehaves With Sid
Suddenly Shashank gets pain in his neck, Juhi notices this and goes to help him. Shashank says he is fine and jokes, Juhi says he should stop acting and asks if it is really paining. Later, Juhi asks the same question, Shashank says he told her what he feels and asks does she think it is the love she should decide it. However, amidst all the fun and dancing, Jessica suddenly faints.
In the next episode, Ishani sees something in an unconscious Jessica's hand.