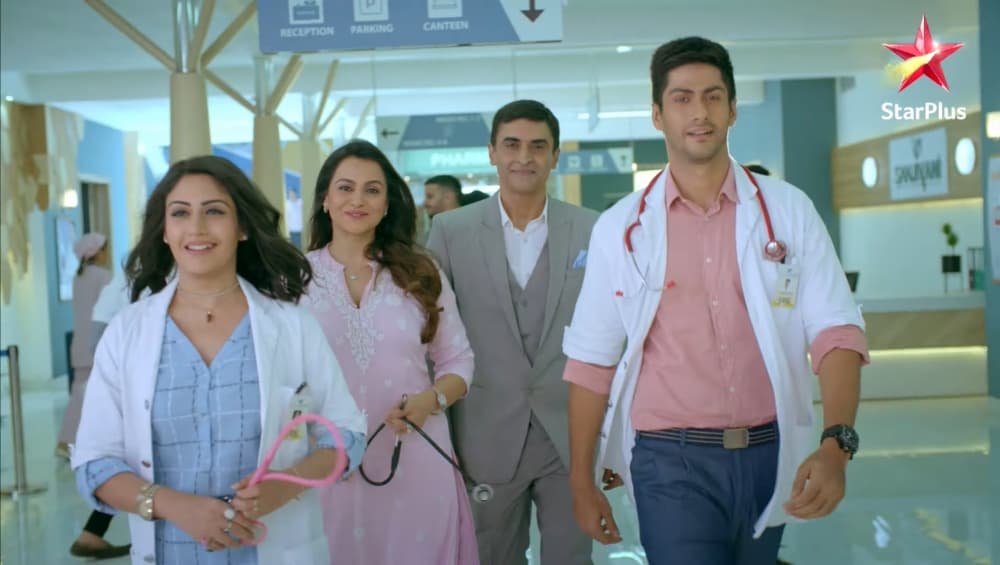 In yesterday's episode of Sanjivani 2, we saw Ishani help out in decorating Jessica and Jignesh's wedding venue. Later, Anjali (Sayantani Ghosh) loses her cool after receiving Vardhan's (Ronit Roy) gift while Ishani misbehaves with Sid. Tonight's episode starts with Sid (Namit Khanna) helping Ishani (Surbhi Chandna) when her finger gets cut and starts bleeding. Ishani feels shy when he sucks her finger, Sid jokes and tells her that the lion has tasted blood now and asks her to be aware of him now and laughs. Next morning in Sanjivani, Anjali tells Shashank (Mohnish Bahl) that his B.P. is fluctuating and asks him if he spoke to Juhi (Gurdeep Kohli) and if that is the reason. Shashank reminisces the talk he had with Juhi and tells Anjali to give him some tablets to normalize it. Shashank thinks that Juhi will again ask him the same question so he has to tell her the truth but starts thinking of what the consequences will be. Sanjivani 2 October 9, 2019 Written Update Full Episode: Anjali Gets Upset on Receiving a Gift From Varadhan, While Ishaani Misbehaves With Sid
On the other hand, Anjali meets Juhi and tells her that because of her Shashank's B.P is fluctuating. Juhi berates her to stop blaming her as for all these years she too was in the dark and that it was from Anjali that she found out the truth. Anjali asks her if she deserves to be number two in her dad's life and says that she never got what she deserved, right from the post of Sanjivani's chief of surgery to even her father Shashank, and the duo starts arguing with each other. Anjali tells Juhi that till she is present in her life nothing will change and goes from there.
Meanwhile, Sid and Ishani see that one patient's condition is deteriorating and they have to do the operation immediately. Ishani says they cannot attend Jessica and Jignesh's marriage, but Sid tells her that their first duty is to save their patients and tells Ishani to get ready for the operation. On the other hand, Vardhan goes into his secret room and meets Dr Basu who tells him that his work is done and the girl is dead. Vardhan is happy and tells him not to tell anyone about this and goes. Sanjivani 2 October 7, 2019 Written Update Full Episode: Jessica Hurts Jignesh, While Ishaani Fantasises About Revealing Her True Feelings to Sid
On the other hand, Sid and Ishani perform the surgery and later tell one of the nurses to inform nurse Filo to start the wedding as they are busy in O.T. Later Sid is happy as the surgery was a success but when they come out they find out that Jessica is disturbed and is not ready to get married as her hair has started falling. Jessica thinks its too late and now nothing can happen as she will no longer look beautiful and reminisces about her and Jignesh and gets emotional. Ishani tries to console her that she is beautiful and she should think about Jignesh's love and nothing else. Sid tells her that she should have the confidence inside her and should not care what the world thinks about her.
In the next episode, Sid sees Ishani dressed up for Jessica and Jignesh's marriage and admires her beauty.