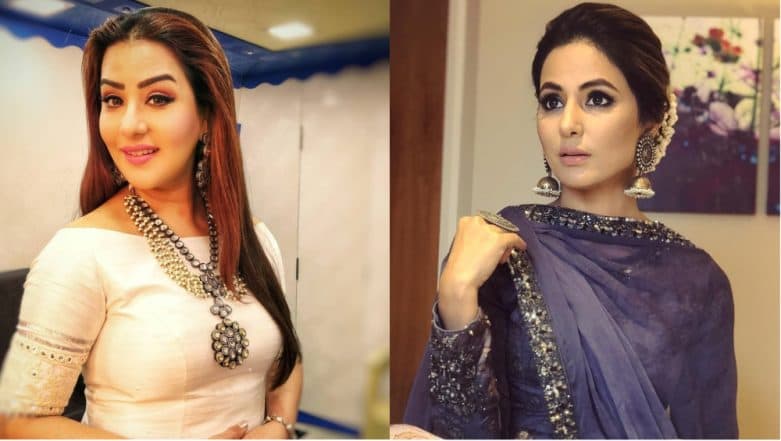 Did the Sun rise from the west this morning? No? Then why are diehard Shilpa Shinde fans apologising to Hina Khan? Yes, you read it right and no, we are not kidding. Shilpa and Hina fans have always opposed each other since the beginning of Bigg Boss 11. One of the most strong clubs we have in recent times, these fans have always grabbed every opportunity to cheer for their beloved star and criticise the other. In fact, the hatred was still going strong a year after Shilpa's win and Hina was still pulled down for being an arrogant contestant inside the BB house until today. Bigg Boss 12 Winner Dipika Kakar Is FAKE, Opines Shilpa Shinde; Dipika Hits Back-Details Inside!
After Shilpa Shinde's wrongful acts and harsh words against the recent Bigg Boss contestants, her fans started questioning their loyalty. They wondered if their decision to support Shilpa against Hina was even worth it. Today they are even willing to apologise to Komolika aka Hina Khan for failing to understand her and cheering for Shilpa instead. Don't believe us? Check out tweets by 'Shilpians' for Hina and wonder if Karma is indeed a bi**h. Bigg Boss 12: Vikas Gupta Proves That Dipika Kakar Has Overshadowed Sreesanth, but Shilpa Shinde Thinks Otherwise.
I'm one of them hina who never liked you on the show ! But trust me you've won me over with your sincerity ❤️

So glad that I could realise that you're actually a beautiful person and very honest who takes stands ! Much love ❤️

— Riyaaaa (@itsmeerg) December 18, 2018
Ek app ho jinko.. log support na krne k liye sorry feel kar rahe hai.. Or ek @ShindeShilpaS hai jinko.. Log support karne k liye sorry feel kar rahe hai..... Bht accha transformation hai.... I like it!!

— preeti..@@ (@PreetiSometime1) December 18, 2018
definitely i am ashamed of myself for supporting her

— Bella's pink puppy💗🐻🏅🏅 (@bellaspinkpuppy) December 20, 2018
I regret myself@supporting shilpa

— ReshuOnlineShop (@ShilpaRayees) December 18, 2018
😛 trophy shilpa ne jeet li aur dil aur izzat #HinaKhan aur #VikasGupta ne

— Masumah Awan (@Masumah_Awan) December 18, 2018
Ya am also really sorry hina di Shipa shinde apna real face ab dikha rhi bb11 me to bo bhut positive dikhti thi but ab real face samne aa gya

— Preranarohila (@preranarohila) December 19, 2018
Me also😒😒😒.Sorry.i also didn't supported you mam.Kisi orko kiya tha.Yrkk hei,kkk mei aapko mei bohottt jada pasand karti thi.i was Die hard fan of your.but bb11 mei aapko pasand nehi kiya ta.but aap aab jis thara se sabkuch vulkar aage baad gaiyi ho bo really dil khus kar diya

— Ahiya Emroz Raina😍 (@ahiyaemroz) December 19, 2018
Well, this is quite alarming for Shilpa who was blessed to have such a strong fan base. Guess she should just take a chill pill for some time and analyse everything she said recently. Probably she'd able to make some sense out of it.