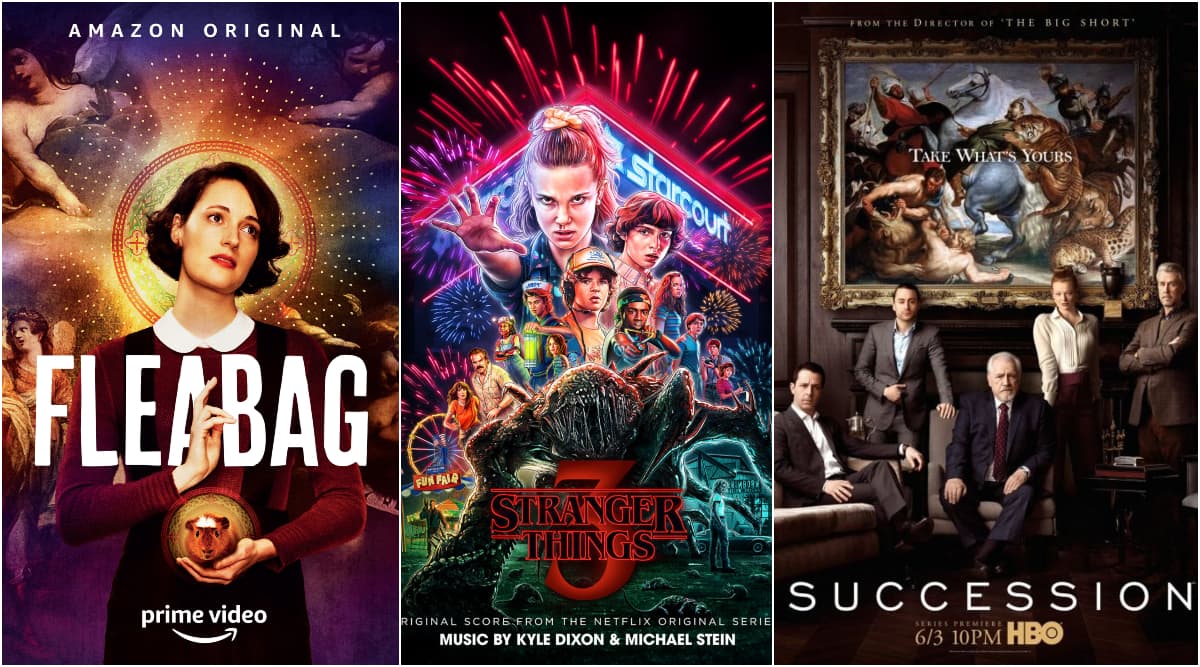 As we bid adieu to 2019, it seems like the year has had some of the biggest offerings when it comes to web-shows and while I found myself having to go with tons of subscriptions for various platforms, it seemed all-satisfying given that I successfully spent weekends all round the year finishing one show after another. Binging is the new way of life and if you have found yourself adhering to this lifestyle, you have probably caught more than half the shows that I am about to list in this piece. The year has been phenomenal when it comes to the different genres of web-shows that released this year. From hard-hitting shows based on real-incidents such as Chernobyl to teen comedy shows talking about relevant issues such as Sex Education, there has been a good mix of stuff for everyone to enjoy. Year Ender 2019: Game Of Thrones, Stranger Things, Big Little Lies and Other Shows That Served Us the Most Shocking TV Moments This Year! 
I have to say as I pick these ten shows for being the best lot in 2019, there are many others which don't fall under the categories of drama and or comedy, such as Patriot Act, Queer Eye which were incredibly phenomenal and are a definite must-watch among the reality/talk show based shows. Not all of the shows listed below had their first season released this year but considering the follow-up, seasons have been even better, you can't deny them a seat on the year's best list. Here's looking at the best web-series of 2019. (Not a ranking!)
1. Fleabag
Starting with a show that has left audiences all over the world in love with Phoebe Waller-Bride, not the just the creator but also the stunning actor on the show. Fleabag had its powerful second season release this year and it has been one of the finest pieces of writing this year. Waller-Bridge's ability to present complex relationships, feminism and the struggles of the young woman essentially going through the most traumatic time of her life filled with dry humour is what made this show great. The show was relatable, funny and emotionally packed with incredible performances from herself as well as Andrew Scott, Olivia Colman and Sian Clifford. If you have missed out on catching this amazing show, it is available on Amazon Prime.
2. Chernobyl
The HBO mini-series managed to grab everyone's attention with its detailed retelling of the horrific events that resulted in one of the world's worst nuclear disasters at Chernobyl. The nuclear accident took place in 1986 after a nuclear reactor exploded at the Chernobyl Nuclear Power Plant. The series starred Jared Harris in the role of Valery Legasov who helped investigate the Chernobyl disaster. The show's brilliant writing and direction made it a brilliant experience. The performances were top-notch too. The show's attitude of 'calling spade a spade' and sticking to facts was another factor that made this show a success. Chernobyl is available for streaming on Hotstar.
3. Succession
There's something about powerful families in dramas that instantly set itself to be the perfect plot for shows. While I agree that this show takes a while to grow on on you, the second season was simply the best when it came to the writing. Just when you think these characters cannot get any more repulsive and reclusive, there's so much more that happens with the characters of the Roy family. The series based on a family owning a media dynasty is addictive on another level. The layered characters here force you to question your understanding of them. This one's a delicious watch for those who love satirical dramas. It's available for streaming on Hotstar.
4. Barry
Barry seemed like a show that would never be able to top its first season. Well, it does! Bill Hader's hitman who is caught with an acting bug takes things to another level in the second season with its dark humour. The show lives up to its twisted identity and you as a viewer learn how to find hilarious moments in some of the darkest scenes. There's nothing forced here, Hader is as natural as it gets. I bet you won't be able to stop binging on this one once you get comfortable with its combination of violence and comedy. The show is available for streaming on Hotstar.
5. Sex Education
Sex Education released in January this year and I found it to be one of the freshest teen-comedy dramas on Netflix. The series' focus on what it is like in the adolescent world when it comes to the understanding of the concepts of sex and intimacy is simply brilliant. Puberty is not an easy phase to go through and the show mirrors a lot of problems that teenagers today go through in the social-media era. The show is up for a second season in 2020, which I hope continues to stay fresh and relevant like the first one.
6. Euphoria
I am assuming many of you have probably tossed this show out of your watchlist mainly because it seemed like an all drugs and sex kind of story. Although I would stress on it and say it's not. Zendaya gives on her best performances in this series as a teenage girl whose history with substance abuse seems to be getting worse even after a successful rehab stint, mainly because of her mental health issues. The show not only focusses on her but also other teens facing trying to come to terms with their identities in a world that is driven by social media, where revenge porn and social status are existent. The show's emotions do rise above its NSFW content and that's why it stands out. It's available for streaming on Hotstar.
7. Stranger Things
Stranger Things' third season made a much stronger impact than the second one. The show not only looked amazing with its finer VFX but also managed to get the plot rolling in a better dimension. It moved to new villains, new horror inspirations and had even better character arcs for Eleven (Millie Bobby Brown) and the gang. It was a captivating season with a brilliant finale that has certainly left us waiting for season 4 badly now! Year Ender 2019: Black Widow, Wonder Woman 1984 and Eternals - A List of Superhero Movies Releasing in 2020.
8. Pose
FX's LGBTQ drama went on to become even greater with its second season this year. The show got bolder in the new season as it explored more complex themes yet managed to remain a true family drama at its heart. Not to mention the amazing dance sequences. The show also manages to get a little darker in the second season given that it retells the time when HIV/AIDS plagued the ballroom community in the 1990s. The show is simply unmissable!
9. Russian Doll
Russian Doll on its surface is a comedy about Nadia, a young woman who is caught in a loop as she keeps dying and coming back to life but the show is actually so much more. At its very core, it is about dealing with addiction and however deeply in denial one may be, there comes a time when recovery must happen. The basic premise of 'gotta die to be reborn' is explored like never before in this one. If you can get past the repetition in the first few episodes, you are in for a treat what lies ahead.
10.Dark
Dark is German Netflix drama that is one of the best mystery dramas that released this year. The time-travel drama is intense with a compelling storyline that barely lets you breathe as you are glued to your screens.
While you may be surprised to find shows such as Watchmen and Ramy on the list, it's mainly because I'm yet to catch up on those. If your favourite shows are not on this list, do comment and tell us!