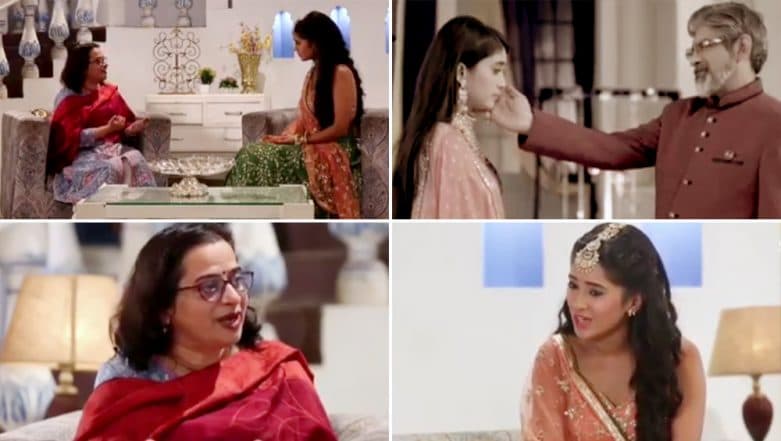 In the upcoming episodes, viewers will see Yeh Rishta Kya Kehlata Hai quite a novel road. It will address a dominant social evil of our society; sexual misbehaviour from family members. Shivangi Joshi's character, Naira, on the long-running show will be at the thick of a problem she never thought she'd face inside the safety of her house. In the newly released promo, she talks about being inappropriately touched by one of her relatives, Puru. Naira takes the matter into her own hands and seeks help from a social scientist, Tejaswini Adhikari. The whole conversation might look less fictionalised than the other episodes, because that seems to be the intent. Kumkum Actress Niyati Joshi to Step Into Parul Chauhan's Shoes in Yeh Rishta Kya Kehlata Hai; Has No Qualms Playing a Grandmother.
By including a conversation with a real-life social scientist, the makers want to educate their audience. With Naira, the beloved character going through this tough time, the message will be driven home. The idea is to remove the shame and stigma attached to speaking up against the sexual misbehaviour of a family member. The pan-India viewership, especially in the non-urban households, of the show, will be exposed to this new thought process, which, truly, is the need of the hour. Yeh Rishta Kya Kehlata Hai Actress Shivangi Joshi Is Now a Proud Owner of Navy Blue Jaguar Car – View Pics.
Watch the Promo of Yeh Rishta Kya Kehlata Hai Here:
Naira and Tejaswini talk about the difference between a good touch and a bad touch. Honestly, it is something that every individual on this planet should be taught. Great to see Star Plus taking this initiative in its own capacity.