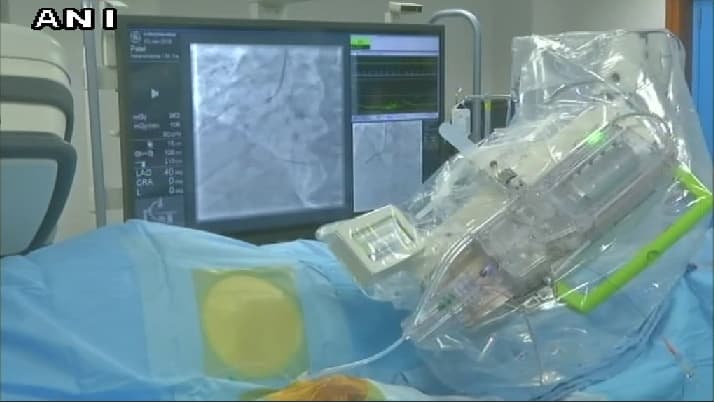 India is setting a fine example of using robotic technology in complex surgeries. Gujarat based Padma Shri winner Dr. Tejas Patel has started using vascular robotic technology for doing angioplasty. This is a first of its kind in Asia, set up in the Apex Heart Institute in Ahmedabad. Using robotic technology in heart-stenting adds to the precision of the surgery along with ensuring better safety.
Under the leadership of Dr. Tejas Patel, the Apex Heart Institute has performed over 50 angioplasty surgeries since a month of installing the CorPath GRX, a vascular robotic system developed by the US. There are 8 centers in US which use this technology and India happens to be the first one to get it in Asia. According to Dr. Patel, "Robotic surgery for heart has been the latest entrant as against robotic surgeries for other body parts. Unlike them, the heart has a constant movement, therefore it took the US engineers and researchers 12 years to perfect this technology. A robot will bridge the gap between the experienced and inexperienced cardiologists."
The Robotic Technology Benefits: The system provides accuracy of sub- 1 millimeter as opposed to 5-10 millimeters in case of humans. It has a cath lab-integrated robotic arm, a cockpit which the cardiologists use to command the robot with a joystick. It has a replaceable cassette to carry all the materials required for each individual case. It has an inbuilt artificial intelligence facilitating cardiologists for clinical judgments. It helps in performing complexities. Dr. Tejas Patel along with Dr. Sanjay Shah has performed surgeries for cases like acute myocardial infarction (AMI) and chronic total occlusion (CTO).
This technology also reduces radiation exposure to the patients during the procedure. So, it is providing more quality at an affordable price. The robotic technology is being offered complimentary right now to make it affordable.
Dr. Patel has trained over 5000 cardiologists to use this technology, so this treatment can be widened over time. He is also working on a possibility of remotely performing operations using this technology. It is important to popularize this technology so that it can reach those who cannot afford this already costly surgery. He also mentions, "Apex Heart Institute will become a Global Center of Excellence to train interventional cardiologists from India and all over the world on robotic-assisted per-cutaneous coronary interventions (PCI)."
It is indeed a thing of pride to have such a technology coming within India. We keep looking at other countries who use such technology as far advanced.