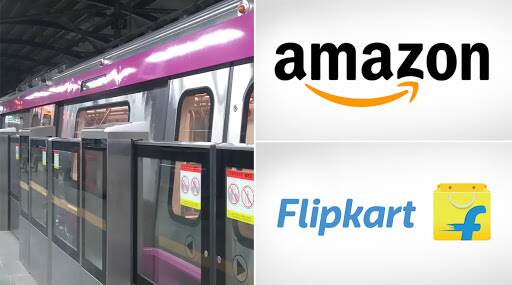 New Delhi, September 18: With the Rapid Rail Transit System (RRTS) between Delhi and Meerut -- through Ghaziabad -- to get operational by 2023 in the first phase, reports are pouring that the National Capital Region Transport Corporation (NCRTC) is exploring options to facilitate freight movement in the region. Following this measure, various logistics organisations including Amazon, Flipkart, BigBasket, CONCOR, Delhivery have expressed their interest. Amazon Opens Largest Campus in Hyderabad, E-Commerce Giant to Expand Business in India
According to a report, published in Live Mint, the NCRTC is looking forward to completing the first phase of RRTS by 2025, which consists of 82 kms. This would decrease the travel time to around one hour from the current time span of 3-4 hours by road. As traffic becomes hectic in the Delhi-Meerut road route, business firms are open to new fright ventures for speedy delivery.
To get an estimate of the interest of the firms, NCRTC organised a meeting to deliberate on the 'Provision of Logistics Services through RRTS corridors in Delhi-NCR'. Following this, Amazon India, Flipkart, and others participated in the meeting and expressed their interest in the new logistics service to come. Vande Bharat Express Update: Indian Railways to Roll Out 40 Trains by 2022, Operations on Delhi-Katra Route to Begin Before Festival Season This Year.
Briefing more information about the meeting, NCRTC MD Vinay Kumar Singh said, as the news daily quotes, "India is poised to become a USD 5 trillion economy in next few years and to make it possible, NCR alone has to evolve to become a USD 1 trillion economy. RRTS is a mainline high-speed mobility system in NCR. The system which is primarily being implemented for commuter movement is planning to utilize its capacity during a lean period for freight movement. Apart from its numerous benefits as a green corridor, it would act as a catalyst for economic growth." Amazon And Flipkart Set Deadlines to Stop Use of Single-Use Plastics in Packaging.
As per the initial details, the RRTS is aimed at overcoming challenges like lack of cold chain facilities, excessive transportation time and pilferages. The Delhi-Ghaziabad-Meerut RRTS corridor would have a total of 24 stations. Apart from this, it would include two depot-cum-stations at Duhai and Modipuram. The government has proposed three routes of RRTS corridors in phase-1. i)Duhai and Modipuram depots on Delhi-Ghaziabad-Meerut RRTS, (ii) Murthal and Panipat depots on Delhi-Panipat RRTS, and (iii) Dharuhera depot on Delhi-Gurugram-SNB RRTS.