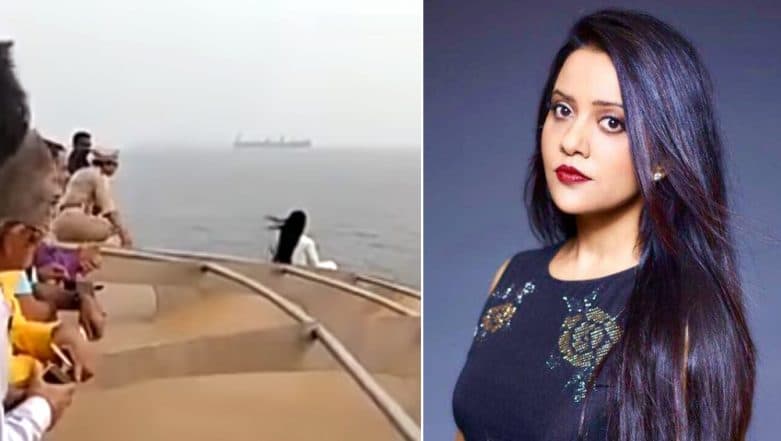 Mumbai, October 22: Amruta Fadnavis, wife of Maharashtra Chief Minister Devendra Fadnavis, on Monday apologised for clicking a selfie sitting on the edge of the Angriya cruise. Speaking to a Marathi news channel, Amruta Fadnavis not only apologised but also urged youths not to imitate her and refrain from clicking the selfie from dangerous spots.
"The spot where I clicked selfie was not dangerous because there were two more steps below. If anyone thinks I have made some mistake, then I apologise for it," Amruta Fadnavis was quoted as saying. She also cautioned the youth to "not take excessive risk to take a selfie". She had earlier defended her move saying she went to the edge get some fresh air.
A video went viral in which a security officer was seen cautioning Amruta Fadnavis who was sitting close to the luxury cruise's railing, allegedly beyond the safety range. Paying no heed to the repeated warnings, she started clicking selfies. CM Devendra Fadanvis was also aboard the cruise. After the incident, she said action can be taken against her if anyone wants.
Amruta Fadnavis Slefie Video:
Amruta was criticised as youngsters may attempt to imitate what she did and risk their lives in danger. Recently, a study found that India has had the highest number of selfie-related deaths between March 2014 and September 2016. India was the backdrop to 76 of the 127 reported selfie deaths in the 18 month period, the Me, Myself and My Killfie: Characterizing and Preventing Selfie Deaths study said.
Angriya Cruise: Angriya is named after Maratha Navy Admiral Kanhoji Angre who protected Indian coast from enemy invasion. The 133 m long luxury coastal cruise can accommodate 350 passengers with its ticket prices ranging between Rs 7,500 to Rs 11,000. Angriya cruise has seven decks and 70 crew members on board.