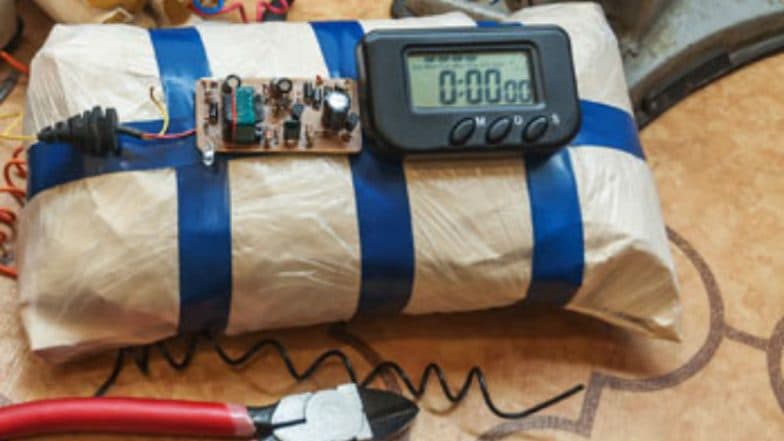 Kolkata, March 14: West Bengal's Crime Investigation Department (CID) on Wednesday seized 9.5 tonnes of ammonium nitrate, huge quantities of detonators and gelatin sticks from Bankura district's Saltora police station area, ahead of the Lok Sabha elections in the state. Sources say that these explosives were found after the CID raided Kashtora village as they received a piece of information regarding this.
According to the report, published by local daily Anandbazar Patrika, the CID officials raided Samuruddin Khan's godown in Kashtora village on Wednesday, where explosives were made secretly with these raw materials. The CID officials informed that in the raid they had seized 133 sacks of ammonium nitrate powder weighing around 6,650 kilograms. They added that these sacks were imported from Maharashtra's renowned factory. Maharashtra: Huge Quantity of Explosives, Detonators Seized From a House in Palghar; Two Arrested. 
Other than that, the officials have also seized 62,500 electronic detonators and 106 carton gelatin sticks from the same godown during their search operation. Informing more, the official informed that these detonators and high power gels had been imported from Telangana and Jharkhand. They have also seized the vehicle through which these explosive materials were imported in this godown. It is to be known that Maoists use these explosives to make IEDs and were planning major attacks during the Lok Sabha elections.
Though it has not been made clear whether these explosives were brought especially for the Lok Sabha polls, but with the arrangements in place, it is speculated that these explosives could have been used during the elections by the Maoists or terror outfits.
Since the area has ample amount of stones, that are mined, CID officials are also inspecting whether these explosives were to be used for bursting the mines or not. CID DIG (Operations) Nishat Parvez said that the owner of the godown is absconding and they are also searching for similar godowns in the area.