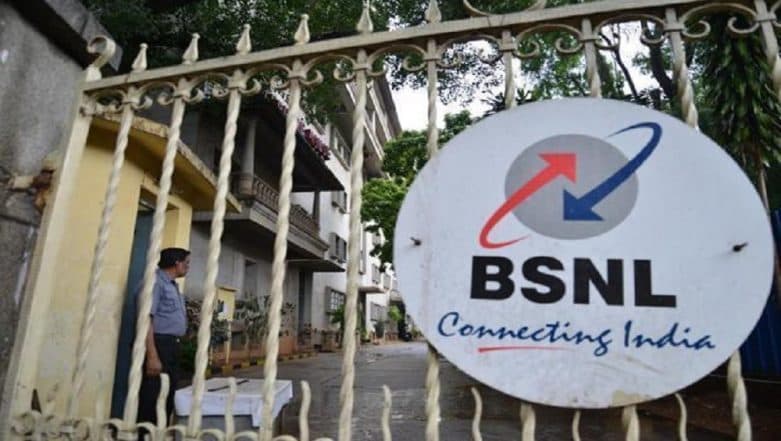 New Delhi, March 13: State-owned telecom firm Bharat Sanchar Nigam Limited (BSNL) is facing flak after it failed to pay February salaries to its employees. According to reports, around 1.76 lakh BSNL employees, who are yet to get to get their salaries for the month of February are facing financial constraints. This is for the first time in 18 years, that the firm is suffering a  financial constraint leading to a delay in the salaries of the employees. BSNL Revival: Government Making Comprehensive Plans To Make BSNL Financially Viable After Employees Unions Called Nationwide Strike.
According to a report by trak.in, the company is reeling under debt and have no enough money to pay to its employees. The report adds that BSNL is gasping for fresh funds, but the government is not allowing them to seek more loan. In the wake of the crisis, the employees' union has written to telecom minister Manoj Sinha urging that the government release funds to the company to pay the salaries as well as revive the ailing firm.
According to report, the associations and unions of BSNL have informed that the company's financial health has suffered because of the predatory pricing of Reliance Jio. A letter by All Unions and Associations of BSNL (AUAB) to Sinha said, "Financial crisis is being faced by other operators also but they are managing the situation by infusing huge amounts". BSNL Employees Plan to go on Indefinite Strike from December 3 Alleging Government Patronising Reliance Jio.
According to a report by Financial Express, BSNL officials said that the company has started paying February salaries now to staff in Kerala, J&K, Odisha and the corporate office. The official said further added saying that as and when the income is generated, salaries will be paid to the staff. As the government has not given any financial support, the salaries are being delayed.
According to a report by trak.in, BSNL is allowed to take loan only for capital expenditure in accordance with the rules laid by the Department of Telecom (DoT). The report further adds saying that BSNL has debt of Rs 13,900 crore, Airtel has debt of Rs 1.13 lakh crore while Vodafone has debt of Rs 1.2 lakh crore.