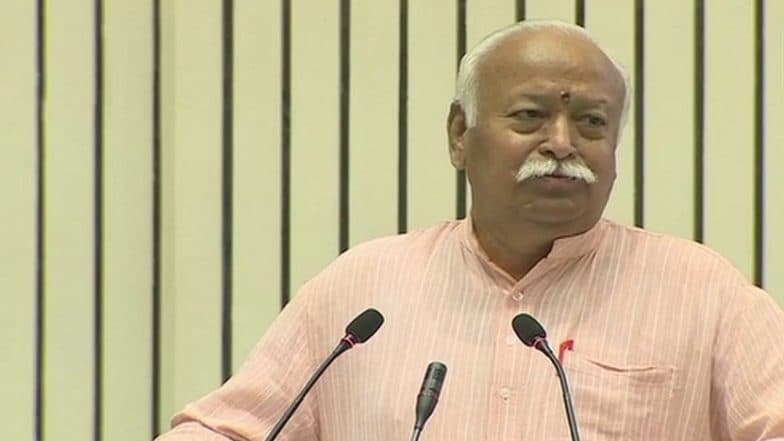 Jaipur, September 11: A six-year-old boy was killed and his grandfather injured after their two-wheeler was hit by a car in the cavalcade of RSS chief Mohan Bhagwat in Alwar district of Rajasthan on Wednesday, police said. Bhagwat was returning from a programme in Tijara area when the incident happened and there were eight to ten cars in the cavalcade, police said.
"One of the cars in the cavalcade hit a motorcycle leaving six-year-old Sachin dead and his grandfather injured," said Ramswaroop Bairwa, sub-inspector of Mandawar police station. RSS Backs Narendra Modi Government on Kashmir, NRC; Supports Reservation.
The cavalcade went towards Behror after the incident, he said. The car involved in the accident is yet to be seized, police said. "An FIR has been lodged against the driver of the car on the basis of the vehicle's registration number," Bairwa said, adding that further investigations are underway.
Bhagwat, who gets Z plus security cover, was on a trip to Alwar. He visited Baba Kamal Nath at his ashram in Gahankar village of Alwar to seek his blessing and also honoured him. According to a release, the RSS chief held discussions with Baba Kamal Nath on religious and social issues.
In May this year, a vehicle that was part of Bhagwat's convoy overturned in an attempt to save a cow standing in the middle of the road near Warora in Chandrapur district of Maharashtra. A security personnel was injured in the incident. PTI SDA SOM NSD NSD 09112308 NNNNncy band around his arm will bring more out of him," said de Kock's deputy.
India hammered South Africa at home in the Test series played four years ago but lost the T20 and ODI series. One of the T20s was at the scenic HPCA Stadium here and South Africa won the game by seven wickets. "We have had a look at the conditions, Proteas beat India by seven wickets the last time here. It will be a good wicket to bat on. The boundaries are 65 metres all around, they are not really big. We know what India are going to throw at us and we will prepare accordingly," said the 30-year-old from Pretoria.
South Africa have regrouped for the first time since the disappointing World Cup campaign and the players are raring to go, said va der Dussen. "Last time, we were together at the World Cup. It was a disappointing showing by the team. But now it is a fresh start, we have a new coaching staff. We have spoken a lot about in the last few days how we want to be as a team. We have got a few new faces so it always brings the energy up. Mohan Bhagwat Critical of Modi Government? RSS Chief Says Unemployment And Inflation Increased.
"India are one of the strongest teams in the world, especially in home conditions. They have played some cricket recently against the West Indies. It gives us the advantage of looking at the players and what they are likely to do. We have been off for a while as a team and guys are fresh and raring to go," van der Dussen added.