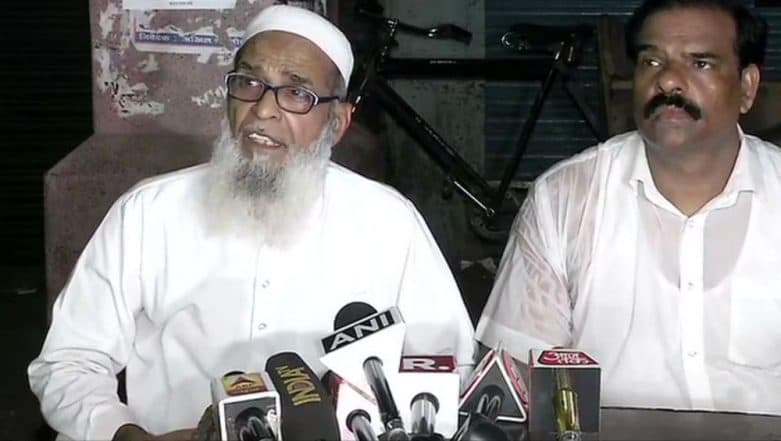 New Delhi, July 2: Hindu and Muslim residents of Old Delhi's Hauz Qazi area on Tuesday made a joint appeal for peace and harmony a day after a communal clash that erupted following a quarrel over a parking issue. Following a meeting of members of Aman Committee, representatives of both the communities held a joint press conference and condemned the vandalism of a temple in Hauz Qazi area.
"The incident is extremely unfortunate and we will help in rebuilding the temple," Jamshed Ali Siddiqui, member of Aman Committee, said. Tara Chand Saxena, who also with Siddiqui held the press conference, said the police have assured strict action against those responsible for vandalising the temple. He added that markets in the area will re-open tomorrow. Both the members praised the Delhi Police for ensuring peace in the area. Family of Man at Centre of Quarrel in Central Delhi Vouched for Communal Harmony.
"It has been decided that everybody will live peacefully. Markets will open tomorrow, we have taken action against the culprits. Three FIRs have been registered," Deputy Commissioner of Police (Central) Mandeep Singh Randhawa told news agency ANI. Trouble erupted in the area on Sunday night over the parking of a scooty and quickly took a communal turn.
A video was widely circulated purportedly showing a man allegedly being beaten up by some people, who were suspected to be drunk, over a parking issue. As the video went viral, people from two communities clashed with each other, triggering communal tension in the area. Following the quarrel, some people vandalised the temple in the area, triggering communal tension, the police said. Gurugram: Muslim Man Beaten Up for 'Wearing Skull Cap', Forced to Chant 'Jai Shri Ram'.
So far three people have been arrested for rioting. Police officials are scanning CCTV to identify other culprits. Earlier today, Union Minister and area MP Harsh Vardhan who visited the area tweeted: "I visited the old Durga Temple in Lal Kuan area. The vandalising of idols inside the temple was disheartening."
Congress spokesperson Randeep Singh Surjewala urged people not to be taken in by rumours and said Home Minister Amit Shah and the Modi government were responsible for the violence as Delhi Police reported to the Centre. (With IANS inputs)