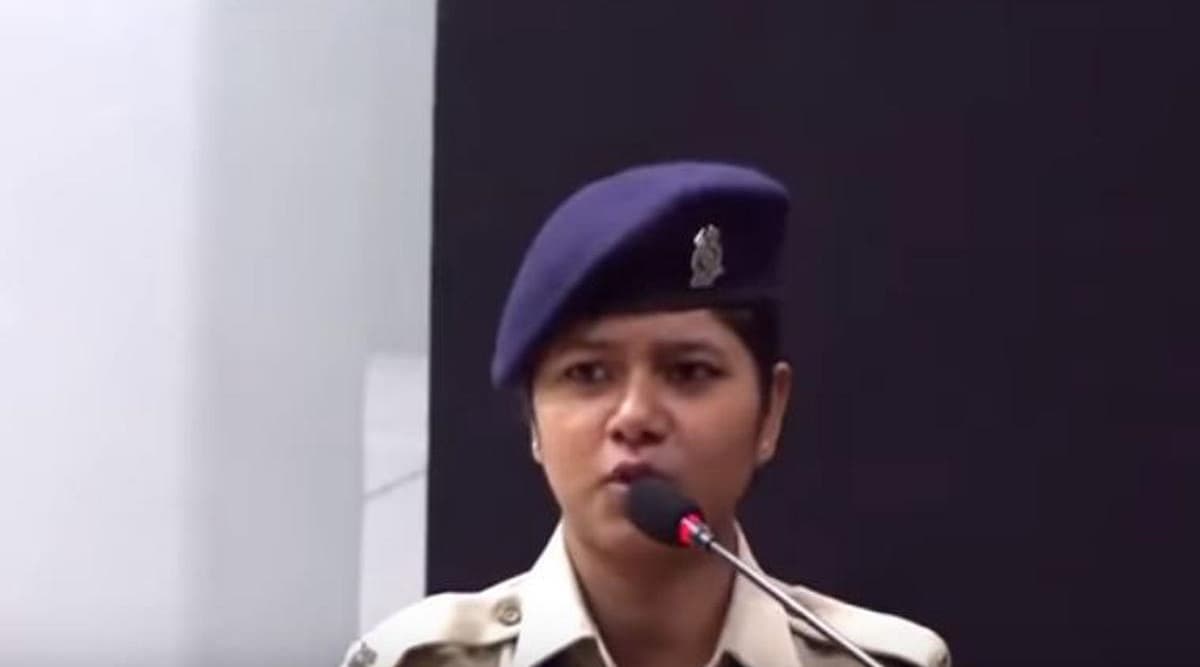 New Delhi, October 6: The Central Reserve Police Force (CRPF) has cautioned one of its jawans - Khushbu Chaudhary - for her fiery speech over the JNU protests. The video of the speech has been going viral, drawing mixed reactions from users on social media. The CRPF said some portions of the speech are "controversial", and has advised the constable to be careful henceforth. JNU on Boil Yet Again: ABVP, AISA Students Lock Horns Ahead of Jitendra Singh's Lecture on Article 370.
Chauhan had issued the contentious speech at a debate organised by the National Human Rights Commission (NHRC) on September 27. In her speech, the CRPF constable expressed her anguish over the alleged lack of concern shown by activists towards the rights of security personnel.
Chauhan said that those who support human rights did not support the forces when Pulwama incident happened and jawans were killed in Chhattisgarh, "but when anti-national slogans were raised in the JNU by an anti-national, then they stand with him."
The CRPF said certain portions of her speech should had been avoided. "We in CRPF respect human rights unconditionally. She was asked to speak against the motion and has delivered a speech with brilliance but some portion should have been avoided. She has been suitably advised. We appreciate the respect and concern for CRPF," said M Dinakaran, Deputy Inspector General (DIG) and CRPF spokesperson.
Khushbu Chouhan Draws Mixed Reaction From Twitter
Great Surgical strike on #JNU #GreatAwakening #Indian #CRPF #ladyconstable pic.twitter.com/BikQjYAW4R

— Ashutosh Pandey (@Ashutos42378079) October 4, 2019
A section of Twitter users marked their apprehensions over Chauhan's alleged incitement of violence against Kanhaiya Kumar. In her speech, she ended up stating that the "tricolour pole should be hoisted in Kanhaiya Kumar's chest" by patriotic Indians.
Hate Speech?
A rabid hate speech is @IndiaToday's idea of India first? Since when is an officer calling for killing of fetuses in the womb, and pushing a pole in to @kanhaiyakumar's chest the idea of 'India First' @aroonpurie? What sort of India is this? One that calls for murder on TV? https://t.co/3e13WAgTjc

— Pratik Sinha (@free_thinker) October 5, 2019
Inciting Violence?
@crpfindia pls teach ur recruits abt Rule of Law & Constitution. Disturbing 2 see one of r uniformed personnel speak the language of mob violence & murder that 2 with our esteemed national flag. Her words demean the stature & credibility of the great CRPF of whom v r all proud! https://t.co/gdE92ftkLL

— Swara Bhasker (@ReallySwara) October 4, 2019
During her speech, constable Chauhan also mentioned the controversial protest of 2016 in the Jawaharlal Nehru University (JNU) against the hanging of Parliament attack convict Afzal Guru after which many former students faced sedition charges. She ended up saying that the forces will raid "every house where a terrorist like Afzal" is being nurtured.