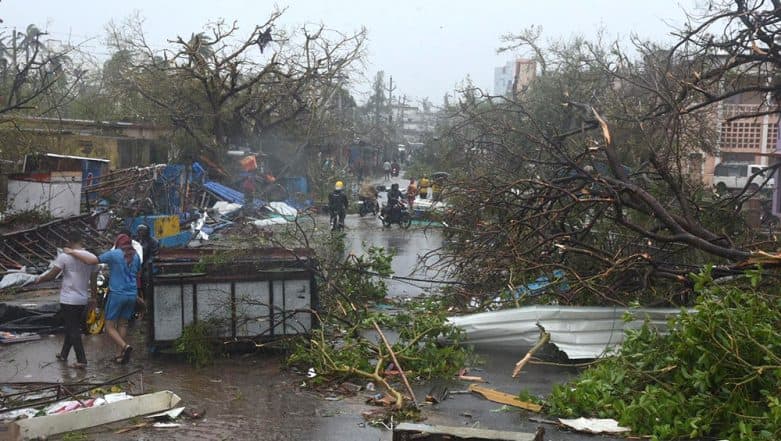 Bhubaneswar, May 13: Cyclone Fani, which caused havoc in Odisha on May 3, left a trail of destruction and devastation across the coastal state, with death toll rising to 64, a official report informed. The maximum number of casualties were reported from Puri which stood at 39, according to official estimates released by the Odisha government on Saturday. Puri was followed by Khordha (9), Cuttack (6), Jajpur (4), Mayurbhanj (4) and Kendrapada (3) in the casualty list. A total of 1.64 crore people have been affected in 14 districts by the cyclone. Fani Strongest Cyclone to Hit India Since 1999: Skymet.
In Puri district, Cyclone Fani caused extensive damages where 1,89,095 houses have been damaged so far. Over 160 people have been injured and admitted to hospital for treatment. Huge numbers of trees have been uprooted resulting in disruption of road communication. Khordha and Bhubaneswar city have been severely affected. Odisha Chief Minister Naveen Patnaik had announced that permanent houses will be sanctioned for all families whose houses were completely or substantially damaged due to the cyclonic storm.
According to government data, livestock casualties are over 34 lakhs and over one crore sixty-five lakh people were adversely affected by 'Fani' in the state. Massive damage to power infrastructure in the state particularly in the districts of Puri, Khurda, Cuttack, and Kendrapada has also been reported. Cyclone Fani Infrared Image Captured By NASA. 
According to latest statistics, a total of 14 lakh trees and eight lakh saplings were damaged as cyclone Fani devastated coastal Odisha. Secretary, Information and Public Relations, Sanjay Kumar Singh said that the Forest and Environment Department is the worst-affected in the cyclone as it sustained a Rs 537 crore loss.