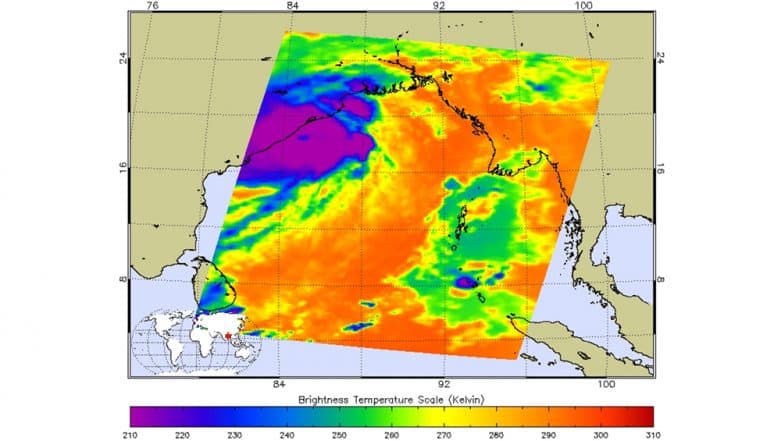 As per MET, the powerful tropical cyclone Fani has approached landfall in the north-eastern part of India. The cyclone Fani before landfall infrared image has been captured by NASA's Aqua and Terra satellites. The National Aeronautics and Space Administration have been providing several infrared, microwave and visible imagery of Tropical Cyclone Fani. The cyclone Fani commenced its landfall process towards Odisha coast, resulting heavy rainfall in Puri and several other places in the state. The live visuals of the cyclone Fani can be tracked on the browser here.
Categorised at grade 5 hurricane, the cyclone Fani is reportedly carrying winds with up to 200 kmph of speed. According to India Meteorological Department forecast, the Fani cyclone was supposed to make landfall within 12 to 24 hours, later weaken swiftly and dissipate over northeastern part of India and Bangladesh. NASA's Aqua and Terra satellite captured images of cyclone Fani as it continued to strengthen and move towards north through eastern coast of the country, particularly on April 30 and May 1, 2019. NASA Satellites Aqua and Terra Track Cyclone Fani Along India's Coastline.
We previously reported that the cyclone will be affecting total of 19 districts in the states of Odisha, West Bengal, Tamil Nadu and Andhra Pradesh. According to the India Meteorological Department, the impact of Fani is expected to slow down today post 4PM IST. Cyclone Fani Live News Updates: Landfall in Process, Winds Blowing at 240-245 Km/Hr in Puri; Heavy Rainfall Along Odisha Coast.
Several regions impacted by the cyclone have witnessed heavy downpour along with heavy winds for the last two days. If the reports are to be believed, over 1 million people have been evacuated in last 24 hours from the districts that can be impacted by the cyclone Fani.