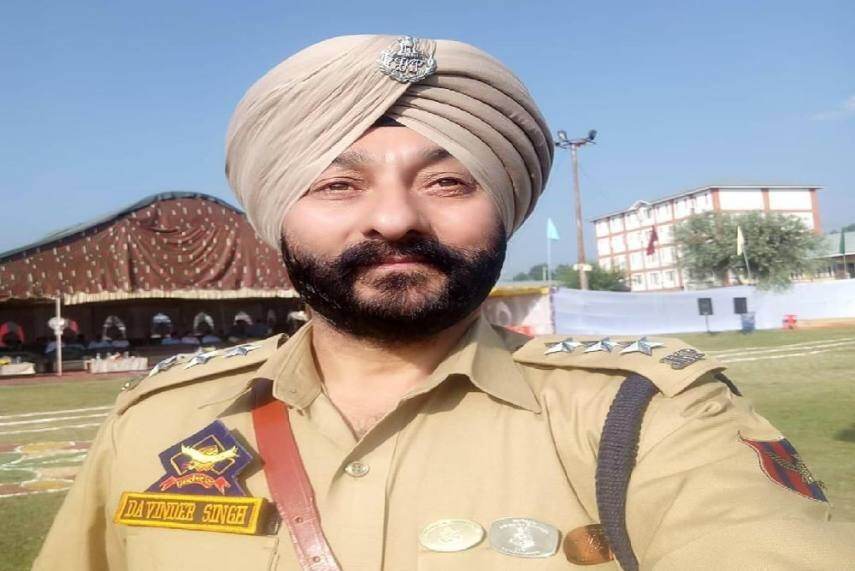 Srinagar, January 13: Deputy Superintendent of Police (DSP) Davinder Singh, who was arrested along with three militants at a check post on Jammu-Srinagar Highway two days ago, has been suspended from duty, said the statement issued by the Jammu & Kashmir police on Monday. An initial probe into the matter has revealed that Davinder had housed the three insurgents at his Srinagar-based residence. 'Davinder Singh's Alleged Connection With Afzal Guru'.
The three militants - self-styled Lashkar-e-Taiba commander Naveed Baba, Hizbul Mujahideen militant Altaf and overground worker Irfan - were apprehended along with Davinder near Mir Bazar at the national highway. A joint interrogation of them by Intelligence agencies revealed that the trio were staying at a house owned by Davinder in Badami Bagh cantonment, located next to the Army's XV corps headquarters.
Kashmir Inspector General of Police (IGP) Vijay Kumar confirmed the suspension of Davinder. While speaking to reporters, Kumar noted that Dy SP has committed a "heinous crime" by sheltering the Hizbul militants. "His being treated at par with the terrorists and jointly interrogated by the security agencies".
Davinder, less than five months ago, was awarded with the President's Medal for bravery on 15 August in 2019. The decorated officer was linked to the anti-hijack unit of the J&K police, has also been associated with the Special Operations Group (SOG) -- which specialises in counter-insurgency operations.
The officer, however, is not new to controversies. In 2013, months before 2001 Parliament attack convict Afzal Guru was set to be hanged, he shot a letter to the government claiming that Davinder had asked him to look for a rented accomodation for "co-accused Mohammed". An inquiry was conducted into Afzal's allegation but it could not be substantiated.
Officials privy to the current row claimed that Naveed and Altaf were taken to Davinder's residence on Friday by Irfan, who is an overground worker apart from being a lawyer. The security agencies were tipped about the matter on Saturday, which led to the arrest of all four of them at the Jammu-Srinagar highway.
In the search operation carried out at Davinder's residence following his arrest, the police has recovered arms and ammunitions. At least two pistols and an AK rifle was recovered, said an official.
As per the service rules, Davinder could not had been suspended immediately following his arrest. An official of Dy SP rank could be removed only after he stays for at least 48-hour in police custody. The arrest has shocked scores among the J&K police administration as the officer's name was reportedly cleared for promotion as Superintendent of Police. The government is also expected to revoke the President's medal awarded to him last year.