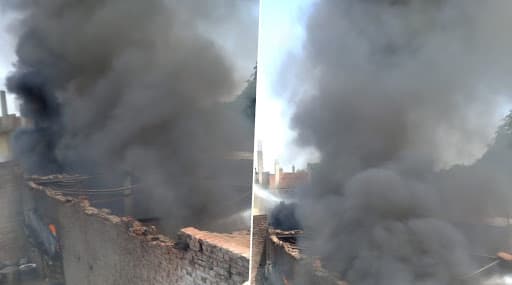 New Delhi, October 11: In a shocking incident, a major fire broke out at a chemical warehouse in Shastri Park in the national capital. Soon after the report, emergency services have rushed to the spot and have started their rescue operation. Till now, no injuries have been reported. China Fire: Factory Blaze Kills 19 in Eastern Chinese Province of Zheijiang, 3 Injured.
Following the fire report, 12 fire tending vehicles were rushed to the spot and began their rescue operation. Though the reason for the fire is yet to be ascertained, fire fighting officers are trying their best to douse the fire soon. Emergency vehicles like ambulances have also reached the spot.
Here's the ANI Tweet:
Delhi: Fire broke out at a chemical warehouse in

Shastri Park. 12 fire tenders at the spot. No injuries reported yet, more details awaited. pic.twitter.com/BDQ4JNzfKc

— ANI (@ANI) October 11, 2019
Earlier on Wednesday, a fire broke out at a tent house in central Delhi's Daryaganj area of New Delhi. Due to the swift action of the fire fighting officers, no casualties have been reported.