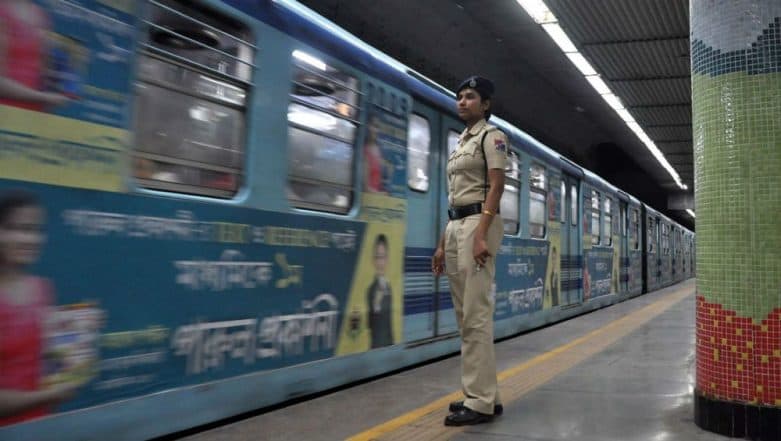 Kolkata, October 16: Amid Durga Puja festivities in West Bengal, the Kolkata Metro has recorded its highest-ever footfall of more than nine lakh passengers on Shashti, the sixth day of Durga Puja festival. According to details by the railways, around 9.11 lakh passengers travelled in the Kolkata Metro services on Monday, making it the highest footfall so far by the Kolkata Metro since its inception 34 years ago.
Kolkata Metro spokesperson Indrani Banerjee was quoted by PTI saying that this is the highest footfall against the previous highest passenger count of 8.78 lakh on September 25 this year. In a bid to avoid passenger rush during the festive season, the Kolkata Metro has taken all possible measures and elaborate security arrangements have been made. Sharad Navaratri 2018: What Are Nine Avatars of Goddess Durga or Navdurga? Pictures, Mantras & Celebration Dates of Navratri Festival.
In the wake of the Durga Puja, the Kolkata Metro has run 300 services on Monday to cater the puja rush and scheduled 224 services on Saptmi, Ashtmi and Navmi during the puja. The metro services will be available to passengers from 1.40 PM to 4.00 AM while on Dasami, 118 services will be run from 1.40 PM to 10.00 PM. Durga Puja 2018 Greetings in Bengali: Subho Navami, Ashtami, Saptami Photos, GIF Images & WhatsApp Messages to Wish on Durgotsav Festival.
The Kolkata Metro spokesperson further informed that the residents of Kolkata are pandal hopping using the metro as its covers most of the big pujas in the city. According to a PTI report, Banerjee said, "We have a handy tourist guide for passengers which will tell them which station they need to get off to see the pandals of their choice. It is in the form of a cut-out which they can carry in their pockets".