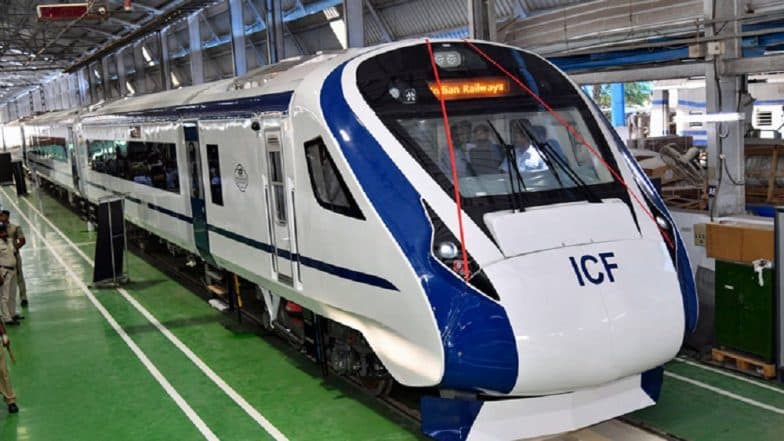 New Delhi, February 12: The Vande Bharat Express is already in news days before its inauguration. In the latest news related to India's fastest train, a day after the fares were announced, Indian Railways has now revised the prices following the negative feedback over the Vande Bharat Express' ticket prices.  Is it A Bird or a Plane? Train 18 Doctored Video Posted by Piyush Goyal on Twitter; Netizens School Him With Original Vande Bharat Express Videos.
News agency PTI reported that the new fare has been reduced to Rs 1760 from Rs 1850 for chair car, Rs 3310 from Rs 3520 for executive car. Indian Railways Approaches PMO to Launch Train-18 with Fares 40-50% Higher than Shatabdi Express.
On the return journey, the chair car ticket would cost Rs 1,700 and the executive car ticket will be priced at Rs 3,260, a railway order said. Both the fares are inclusive of the catering charges. Train 18: Visuals From The Inside of 'Vande Bharat Express'; Watch Video.
Now, the chair car fares are 1.4 times the base price of Shatabdi trains running the same distance and the executive class fares are 1.3 times of first class air-conditioned seating in the premium train, it said.
The semi-high speed train is scheduled to be flagged off by Prime Minister Narendra Modi on February 15, 2019. The train has two classes of tickets — executive class and chair car — and will have differently priced meals.
Earlier, on Monday, fares for the Train 18 or the Vande Bharat Express were released for the first time. That India's fastest train will cost passengers more than any train journey for the same distance covered has raised a few eyebrows. The fare for the Train 18's air conditioned chair car was said to cost Rs 1,850 whereas the executive class fare was supposed to be Rs 3,520 for a Delhi to Varanasi trip. The ticket prices include the catering service charges as well, reported PTI.
Whereas the return journey will cost Rs 1,795 for the chair car and the executive car ticket will have a price tag of Rs Rs. 3,470. Reports say that Indian Railways Approaches PMO to Launch Train-18 with Fares 40-50 per cent Higher than Shatabdi Express. But following the outrage, the fares have been reduced for now.