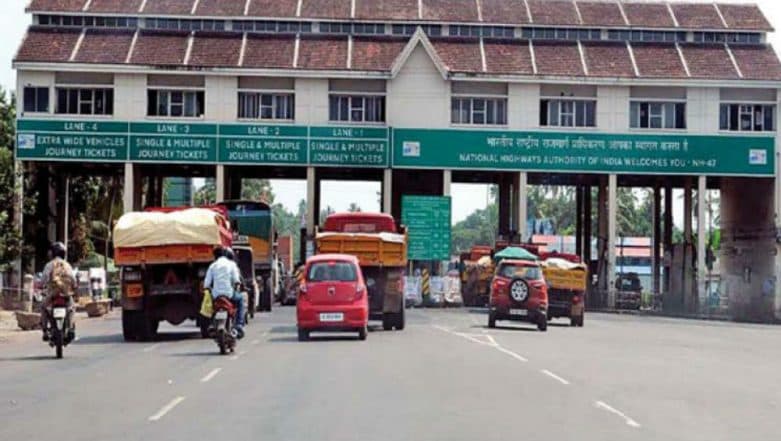 New Delhi, January 6: In a bid for a seamless highway ride, FASTag barcodes will be available in 800 petrol pumps across the country from Monday. This comes after the government has planned to make FASTag compulsory in all toll plaza of the National Highway by March 2019. In the coming six months, these barcodes will be available across 25,000 petrol pumps across the country. For this concern, an agreement between the Ministry of Road Transport and the oil companies will be signed on Monday. Nitin Gadkari Says 2019 Focus Will Be on Creating World-Class Expressways Network.
There are 479 toll plazas of the Ministry of Road Transport (MoRT) and NHAI across the country. About 43 lakh vehicles pass through these toll plazas every day. Of these, FASTag lanes are available in 425 tolls, while the remaining 54 tolls have been targeted to start this service till March. Patnaik Writes to Centre to Improve Condition of National Highways.
Earlier, National Highways Authority of India (NHAI) official said, "We hope to gradually encourage people to shift to Radio Frequency identification technology (RFID) tags and increase the penetration to at least 50%, to begin with. Indian Oil Corporation (IOC) has agreed to sell FASTags at their petrol stations."
How FASTag Can Save You From Long Toll-Booth Queue?
FASTag is a reloadable tag which enables automatic deduction of toll charges and without stopping for a cash transaction. FASTag is linked to the bank account from which the toll amount is deducted. Whenever a barcoded vehicle passes through the toll plaza, the sensors in the toll booth scans the barcode which is affixed on the vehicle's windscreen.