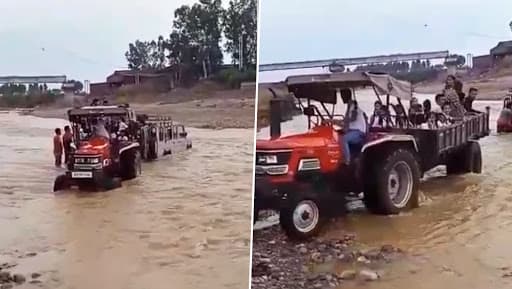 Kangra, September 6: In a heroic act, a tractor driver on Thursday rescued 20 schoolchildren stuck inside a jeep in Kangra district of Himachal Pradesh. The jeep was trapped on a flood-hit Indora-Kandrori link road in the district. After the jeep in which schoolchildren were travelling got stuck in the strong currents of Chhonchh rivulet in Bain-Attarian area, the driver fled from the spot leaving them behind. Himachal Pradesh Rains: Landslides and Flash Floods Block Highways, Heavy Downpour Kills 2 People; IMD Predicts More Rainfall.
According to a report published in India Today, the tractor driver passing by noticed the jeep trapped in strong currents. He immediately shifted the students into the trolley of his vehicle. A complaint was registered against the jeep driver Arvind Kumar for leaving children alone in the vehicle. Kumar has not been arrested yet. Himachal Pradesh Rains: Car Crosses Makeshift Bridge in Drekari Area of Chamba District; Watch Scary Video.
Video of Tractor Driver Rescuing 20 Children:
The bridge was washed away in 2016 floods. The then Congress government of the state sanctioned Rs 12 crore to reconstruct the bridge. However, it is still not constructed by the Public Works Department.
Heavy rains lashed havoc in Himachal Pradesh in the last couple of weeks. On August 31, a cloudburst incident was reported from Gadsaari (Kharshali) panchayat of Chirgaon tehsil of Shimla district. One bridge, two footbridges and two water mills were damaged. Around 25 people were killed in various rain-related incidents last month.