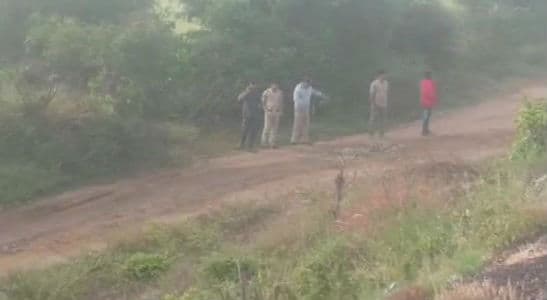 Hyderabad, December 6: All four accused in the Hyderabad veterinarian rape and murder case were killed in an encounter with the Telangana Police, said reports on Friday morning. They were shot dead when they allegedly tried to escape from Chatanpally near Shadnagar, about 50 km from Hyderabad. They were gunned down at the same spot where the accused had dumped the victim's body. The accused were taken to the spot for the reconstruction of crime scene. Hyderabad Vet Rape and Murder Case: Victim's Name Trends on Porn Websites in India and Pakistan.
The veterinarian was gangraped and murdered by four persons near Outer Ring Road at Shamshabad on the outskirts of Hyderabad on the night of November 27. They later dumped her body near Shadnagar town and set afire. Cyberabad police had on November 29 arrested all four accused -- two truck drivers and two cleaners. According to the police, they trapped the victim by deflating a tyre of her scooty and committed the heinous crime when she reached a toll gate to pick her parked vehicle and return home.
The case had triggered nationwide outrage with the victim's family demanding that the culprits be hanged till death. Telangana police formed four teams under the leadership of Deputy Commissioner of Police Prakash Reddy. Each team was headed by a senior official and two of them are women. Cyberabad Police Commissioner V C Sajjanar was heading the investigation to build a strong case.
Police were maintaining utmost secrecy, fearing law and order problem due to possible protest by people demanding instant capital punishment to the accused. The Telangana High Court had on Wednesday gave its approval to a proposal by the state government to set up a fast-track court for trial in the case relating to the gangrape and murder of the woman veterinarian.