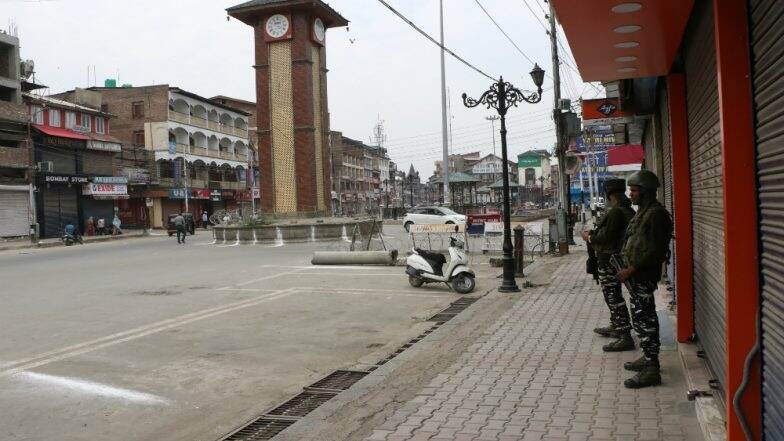 Srinagar, September 16: With multiple restrictions imposed by the administration in Jammu and Kashmir since Article 370 abrogation, the department of Information and Public Relations on Monday restricted access for journalists -- including members of the foreign press -- to the Media Facilitation Centre (MFC) setup in Sarovar Portico hotel in Srinagar. However, the restrictions were later withdrawn after senior journalists, and Kashmir Press Club intervened. Farooq Abdullah Detained Under Public Safety Law; Former Jammu and Kashmir CM Had Been in House Arrest Since Article 370 Abrogation.
According to a report, published in the Indian Express, the administration in the newly bifurcated state had allowed only journalists accredited by the state government to the centre. Confirming the restrictions imposed, Director, for Information of J&K Sherish Asgar said, "Yes, we have done this following some complaints of misuse."
Earlier in the morning, security guards were deputed and were instructed only to allow journalists who are accredited with the government of Jammu and Kashmir. An official said, as the daily quotes, "We have been given a list of names, and only those journalist will be allowed."
In a surprising event, when a non-local journalist working for a national television channel showed his PIB card, he was not allowed the entry access to MFC in Srinagar. Also, Delhi-based journalists -- working for foreign media -- were stopped from entering the MFC. Ghulam Nabi Azad Allowed to Travel to Jammu And Kashmir With Conditions by Supreme Court.
Meanwhile, Centre said to Supreme Court on Monday that all the Kashmir-based newspapers are running. The Centre also mentioned that the government is offering all kinds of assistance to journalists in the state. While Kashmir Times Executive Editor Anuradha Bhasin claimed that she is not able to publish her newspaper from Srinagar as communication was 'crippled'.