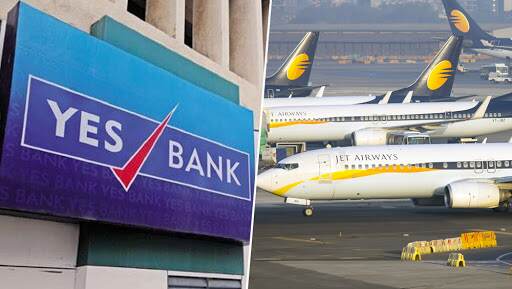 Mumbai, April 30: Days after the debt-ridden Jet Airways declared bankruptcy and grounded all its flights, the shares of its one of the lender - Yes Bank Ltd - plunged 30 per cent on Tuesday. Yes Bank is one of those banks which has lent money to Jet Airways and now had attained first quarterly loss, due to the high levels of non-performing assets, exacerbated by weak performances in the airline sector.
The sudden plunge in the shares of Yes Bank shows a nine-fold jump in provisions for bad loans in the banking sector of the country rose after Jet Airways crisis began. The bank stated that accumulation of fresh bad loans came at Rs 3,481 crore ($498.6 million) in the quarter ended March 31. Jet Airways Crisis: Aviators Guild Chief Writes to PM Narendra Modi, Seeks Direction for SBI to Release 1 Month Salary to Staff. 
Without naming the airline, the bank stated that the slippage if Rs 552 crore were on account of exposure to an airline. Adding more, it said Rs 529 crore was on account exposure to struggling infrastructure conglomerate IL&FS. Stock exchange analysts state that the slippage number included exposure to Jet, IL&FS, two real estate companies, small and medium enterprises as well as the retail sector, reports India Today.
According to the report, the company had posted a loss of Rs 1,507 crore ($216 million) for the quarter ended March 31, but analysts were expecting a profit of Rs 1,070 crore. This dive of 30 per cent in Yes Bank's stock is the biggest intraday percentage loss since September 21, 2018.