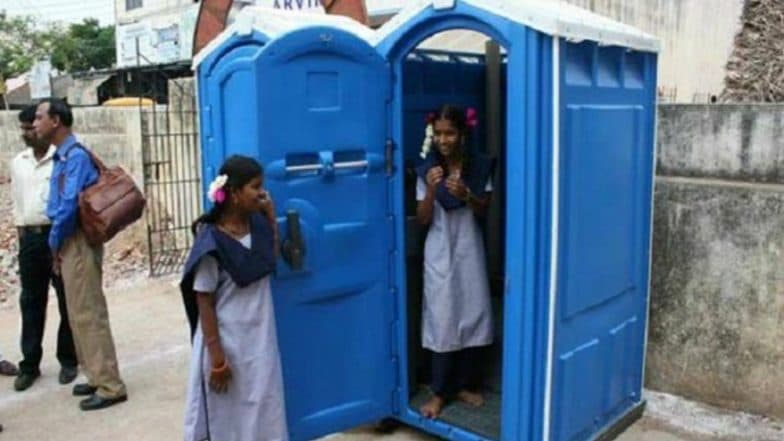 Ranchi, November 5: Jharkhand is all set to become an open defecation free (ODF) state by 15th November 2018. The day is also marked as the foundation day of the state. With the growing rate of sanitation coverage in the state, Jharkhand will soon get the ODF tag, Union Minister for Drinking Water and Sanitation Uma Bharati said on Sunday. Under the government's flagship scheme Swachh Bharat Mission (SBM), 76 per cent of India's villages have been declared open defecation free and around 83.8 million toilets have been built.
The government in February had informed the Lok Sabha that 11 states and union territories (UTs) had been declared open defecation free (ODF). The 11 states/UTs include Sikkim, Himachal Pradesh, Kerala, Uttarakhand, Haryana, Gujarat, Chandigarh, Daman and Diu, Arunachal Pradesh, Chhattisgarh and Meghalaya had been declared ODF. Udhampur Declared Open Defecation Free; 75,000 Toilets Constructed In 230 Panchayats. 
While speaking in Ganga Gram Swachchhata Sammelan at Rajmahal in Jharkhand, Bharti praised the efforts of Sahibganj district in ghat beautification and other cleanliness initiatives and said that in past one year, in Ganga Bank revenue land more than 7.5 lakh trees were planted. Uttar Pradesh to Become Open Defecation Free by October 2, 2019, Says Yogi Adityanath. 
Ganga Gram is a concept to transform banks on the village of River Ganga into ideal villages with emphasis on ODF, Water Conservation, modern crematorium, tree plantation, organic and medicinal plant agriculture being the main components. After making all 4465 Ganga Bank villages ODF, the Ministry of Drinking Water and Sanitation is working in this direction. Swachh Bharat Mission: Udhampur Declared Open Defecation Free; 75,000 Toilets Constructed In 230 Panchayats.
Jharkhand was carved out of Bihar on 15th November, 2000, to create a separate state. During her address, the Minister stressed upon public participation as the key to making Ganga Bank villages ideal Ganga Grams. She urged people to participate in SLWM activities, not to litter around and pollute water sources, take care of their waste management to promote organic farming etc.
Secretary, Ministry of Drinking Water and Sanitation, Parameswaran Iyer highlighted the societal and financial gains of Swachh Bharat Mission (SBM) and said that in rural India in past four years, sanitation coverage has gone up from a lowly 39 per cent to over 95 percent.
Citing reports from organisations such as UNICEF and WHO, he said that an average family in an ODF villages saves Rs. 50,000 annually on it's medical expenditure, and also that with such a growth SBM would have saved about 3 lakh lives by October 2019.
Explaining the concept of Ganga Gram, he urged Panchayats and districts to focus on ODF sustainability and solid and liquid waste management. Underlining the role of Rani Ministries, he emphasized how SBM has led to women empowerment.
The Union Minister also laid the foundation of Maskalaiyya Crematorium and ghat, Municipal Waste Water Project at Rajmahal. She also felicitated outstanding Rani Ministries and inaugurated Ganga Gram Exhibition besides visiting newly constructed Kanhaiyya Sthan ghat.