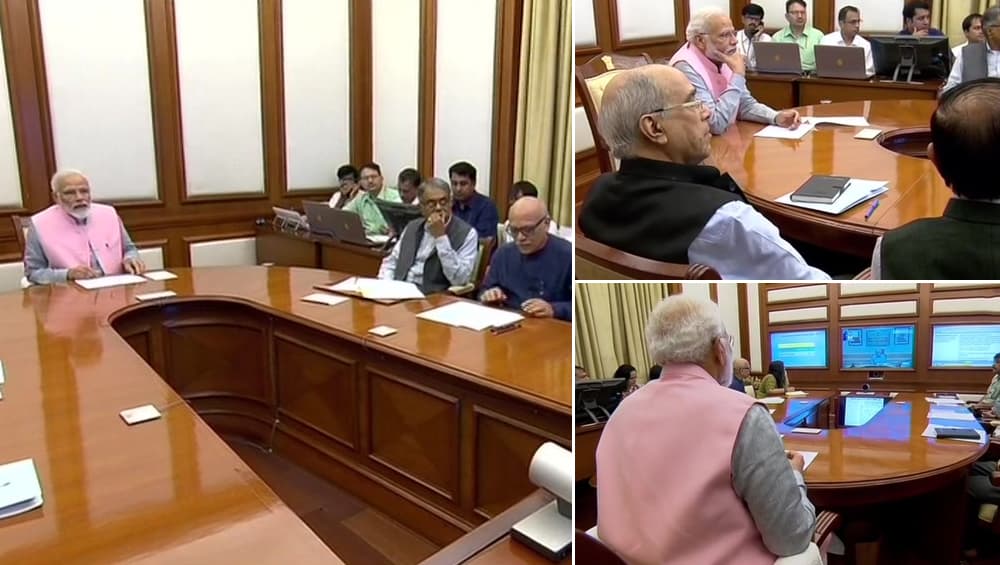 New Delhi, January 22: Prime Minister Narendra Modi on Wednesday chaired the 32nd PRAGATI meeting to review the progress of government insurance companies and discuss nine projects involving three major Ministries and nine state governments. The meeting, held through ICT based multi-modal platform for Pro-Active Governance and Timely Implementation, involved bureaucrats of the Centre and several state governments.
Bureaucrats representing the governments of Odisha, Telangana, Maharashtra, Jharkhand, Bihar, Karnataka, Andhra Pradesh, Kerala and Uttar Pradesh, along with senior officials of Railways, Road and Transport Ministries joined the meeting. Nine projects worth a total value of Rs 24,000 crore were discussed in the hour-long interaction between the Prime Minister and the officials. Stubble Burning Was Major Issue Discussed in 31st PRAGATI Meeting.
Update by ANI
Prime Minister's Office: PM Narendra Modi chaired the first PRAGATI meeting of 2020, today. It marked PM's thirty-second interaction through PRAGATI - the ICT based multi-modal platform for Pro-Active Governance and Timely Implementation, involving Central&State governments. pic.twitter.com/hoaPKYT4Ta

— ANI (@ANI) January 22, 2020
During the meeting, PM Modi chaired the progress of two key government insurance schemes - 'Pradhan Mantri Jeevan Jyoti Bima Yojana' (PMJJBY) and 'Pradhan Mantri Suraksha Bima Yojana' (PMSBY). The Indian PM particularly reviewed the performance of Department of Financial Services in regard to resolving grievances.
Modi also reviewed the progress under Crime and Criminal Tracking Network and Systems (CCTNS) project - a project headed by the Centre to ensure effective penetration of policies through e-governance.
The Prime Minister, in the 31 PRAGATI meetings held so far, reviewed a total of 269 projects which drew a cumulative investment of Rs 12.30 lakh crores. The interactive sessions have also been used by Modi to monitor the grievance redressal related to 47 programmes of the governments, spread across 17 sectors.